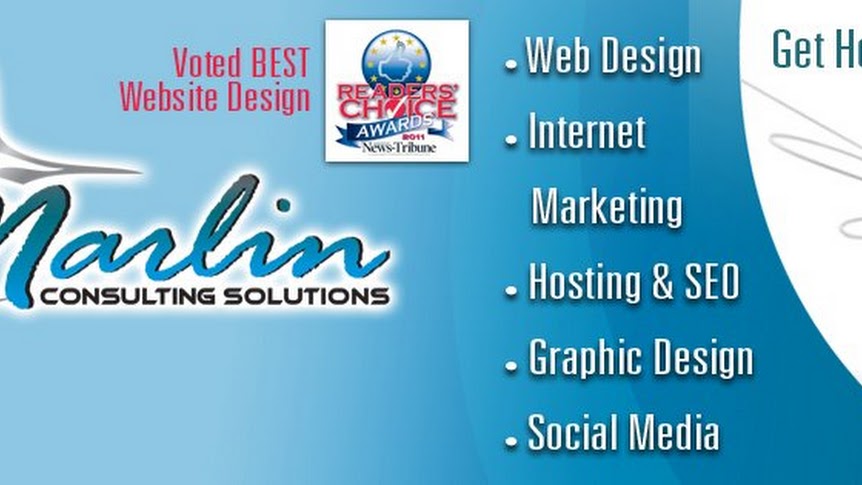 Q 1.    Kindly give our readers an introduction to your business. Please include what your business is all about, in which city you are located and if you have offices in multiple locations/ cities.
Ans:    Marlin Consulting Solutions is a full-service digital agency and web design company dedicated to the success of its clients. We've served over 200 clients both large and small. Our marketing solutions were created to provide growth where
it matters most: client base, revenue & bottom lin
e. Through solid business sense, innovation and professional art direction, we help our clients in branding their company products, launching powerful web solutions, dramatically increasing sales and reducing the cost of marketing.
Q 2.    Kindly give us a brief description about yourself (it should include your brief educational or entrepreneurial background and list some of your major achievements).
Ans:    Jason Johnson has been recognized as the "Flagler County Young Professional Business Person of the Year," " Palm Coast Business Person of the Year," as well as winning "Best Around" for web-design for each of the last 4 years.
Jason is a creative online marketing professional with over a decade of solid B2B and B2C experience in delivering profitable solutions that drive sales, attract and maintain customers, and strengthen the client's corporate brand.
Allowing Marlin clients to thri
ve and grow, Jason combines his special talents for enhancing small business marketing, clear messaging, Search Engine Optimization, Search Engine Marketing, Social Media, Email Marketing as well as web design and development best practices.
St Maarten Flag
Hailing from the Caribbean Jason has worked in many different parts of the world. This experience allows him to easily identify with people from diverse cultures and unique perspectives. He has spent his career learning to master the Internet and online marketing across various industries since the mid 90's.
In previous roles, Jason served as Chief Technology Officer and Chief Marketing Officer for a multi-billion dollar service organization in Costa Rica. He owned a successful tour company in St. Maarten, and held various positions with organizations including, Chief of Automation for Korps Politie Nederlandse Antillen (the St. Maarten Police and Immigration Departments), Lead Engineer-Critical Systems for Global Services International, and Director of Systems for the St. Maarten Lottery.
Q 3.    What inspired you to (start a new business venture) or (to make significant changes in an existing business)? How did the idea for your business come about?
Ans:    In 2009, Internet maven Jason Johnson founded Marlin Consulting Solutions, headquartered in beautiful Palm Coast, Florida. Marlin quickly became an award-winning web design firm recognized for stunning and effective website design, a full family of online marketing services and world-class customer service.
Q 4.    What three pieces of advice would you give to budding entrepreneurs?
Ans:    Learn to fail forward and fail quickly, you have to figure out what is working and what is not working very quickly so you do not waste valuable time and money.
Q 5.    What would you say
are the top three skills needed to be a successful entrepreneur?
Ans:    Determination, A great work ethic and the ability to think outside the box
Q 6.    How many hours do you work a day on average?
Ans:    8 to 12
Q 7.    To what do you most attribute your success?
Ans:    Hard work and great referral partners.
Q 8.    How do you go about marketing your business? What has been your most successful form of marketing?
Ans:    Where did your organizations funding/capital come from and how did you go about getting it? How did you obtain investors for your venture?
Marlin Consulting Solutions was boot strapped from the ground up
Q 9.    What is the best way to achieve long-term success?
Ans:    Being customer focused.
Q 10.    Where you see yourself and your business in 5 – 10 years?
Ans:    I would see myself and business 4 time larger
Q 11.    Excluding yours, what company or business do you admire the most?
Ans:    I admire a host of companies, Google, Amazon, and lots of others too many to mention honestly.
Q 12.    How important have good employees been to your success?
Ans:    Crucial, without good people we would be dead in the water
Company Details:
Company      : Marlin Consulting Solutions
First Name    : Jason
Last Name    : Johnson
Address        : 1 Hargrove Grade
City              : Palm Coast
State             :  FL
Zip Code      :  32137
Tel No           : 386-957-9311
Toll Free No : 800-957-1176
E-mail Id       :  info@marlincs.com