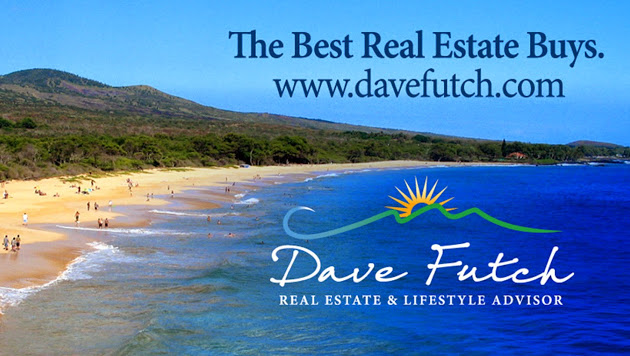 Q 1. Kindly give our readers an introduction to your business. Please include what your business is all about, in which city you are located and if you have offices in multiple locations/ cities.
Ans: Aloha, my name is Dave Futch, with Coldwell Banker Island Properties.  I have been involved in Maui Real Estate since 1987 and have developed a group of leaders who, collectively are called The Real Estate And Lifestyle Advisory Group.  We service the entire island of Maui as well as the other islands in the Hawaiian chain.  We are a group of no-pressure professionals who are ready to help our clients reach their real estate goals.
Q 2. Kindly give us a brief description about yourself (it should include your brief educational or entrepreneurial background and list some of your major achievements).
Ans: Involved in sales and marketing for all of my adult life, I have enjoyed the experiences of entrepreneurial business management.  Starting as the Marketing Manager for Brewer East, I managed a surf and skateboard shop and a team of skateboard professionals.  Then I became the exclusive U.S. distributor for Blue Man Bikinis, the top swim and sportswear manufacturer in Rio de Janeiro.  There was an 8 year period where I was the Major Account Representative for AT&T Wireless, which offered incredible sales training and organizational skills education which in addition to the networking opportunities, carried over nicely, into my real estate career.  I became interested in real estate investment and inevitably became a licensed Realtor, which is my calling.  Taking the real estate career to the next level, I have created The REAL Advisory Group.  (REAL is an acronym for Real Estate And Lifestyle).  I've assembled a group of no-pressure but highly driven real estate professionals that serve Maui and the Hawaiian islands.
My education includes a BS of Science in Illustration Technology from Brevard Community College, followed by a major in Communications with a minor in Advertising at the University of Central Florida.  I accepted the Blue Man exclusive distribution rights just prior to my graduation from UCF.  I have graduated from the Leadership Academy, which taught leadership in the community, have completed countless hours of Continued Education as required to keep my real estate license current and have taken numerous courses from VITEC, the vocational courses offered by the University of Hawaii, Maui Campus.
Achievements include receiving annual President's Club awards for AT&T Wireless and now the annual President's Club awards from Coldwell Banker.  I've been a board member at Haleakala Waldorf School, Maui Executives Association and the Hea'aula Owners Association.
Q 3. What inspired you to (start a new business venture) or (to make significant changes in an existing business)? How did the idea for your business come about?
Ans: This primarily speaks to the creation of the REAL Advisory Group.  The momentum of my real estate business has continued to escalate due to referrals and increased advertising.  It reached a point where I could not keep up with the timely responses to this quantity of contacts so I followed my business coach's suggestion and followed the natural evolution of developing a team.  I hired a professional internet marketing company, which included an individual that interviewed me deeply to understand what my mission and goals were.  She and the marketing company helped me to re-brand myself, developing the artistic/graphic image which appropriately represented me, as an individual, and the business strategy that I wanted to drive forward.
Q 4. What three pieces of advice would you give to budding entrepreneurs?
Ans: Find and follow mentors
Clearly define your mission
Be true to yourself and do what you love/love what you do
Q 5. What would you say are the top three skills needed to be a successful entrepreneur?
Ans: Endless drive
Be a good listener
Find and fill a niche
Q 6. How many hours do you work a day on average?
Ans: 10
Q 7. To what do you most attribute your success?
Ans: My sense of optimism, my people skills and the desire to help others
Q 8. How do you go about marketing your business? What has been your most successful form of marketing?
Ans: I hire marketing professionals to help plan and to execute the plan.  Internet marketing has been the most fruitful
Q 9. Where did your organizations funding/capital come from and how did you go about getting it? How did you obtain investors for your venture?
Ans: In the beginning, my parents matched my savings which enabled me to purchase my first house in college.  By renting rooms to my college roommates, I was able to continue to save.  Once the equity in the home reached a certain point, I was able to leverage the equity to purchase the bikinis and open my distribution network.  The sale of the bikini company enabled me to purchase real estate to resell.  This buy/sell business evolved into being a licensed Realtor.  There are no outside investors in my business however, I am transitioning into "Project-based Real Estate" which is the assembly of investors who buy into a real estate project which when developed and sold, becomes a profit center.
Q 10.What is the best way to achieve long-term success?
Ans: Never give up
Q 11.Where you see yourself and your business in 5 – 10 years?
Ans: Managing the REAL Advisory Group and selecting key clients to service myself.
Q 12.Excluding yours, what company or business do you admire the most?
Ans: Microsoft
Company : Dave Futch, REALTOR®
Office: (808) 280-9600
Email: Dave@DaveFutch.com
Facebook : https://www.facebook.com/DaveFutchRealtor
Twitter  :   https://twitter.com/DaveFutch
Linkedin :   https://www.linkedin.com/pub/dave-futch/0/a77/968
Youtube :  https://www.youtube.com/channel/UCS3uHHRttNLCsksPs-6ICog/feed