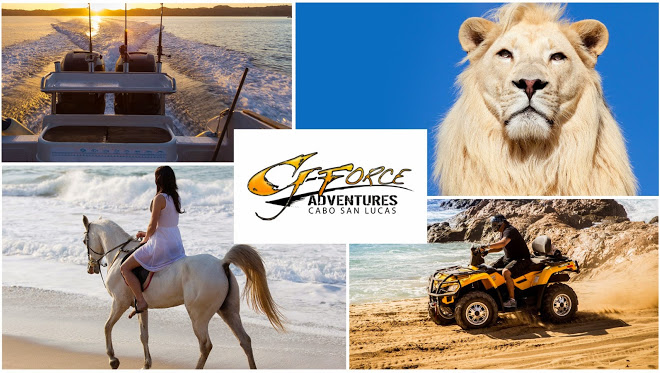 Q 1. Kindly give our readers an introduction to your business. Please include what your business is all about, in which city you are located and if you have offices in multiple locations/ cities.
Ans: G-Force Adventures is a touring operator out of Los Cabos, Mexico. We offer our clients the ability to experience Los Cabos in an entertaining, safe, and educational way. Our customers get to choose from ATV & UTV adventure tours, Snorkel & Sea Adventure, Whale Watching Encounter, Jazz & Wine Cruise, Fiesta Dinner Cruise, Party Cruise, and our very own White Lion Encounter – we have activities for everyone! We pride ourselves in providing our customers the highest quality customer service in Los Cabos.
Q 2. Kindly give us a brief description about yourself (it should include your brief educational or entrepreneurial background and list some of your major achievements).
Ans: My name is Etienne Turner and I'm currently the managing director of G-Force Adventures. I graduated at the top of my class out University of Central Florida with a management and entrepreneurship degree. Out of college, my first entrepreneurial endeavor was starting an online marketing business named digitalJ2. After a year in business, I was approached by Gisela Jaramillo, the CEO and founder of G-Force Adventures and was asked the join the project.
Q 3. What inspired you to (start a new business venture) or (to make significant changes in an existing business)? How did the idea for your business come about?
Ans: The idea of creating something out of nothing has always fascinated me. To take two objects that seem to have no value and to combine them to create value is just an amazing concept. Entrepreneurs are consistently pushing the limits and driving humanity towards greatness.
Q 4. What three pieces of advice would you give to budding entrepreneurs?
Ans: Get knock down and always get back up.
Control your own destiny.
Always dream big.
Q 5. What would you say are the top three skills needed to be a successful entrepreneur?
Ans: Work ethic
Passion
Positive mindset
Q 6. How many hours do you work a day on average?
Ans: Around 12-14 hours per day.
Q 7. To what do you most attribute your success?
Ans: Consistently staying positive and always viewing set backs as learning opportunities.
Q 8. How do you go about marketing your business? What has been your most successful form of marketing?
Ans: G-Force Adventures has many different channels of marketing like: online marketing (SEO, PPC, Affiliate, and email), partnerships, traditional methods, and much more. I would say that the channel so far for G-Force Adventures has been online and partnerships. We love the tracking ability in online marketing.
Q 9. Where did your organizations funding/capital come from and how did you go about getting it? How did you obtain investors for your venture?
Ans: All funding was brought from the two founders of G-Force Adventures.
Q 10.What is the best way to achieve long-term success?
Ans: Always deeply caring for your customer and doing whatever it takes to create an amazing experience for them.
Q 11.Where you see yourself and your business in 5 – 10 years?
Ans: I see G-Force Adventures expanding in La Paz and other destinations in the United States America.
Q 12.Excluding yours, what company or business do you admire the most?
Ans: I admire Apple. The products Apple has created has literally changed our society and the way we live.
Q 13.How important have good employees been to your success?
Ans: Huge! Employees are the future of your business. If a business hires incompetent employees they will surely fail.
Q 14.How long do you stick with an idea before giving up?
Ans: It really depends. I believe in the concept of creating a minimum viable product and testing it with the industry. If one finds great feedback, then go all in, but if one doesn't try tweaking the idea and generating a new minimum viable product to test.
Q 15.What motivates you?
Ans: I live by the principles of learn, earn, and return. The first third of my live was to learn all I could so I could earn as much as I could. The second third of my life is to earn as much as I can so I will be able return it to society. The last third of my life is to return the wealth I have created back to society in a way to advance and better society's being.
Q 16.What are your ideals?
Ans: Do whatever you can to satisfy your customer.
Q 17.How do you generate new ideas?
Ans: I immerse myself in nature and get some fresh air.
Q 18.How do you define success?
Ans: Being able to make a positive influence in others.
Q 19.How do you build a successful customer base?
Ans: Always treating and ensuring your customers are satisfied. If your customers are satisfied with your product or service, you'll have them for life.
Q 20.What is your favorite aspect of being an entrepreneur?
Ans: Knowing that the sky is the limit on the opportunities you can take.
Q 21.What has been your most satisfying moment in business?
Ans: The first time I had a customer truly thank me for my business's services.
Q 22.What do you feel is the major difference between entrepreneurs and those who work for someone else?
Ans: Work ethic, willingness to take risk, and having a positive outlook on life.
Q 23.What kind of culture exists in your organization? How did you establish this tone and why did you institute this particular type of culture?
Ans: A fun, relax, and hard working culture exist at G-Force Adventures. We were able to establish this by hiring the right individuals to fit the culture.
Q 24.If you had the chance to start your career over again, what would you do differently?
Ans: I would have started my career in college to jump ahead of the game quicker.
Q 25.How has being an entrepreneur affected your family life?
Ans: It hasn't effected it at all.
Q 26.What is your greatest fear, and how do you manage fear?
Ans: My greatest fear is not having the ability to provide for my family. I manage this fear by utilizing it as fuel to drive me.
Q 27.How did you decide on the location for your business?
Ans: I didn't.
Q 28.Do you believe there is some sort of pattern or formula to becoming a successful entrepreneur?
Ans: Yes of course.
Q 29.If you could talk to one person from history, who would it be and why?
Ans: Andrew Carnegie because he's an example of rags to riches and his ability to give so much back to the community.
Q 30.Who has been your greatest inspiration?
Ans: My mother and father.
Q 31.What book has inspired you the most? (OR what is your favorite book?)
Ans: Rags to riches
Q 32.What are some of the biggest mistakes you've made?
Ans: Thinking that being an entrepreneur would be easy
Q 33.How can you prevent mistakes or do damage control?
Ans: Thinking ahead and always creating plan b, c, d, e, f, and g.
Q 34.What are your hobbies? What do you do in your non-work time?
Ans: Crossfit and outdoor activities
Q 35.What makes you happy?
Ans: Life and my family
Q 36.What sacrifices have you had to make to be a successful entrepreneur?
Ans: In the beginning I had to sacrifice my social life in order to build the platform I am on today.
Company: G-Force Adventures
First Name: Gisela
Last Name: Jaramillo
Address: Highway 19 At km 15.5
City: Cabo San Lucas
State:  Mexico
Zip Code: 23473
Tel No: 011 52-6241432199
E-mail Id: reservations@g-forceadventures.com
Office Timings:Monday – Friday : 9:00 AM – 7:00 PM
Google : https://plus.google.com/+G-forceadventures/
Facebook : https://www.facebook.com/gforceadventures
Twitter : https://twitter.com/gforcecabo