Executive Summary
Oral IQ LLC delivers state-of-the-art self-care solutions for oral health and beyond. These homecare devices are catered to professionals and patients; from the chair-side of the doctor's office to the convenience of the home. Oral IQ's most popular item is PBM Light +, which is a handheld red & IR (infrared) LED (Light emitting diode) PBM (PhotoBioModulation) light unit providing effective treatment outcomes for pain relief, reducing inflammation, promoting wound healing, and speeding up muscle recovery. Its beneficial applications fit for all the areas and tissues of the body including the skin, joints, muscles, bone, nerve, and ligaments. These units are safe, user-friendly, compact, portable, and affordable, making them the ultimate self-care tool to be used in-clinic, from the comfort of the home, and on the go. PBM Lights save the patients and medical practitioners time and money, providing beneficial energy and health benefits for oral health and beyond. Invest in your Oral IQ and PBM Light today by visiting TheOQ.shop.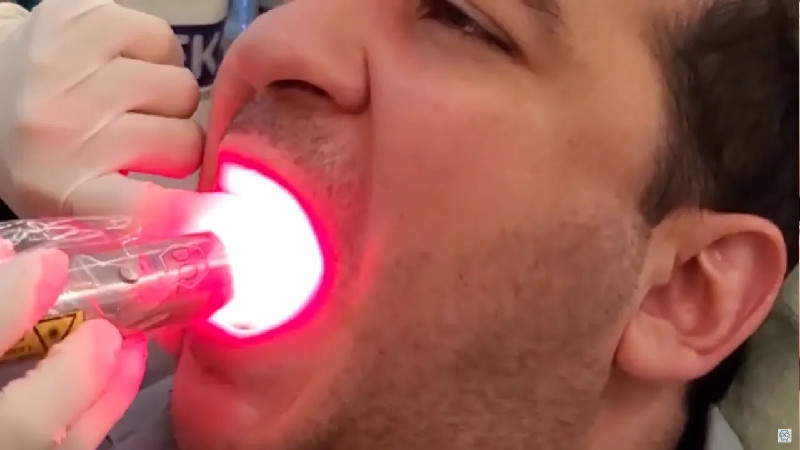 Kindly give readers an introduction to your business. Please include what your business is all about, in which city you are located and if you have offices in multiple locations/ cities.
Oral IQ LLC is based in Los Angeles, California, USA. You may reach us for inquiries at hello@theoq.shop and 818-925-4497 and visit our website at WWW. The OQ.Shop to learn more.
Give us a brief description of yourself (it should include your brief educational or entrepreneurial background and list some of your major achievements).
The Co-Founders of Oral IQ LLC Grace Sun DDS and Hans Kristian Skjorshammer have accumulated between them a combined 5 decades (!) worth of experience in the dental and health/sports sector. They are ready to share their expertise and insights with you by introducing their state-of-the-art PBM light units to the global market.
What inspired you to (start a new business venture) or (to make significant changes in an existing business)?
The experience with LLLT (Low Level Laser Therapy) led to the renewed interest and exploration of PBM (Photobiomodulation) therapy in 2020. Having extensively studied and researched the technology, first-hand knowledge of it eventually became clear that it had significant beneficial treatment results and effects. This led the co-founders (Dr. Sun and Hans Kristian) on the path of exploring the possibilities of developing these safe and affordable LED self-care light units for everyone to use and enjoy from the convenience of the home.
How did the idea for your business come about?
The effects of the global pandemic of 2020 accelerated the need for home-care devices that led to the formation of Oral IQ LLC.
Who has been your greatest inspiration?
The greatest inspirations are Dr. Andrew Mester and Dr. Michael Hamblin, the early pioneer and current expert within Photobiomodulation research who have laid the foundation for the PBM devices that Oral IQ has developed and is continuing to research and develop.
What makes you different from other businesses in your industry?
PBM Light + is the first portable and affordable LED home-care device that comes with 660 nm, 850 nm & 940 nm red & IR wavelengths reaching a wide range of biological structures. The unit is made from the blue, anodized, aluminum casing which makes it super-light and dissipates heat quicker than other LED units on the market. It's also a lot more affordable than other devices available. The development of these units also incorporates the possibility of creating a brand new niche market for homecare devices in dental care and healthcare that until now hasn't been extensively explored. This provides the framework for a Win-Win business model that benefits not just the health of the patients but also the financial health of the practice.
To what do you most attribute your success?
Focus, dedication, and a mission to make PBM accessible to everyone, everywhere based on Dr. Sun's decades worth of knowledge and expertise within Dentistry.
What do you think is the best way to achieve long-term success in business?
Education about PBM and its effects, how it can help heal and treat all types of conditions and disorders for oral health and beyond lays the foundation for the company's long-term success.
Where do you see yourself and your business in 5 – 10 years?
Oral IQ is established as one of the top oral health and self-care product providers in the country and PBM Light homecare devices are commonplace in many clinics and homes all over the world.
Excluding yours, what company or business do you admire the most?
Thor Laser is one of the biggest PBM distributors on the market. This company has over the years been able to push PBM to the healthcare sector and professionals in a convincing and remarkable way.
Who is your target demographic?
Target demographic are people who are searching for non-pharmaceutical pain relief solutions or alternative ways to reduce inflammation, achieve improved recovery from injury or regenerative healing result from chronic ailments, including all dental professionals and dental patients.
Please list 3-5 talking points about your business that you feel are most relevant to your target audience.
-Utilizing PBM Light is essential to provide a great dental experience and treatment outcome.
-Dispensing PBM Light units to patients can be a win-win business model for health care practitioners.
-PBM Light + is the most advanced portable, safe, effective, and affordable Photobiomodulation light therapy unit in today's market.
What are your overall thoughts on your industry? Any advice you could give people about your industry?
PBM technology is still evolving and it will be exciting to see what the future holds.
Is your business involved with any charitable organizations, social causes, or non-profit work?
Oral IQ has donated a considerable amount of PBM devices for studies and research to notable universities.
How do you give back and support your community?
Oral IQ encourages the global community to learn more about the benefits of PBM through education, online lectures, and publication on its website (TheOQ.shop and Learn more on our Youtube channel: Oral IQ LLC).
How important have good employees been to your success?
Working closely with the manufacturer overseas has allowed the company (Oral IQ) to build a team and a network that shares a common goal and vision for educating and sharing PBM with the world.
What motivates you?
Showing and demonstrating how PBM can benefit people in their everyday lives is one important motivating factor.
How do you generate new ideas?
New and creative ideas emerge as more focus and energy is put into developing the core features of the business.
How do you define success?
Success is defined by creating and building strong and solid relationships with clients who see and understand the value and benefits from the solutions that we provide.
How do you build a successful customer base?
Communicating and following up with our customers on a daily basis, as well as marketing out to our target audience is the key to developing a successful customer base.
What is your favorite aspect of being an entrepreneur?
The challenge and responsibility of producing outstanding results for our customers is the favorite aspect of being an entrepreneur.
What has been your most satisfying moment in business?
The most satisfying moment is getting great feedback and recommendations on what the company can do to succeed even more.
What kind of culture exists in your organization? How did you establish this tone and why did you institute this particular type of culture?
The culture is really shaped by the interaction between us and our clients. Their feedback is significantly important for the future growth of the company.
If you had the chance to start your career over again, what would you do differently?
A greater emphasis should have been placed on the effects and benefits of PBM technology/therapy earlier on in this century.
What is your greatest fear in business, and how do you manage fear?
We do not have any fear
How did you decide on the location for your business?
It's a natural decision based on proximity and expertise.
If you could talk to one person from history, who would it be and why?
Albert Einstein could explain all things regarding science and Steve Jobs could manifest them into an appealing solution/product.
What book has inspired you the most (or what is your favorite book)?
"The spark in the machine" and Dr. Michael Hamblin's research articles on Photobiomodulation found on our website (theoq.shop/pages/research).
What sacrifices have you had to make to be a successful entrepreneur?
Many sacrifices have been made and so many sacrifices are continued to be made in order to reach the highest level.
What would you say are the top three skills needed to be a successful entrepreneur?
The top three skills are Clarity/clear vision, excellent communication skills, and technological expertise.
What three pieces of advice would you give to entrepreneurs looking to get started in your industry?
Should have a background in sports or healthcare, they need to be greatly educated on PBM and have a knack for doing business.
Do you believe there is some sort of pattern or formula to becoming a successful entrepreneur?
Luck and success will present themselves after committed focus and effort over time.
What do you feel is the major difference between entrepreneurs and those who work for someone else?
Stubbornness, unreasonableness, and unwillingness to accept the status quo.
Business Info:
Business Name: Oral IQ LLC
Contact Name: Hans Kristian Skjorshammer
Business Phone: 818-925-4497
Email: hello@theoq.shop
Website: Theoq.shop
For More Information visit us at www.theoq.shop