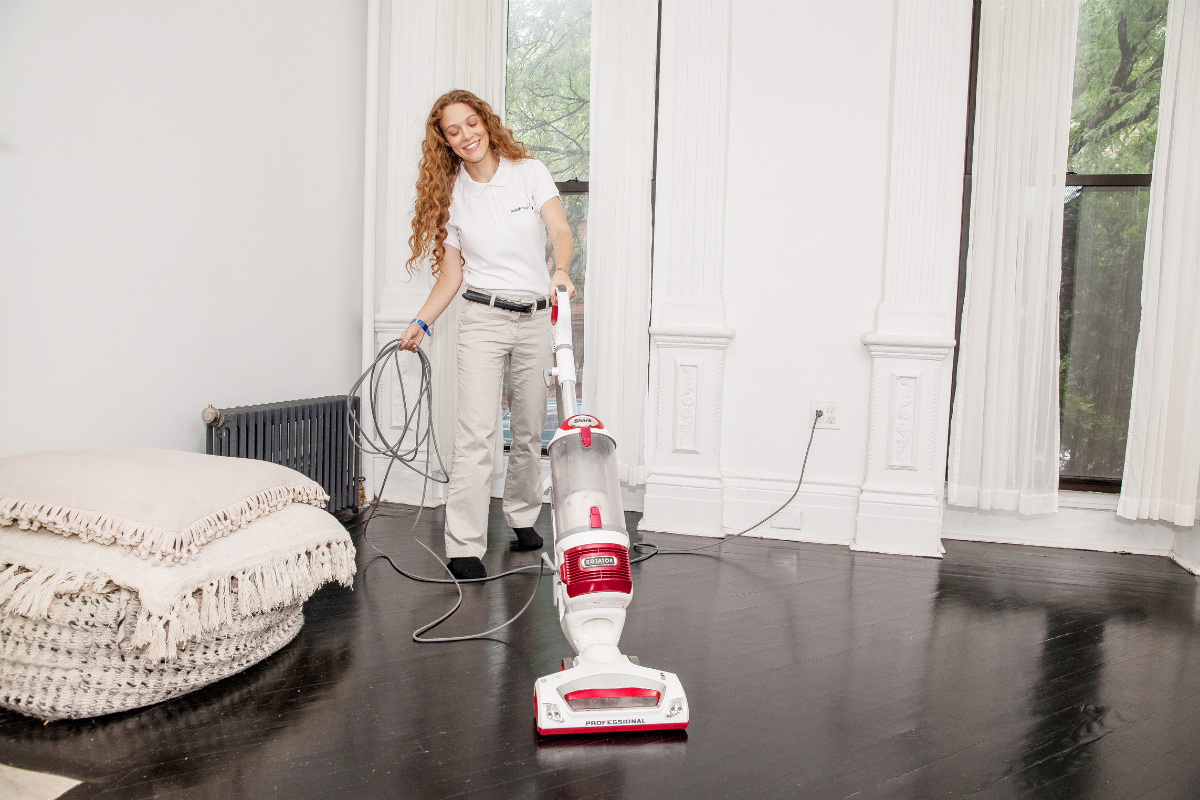 Q 1. Kindly give our readers an introduction to your business. Please include what your business is all about, in which city you are located and if you have offices in multiple locations/ cities.
Ans: Maid Magic is Dallas' trusted and friendly home cleaning service! Professional maids and environment friendly cleaning at your service. We stand head and shoulders above our competitors by offering the highest quality service, background checked cleaners, a convenient tech-based interface, and top-notch customer service.
Q 2. Kindly give us a brief description about yourself (it should include your brief educational or entrepreneurial background and list some of your major achievements).
Ans: My name is Hanh Tran and I along with my business partner, Anthony Nguyen started Maid Magic as our first venture into the entrepreneurial space.
We started Maid Magic as a side business while working a day job in corporate finance.
Since starting in May of 2017, we have just reached over $25K in sales and have serviced over 150 satisfied customers in just 4 months.
We have garnered amazing reviews from our customers are across the board we are rated highly on Yelp, Thumbtack, Angies List, Google + , and Facebook
Q 3. How did the idea for your business come about?
Ans: I started Maid Magic after my own experiences with hiring cleaners and saw an industry that had poor standards and a growing need for a friendly, reliable, and modern cleaning service.
Q 4. What three pieces of advice would you give to budding entrepreneurs?
Ans: Just start – take action today and stop making excuses
Done is better than perfect – if you believe in your idea, get it out to the market fast – validate the idea, then work on making it perfect
It's not all glorious, and don't expect to make a profit your first year
Q 5. What would you say are the top three skills needed to be a successful entrepreneur?
Ans: Adaptability
Grit
Perserverance
Q 6. How many hours do you work a day on average?
Ans: I work the normal 8 hours a day at my day job and then another 4 hours or so a day on Maid Magic afterwards
Q 7. To what do you most attribute your success?
Ans: I grew up in a family of entrepreneurs and always knew that it was my calling. I would say being raised in an environment that fostered the fundamentals of entrepreneurship is what I attribute most to my success
Q 8. How do you go about marketing your business?
Ans: From the beginning, I knew that reviews would ultimately be my #1 marketing tool. We went out and cleaned for discounted rates or for free to gather our first 5 reviews on Yelp and from there it snowballed. We make it a point for our cleaners to emphasize the importance of reviews and even reward our cleaners based on the number of excellent reviews posted about them in a given quarter.
Q 9. How did you obtain investors for your venture?
Ans: The funding came from our personal savings which came through both me and Anthony's day jobs.
Q 10. What is the best way to achieve long-term success?
Ans: My mantra is the key to a successful business is happy customers and happy employees. I believe that turnover is one of the biggest money sinks in business and have a deep commitment to my employees and looking out for their best interests. As a result, we pay the highest wages in Dallas not including the multiple bonus programs we run.
Q 11. Where you see yourself and your business in 5 – 10 years?
Ans: I see myself as a multi-million dollar business in multiple cities. Target cities would be in surrounding major Texas cities such as Houston, Austin, and San Antonio. Also Baton Rouge, LA and New Orleans, LA would be another two markets I'm interested in entering since my family is from there.
Q 12. Excluding yours, what company or business do you admire the most?
Ans: I would never say I admire my business that highly! The business I admire most is my brother's sushi restaurants in the Greater Baton Rouge area just because I know about the all the obstacles he had to overcome in the background to get to where he is. Another less personal company I admire is Chick-fil-A – I swear they have the best run restaurants in the world. From the employees down to the speed of service and cleanliness, you can expect the same result at every Chick-fil-A.
Q 13. How important have good employees been to your success?
Ans: Incredibly important – we make it a point to retain our top talent and offer extremely competitive wages and bonus programs to keep them performing their best.
Q 14. How long do you stick with an idea before giving up?
Ans: 3 months – if it's not sustainable in 3 months and you're funding it on your own, it's probably not going to work out.
Q 15. What motivates you?
Ans: Getting out of the corporate grind motivates me. Being in charge of my own destiny motivates me to grow my business to its maximum potential.
Q 16. What are your ideals?
Ans: Honesty, transparency, and commitment to be better
Q 17. How do you generate new ideas?
Ans: I usually just bounce ideas around with my brother and Anthony and see what their thoughts are. Then we dive in to profitability using hypotheticals. If the risk is lower than the potential reward, it's worth taking a second look.
Q 18. How do you define success?
Ans: Success is determined by the happiness of your customer base and how willing they are to part with their hard earned money to purchase your products/services
Q 19. How do you build a successful customer base?
Ans: Honesty, transparency, commitment to be better, and empathy as well. Empathy is so important in understanding what your customer base really wants/needs.
Q 20. What is your favorite aspect of being an entrepreneur?
Ans: Being in charge of my own destiny. Seeing something that I started from the beginning and watching it grow.
Q 21. What has been your most satisfying moment in business?
Ans: Getting those reviews from satisfied customers
Q 22. What do you feel is the major difference between entrepreneurs and those who work for someone else?
Ans: I feel that entrepreneurs give off a deeper since of pride in their work than someone that works for someone else. They also tend to take on greater risks than the latter.
Q 23. What kind of culture exists in your organization?
Ans: The culture at Maid Magic is one I'm still trying to get pinpointed. Right now, we have a very relaxed environment and want our employees to know that they're family to us.
Q 24. In one word, characterize your life as an entrepreneur.
Ans: Persistence
Q 25. If you had the chance to start your career over again, what would you do differently?
Ans: I would've started Maid Magic a long time ago! After graduating college, I was under so much pressure to start my career that I didn't really have time to give entrepreneurship a shot.
Q 26. How has being an entrepreneur affected your family life?
Ans: Considering I'm single, it's not the worst thing in the world in this regard, but there are definitely times you feel more alone in the world. I'm lucky in that I have a strong support with my brother and my business partner who constantly push me to stay the course.
Q 27. What is your greatest fear, and how do you manage fear?
Ans: I actually don't have any fears relating to business although I know Anthony has a fear of failing. I also have this fear somewhat, but I manage it by knowing that before most success stories come many failures.
Q 28. How did you decide on the location for your business?
Ans: Dallas is a huge metro, one of the largest cities in America, with laws that favor small businesses. I honestly can't think of a better city to start in, but really I started here because my day job took me to Dallas.
Q 29. Do you believe there is some sort of pattern or formula to becoming a successful entrepreneur?
Ans: No, I don't. If it was as easy as a pattern or formula, then it would be easily replicated and anyone could do it.
Q 30. If you could talk to one person from history, who would it be and why?
Ans: Pass
Q 31. Who has been your greatest inspiration?
Ans: My brother as I saw him rise from bottom of the totem pole at Hello Sushi to head chef to owning his own restaurants
Q 32. What book has inspired you the most?
Ans: 4 hour work week
Q 33. What are some of the biggest mistakes you've made?
Ans: Too many to list, but thankfully none have imploded my business – yet.
Q 34. How can you prevent mistakes or do damage control?
Ans: Mistakes happen, just learn from them and implement process so they don't happen again. I damage control by not thinking about how screwed up something is, but ways to get over it and move forward from it.
Q 35. What are your hobbies?
Ans: I love going to festivals and spend most of my free time at festivals or traveling
Q 36. What sacrifices have you had to make to be a successful entrepreneur?
Ans: Social life definitely, time sacrifices, etc
Company Detail:
Company Url : https://maidmagictx.com/
Addess : 11816 Inwood Rd #1035, Dallas Tx, 75244, US
Phone : 214-509-8779
Email : info@maidmagictx.com