Q. Kindly give our readers an introduction to your business.
A. Please include what your business is all about, in which city you are located and if you have offices in multiple locations/ cities: I got tired of buying so much jerky, so I started small and my friends loved it!
Q. Kindly give us a brief description about yourself (it should include your brief educational or entrepreneurial background and list some of your major achievements)
A. We offer multiple vendor locations throughout Key West, Vero Beach, Miami, Islamorada and many more 'pop-up' locations at festivals and more.
Q. What inspired you to (start a new business venture) or (to make significant changes in an existing business)? How did the idea for your business come about?
A. I was making my own jerky and my friends kept eating all of it!
Q. What three pieces of advice would you give to budding entrepreneurs?
A. Do what you love, grow steadily and stick to your core idea.
Q. What would you say are the top three skills needed to be a successful entrepreneur?
A. Good product, good service and consistency.
Q. How many hours do you work a day on average?
A. It feels like millions but more like 11.
Q. To what do you most attribute your success?
A. Friends and family input. We like good jerky… so we make good jerky!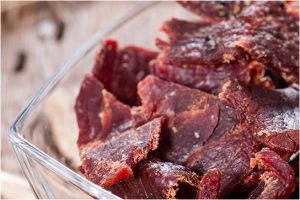 Q. How do you go about marketing your business? What has been your most successful form of marketing?
A. There just isn't enough time in the day so I rely heavily on my marketing company, Local Marketers Network. They do all of my Facebook marketing, website building/updating, SEO and content management. I get reviews copied on all the reviews and I like hearing what my customers have to say so I typically respond to those the same day.
Q. Where did your organizations funding/capital come from and how did you go about getting it? How did you obtain investors for your venture?
A. I've been in the service industry all my life. I started small just kept putting the profits right back into the company.
Q. What is the best way to achieve long-term success?
A. Grow steadily and create opportunities every chance you get.
Q. Where you see yourself and your business in 5 – 10 years?
A. Probably expanding production and have exotic meats added to the menu. I'm working on bear and elk meats next!
Q. Excluding yours, what company or business do you admire the most?
A. The Brass Monkey, it's one of the best family run businesses in the Florida Keys and definitely the best boss I've ever worked for.
Q. How do you generate new ideas?
A. Cook for my friends and family, something new is bound to come out of my kitchen!
Q. How do you build a successful customer base?
A. Make good Jerky
Q. What is your favorite aspect of being an entrepreneur?
A. Owning my schedule and all the free jerky I want!
Q. What has been your most satisfying moment in business?
A. Buying and tricking out my jerky van
Q. How has being an entrepreneur affected your family life?
A. It's all good, the cat likes jerky too
Q. How did you decide on the location for your business?
A. Low rent on the main highway.
Q. Do you believe there is some sort of pattern or formula to becoming a successful entrepreneur?
A. Hard work and determination… with a little bit of Lady Luck.
Q. What are your hobbies? What do you do in your non-work time?
A. Riding my Road King to go get ice cream