Q. Kindly give our readers an introduction to your business. Please include what your business is all about, in which city you are located and if you have offices in multiple locations/ cities.
A. HunterWorx builds solutions, which focus on Lead Generation, Growth and Results for all their Customers, no matter what size.
Built upon years of experience from within the IT services sector. Coupled with an entrepreneurial flair of having built a few new start-ups, HunterWorx is now respected amongst its peers as being a trusted & reliable Digital Marketing company. Operating in divergent ways to meet customer expectations. Solutions in: Marketing Automation, Website design/development/management, SEO/PPC/Social Media, Mobile Apps, Enterprise Apps & Portals development, and Product development.
Designed for all services and various industry domains, small structures to large companies, our solutions are efficient yet affordable alternatives to conventional & expensive business solutions in the market. Our key objectives are to combine simplicity and realistic tools by providing supple and inexpensive solutions to business of all sizes.
Q. Kindly give us a brief description about yourself (it should include your brief educational or entrepreneurial background and list some of your major achievements).
A. Have worn many hats, working in the past for the likes of GTE, ICL/Fujitsu, SMI Plc, BT, AT&T and prior to HunterWorx founded our own Investment Brokers MEI, which we sold after 4 years. A career which started-out selling advertising space in Yellow Pages. However, I soon realised this new thing called the Internet would have a major impact on Business forever. So, I packed-up my bags and went and joined the Technology Revolution.
Although Sales & Marketing has always been at the core of every role I have undertaken. I am also qualified in both Prince2 and Six Sigma. Have sold and or managed many projects such as the first eCommerce Home Shopping website in the UK for Iceland.co.uk, bespoke software development (DB2) for M&S back-office order processing and ICT Audit and Asset Management for the BBC.
Driven by results, I have assumed responsibility for Sales Targets (Corporate life) more than £100 Million pa. However, the real test for me, was starting with a blank piece of paper and building a £12 Million turnover Business within 4 years. Then and only then do you truly understand the fine-line between effective Sales & Marketing versus the 'Scatter-gun' or what I call the 'Shinny Object Syndrome'.
In summary, I have learned a lot in respect of what works and what doesn't. Am I an Expert, Guru, Wizard, Ninja, or any other title so many seem compelled to position themselves as? Nope! Just a guy who learns something new every day, but has enough experience to see through all the noise and hone-in on getting real results…
Q. What inspired you to (start a new business venture) or (to make significant changes in an existing business)? How did the idea for your business come about?
A. Hunterworx was founded by John and Tony Hunter in 2015 (incorporated 2016) following careers with the likes of ICL/Fujitsu, BT, and AT&T, along with success in starting and selling two of their own SMEs. During this time, they experienced first-hand the kind of challenges businesses face in attracting new customers, growing revenues, and reducing costs. Looking for the answer, they identified that the biggest barrier to overcoming those challenges was a simple lack of budget, skills, and time. To solve such problems, they partnered with world class designers, developers, and inbound marketing specialists to develop tools and platforms which not only prove effective in overcoming the obstacles most businesses face with their marketing, but which result in unprecedented growth and a wealth of new customers.
Q. What three pieces of advice would you give to budding entrepreneurs?
A. It is not just about being good at something. You must be passionate and really enjoy what you do – Business should not be hard, it should be fun and something that makes you spring out of bed in the morning
Be critical of yourself. By this I mean really being honest about what you are good at and more importantly what you are not
A great idea may be amazing in your head, but it is not a viable business until you test the market. So, don't spend thousands developing something. Get it in front of your target market asap and gauge their response before you go and spend all your money
Q. What would you say are the top three skills needed to be a successful entrepreneur?
A. Imagination
Determination
Energy
Q. How many hours do you work a day on average?
A. 10
Q. To what do you most attribute your success?
A. Can't really call HunterWorx a success yet, as we're only just starting out. However, in the past I would say my ability to listen and having the confidence to ask questions if I didn't understand. Also my sheer determination to never give up
Q. How do you go about marketing your business? What has been your most successful form of marketing?
A. To answer the question; what forms or what channel etc. would take far to long. The quick answer is; when we learnt to stop trying to sell to people. No one likes to be sold to, so it a case of being informative, helpful and being in the right place at the right time
Q. Where did your organizations funding/capital come from and how did you go about getting it? How did you obtain investors for your venture?
A. Self-funded
Q. What is the best way to achieve long-term success?
A. Someone once told me "there are Dreamers and Doers" so, yes analyse, test and plan. But most importantly DO!
Q. Where you see yourself and your business in 5 – 10 years?
A. On a beach or playing golf 😊
Q. Excluding yours, what company or business do you admire the most?
A. I admire any Digital Marketing company who provides 'Performance Based Marketing' or what some call 'Pay Per Sale'. It takes real balls, knowledge, and experience to say to any Customer "we won't charge but you pay us a percentage of what we sell". Sooner or later I hope HunterWorx will be able to say this to our Customers…
Q. How important have good employees been to your success?
A. It is critical for us to have a great team
Q. How long do you stick with an idea before giving up?
A. We test every product, service, or idea within a closed group of Customers before any launch. Thus, we know whether something is going to work or not within a max 3-month period
Q. What motivates you?
A. Let's be honest anyone who says they're not interested in fame and fortune is kidding themselves. But that aside, I started HunterWorx for my youngest Son who is really good at all this technical wizardry stuff
Q. What are your ideals?
A. Honesty and integrity – I know it's a cliché but we 'say what we do, and we do what we say'. Simple
Q. How do you generate new ideas?
A. Research, listen, ask, test, test, test and then ask some more
Q. How do you define success?
A. Business targets aside, Customer Retention. I think too many business's take their finger off the button when it comes to existing Clients – happy Customers means success
Q. How do you build a successful customer base?
A. Understand them, their needs, their pain, and their aspirations
Q. What is your favorite aspect of being an entrepreneur?
A. The main thing I hated about Corporate life was the bureaucracy. So, working for oneself is like a clean breath of fresh air every single day
Q. What has been your most satisfying moment in business?
A. Think most Sales & Marketing people can talk for hours about their biggest sale etc. For me it has been starting two businesses from nothing, which I sold several years later. Heck, I must enjoy it, because here I am again with major ambitions for HunterWorx. This time though I will pass it on to my Son and my other Partners
Q. What do you feel is the major difference between entrepreneurs and those who work for someone else?
A. As previously stated 'Dreamers and Doers'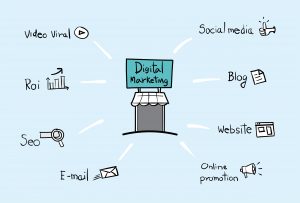 Q. What kind of culture exists in your organization? How did you establish this tone and why did you institute this particular type of culture?
A. No stupid ideas, no finger pointing and certainly no undermining one another. We're mainly too old for all that rubbish, and quite frankly it gets you nowhere – I could go on…
Q. In one word, characterize your life as an entrepreneur.
A. Amazing
Q. If you had the chance to start your career over again, what would you do differently?
A. Start working for myself a lot sooner
Q. How has being an entrepreneur affected your family life?
A. Bit personal but let's just say I am Single. That probably answers that question
Q. What is your greatest fear, and how do you manage fear?
A. I know it's not a particularly good trait but fear of failure. Thankfully, good old psychometric testing told me this in my early career. Thus, I have lots of tricks to ensure I do not procrastinate. Plus, I surround myself with people who are all about taking action
Q. How did you decide on the location for your business?
HunterWorx Registered Business Address is in Central London. However, we are a virtual business – everything we do is in the Cloud. Thus, we can support our chosen markets both here in the UK and in the US
Q. Do you believe there is some sort of pattern or formula to becoming a successful entrepreneur?
A. Apart from all the answers above, only two things come to mind. Money and Luck. I've seen many well-funded businesses fail, conversely, I have also seen 'Bootstrap' Businesses become overnight successes. That aside you definitely need money and a certain amount of luck to build any business
Q. If you could talk to one person from history, who would it be and why?
A. Nikola Tesla – in my opinion one of the greatest inventive minds ever. His tower theory is essentially the basis of wireless data networks. He dreamt that voice, pictures, and type could be transmitted across the Atlantic in seconds. Not bad considering he worked in the early 1900s.
Q. Who has been your greatest inspiration?
A. My Farther
Q. What book has inspired you the most? (OR what is your favorite book?)
'A. The 4-Hour Workweek' by Tim Ferriss
Q. What are some of the biggest mistakes you've made?
A. I found out very early in my career that we don't live in a perfect world, and that some people aren't what we could call totally honest. It's a very long story, so won't bore you but let's just say because of my naivety, ambition, and lack of experience I ended up being jointly and severally liable for circa £500k. Glad to say, although a tough time, I came out the other side unscathed and my professional reputation still intact. They don't teach this stuff at any Business School that I know of…
Q. How can you prevent mistakes or do damage control?
A. Not going to start talking about Six Sigma etc. But it is like I say to any prospective Client – any business that tells you they don't make mistakes, run a mile! No person or Business is perfect – fact. The critical factors are not making the same mistake twice and how one responds to the mistake to put it right – that's what really counts
Q. What are your hobbies? What do you do in your non-work time?
Playing Golf and playing Guitar
Q. What makes you happy?
A. My Children and my four Grand Children. Oh' and the Sun, because then I can be either playing Golf or in the Sea
Q. What sacrifices have you had to make to be a successful entrepreneur?
A. The list is endless, but it has all been worthwhile
Q. If you were conducting this interview, what question would you ask?
A. If you had your time over again what would you change? My answer? Absolutely nothing!
For more information visit us at : https://www.hunterworx.co.uk/
HunterWorx Limited
International HouseLondon, England,
24 Holborn Viaduct,
United Kingdom, EC1A 2BN
Tel No.: +44 843 886 4108
Business Email ID: info@hunterworx.co.uk
Business Hours: 9-5 Monday to friday
(Sat – Sun Closed)