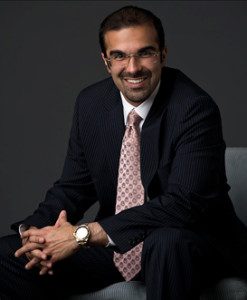 Q: Kindly give our readers an introduction to your business. Please include what your business is all about, in which city you are located and if you have offices in multiple locations/ cities.
Ans: We are a boutique, general practice law firm specializing in family, immigration, business law, personal injury, and criminal defense in the Dallas/Fort Worth Metroplex. We service Dallas County and its surrounding counties.
Q: Kindly give us a brief description about yourself (it should include your brief educational or entrepreneurial background and list some of your major achievements).
Ans: My name is Rod B. Khavari and I am one of the Shareholders of Khavari & Moghadassi, Attorneys at Law. I was born and raised in Arlington, Texas, so this is home. After completing my undergraduate degree at Texas Tech University, I attended law school at the University of Tulsa in Oklahoma. Since 2007, I have been licensed and actively practicing law in the state of Texas. I am also licensed to practice in the Northern and Eastern United States District Courts in Texas. Being the son of an entrepreneur, I have always enjoyed the challenge associated with paving your own way through life. I believe that as an entrepreneur you truly do get to enjoy the fruits of your own labor.
Q: What inspired you to (start a new business venture) or (to make significant changes in an existing business)? How did the idea for your business come about?
Ans: Our desire to start our own practice stems from the notion of wanting to offer our clients personalized service, while offering our staff a comfortable, relaxed, and enjoyable working environment. The practice of law comes with enough stress on its own, so it is our goal to promote a comfortable environment for our team to work in.
Q: What three pieces of advice would you give to budding entrepreneurs?
Ans: I would suggest a new entrepreneur to try to plan, but do not be afraid to step outside of the boundaries of what you had intended. Take calculated and educated risks – do not follow the herd. You have to distinguish yourself and/or your business from others who are similarly situated so that you can stand out from the crowd. Be different, creative, and unique.
Q: What would you say are the top three skills needed to be a successful entrepreneur?
Ans:
Dedication
Patience
Hard Work
Diligence
Persistence – don't be afraid and/or discouraged if an idea fails.
Q: How many hours do you work a day on average?
Ans: 7-8 Hours per Day
Q: To what do you most attribute your success?
Ans: Trust and Honesty. By being truthful and honest with your clients, your business will naturally grow. Work hard and your clients will realize that. You will see referrals from the results of your hard work, dedication, and persistence. Referrals are what grow your business in multiples.
Q: How do you go about marketing your business? What has been your most successful form of marketing?
Ans: We believe in being different, trying new/alternative methods, and not always sticking to the same. We have done a variety of marketing, from in person cultural events where we set up booths, to publications, to online, to radio, and some TV. We believe that by careful selection of our online marketing team and the regular improvement to our various online marketing campaigns, we have had the greatest success through online marketing. Of course, we regularly market to other professionals and previous clients who are a great source of referrals.
Q: Where did your organizations funding/capital come from and how did you go about getting it? How did you obtain investors for your venture?
Ans: Not Applicable as we self-funded.
Q: What is the best way to achieve long-term success?
Ans: Don't give up. You will feel like you have fallen throughout the course of your business at various times. Trust yourself, trust the history that your business has had and know that you can overcome anything.
Q: Where you see yourself and your business in 5 – 10 years?
Ans: In 5-10 years, we see ourselves to have grown to a practice of additional attorneys who are dedicated to offering the same level of attention and detail to each and every case we take on. We hope to build on the same philosophy that we started our practice on.
Q: Excluding yours, what company or business do you admire the most?
Ans: I admire the Google's and the Apple's of the world who are dedicated to putting out a great product while offering great care and attention to their team of individuals who make the business run.
Q: How important have good employees been to your success?
Ans: Good employees are the key to success. They are what drive your business, which is why we strive to promote a comfortable environment for each of our staff. We are a team and we always treat our staff as such.
Q: How do you build a successful customer base?
Ans: This goes back to doing great work and making sure that your client/the customer is satisfied at the conclusion of representation. A satisfied client will send you business/referrals. We build a successful customer base by ensuring that no matter how big or small the matter, our client walks away knowledge and satisfied with the personalized service.
Q: What is your favorite aspect of being an entrepreneur?
Ans: I enjoy going in to work. I enjoy working alongside my partner, Farid, and our amazing staff.
Q: What has been your most satisfying moment in business?
Ans: The most satisfying moments for me are when a case and/or matter is come to a close and the client is satisfied. I am of the opinion that a satisfied client is an additional marketing campaign for your business. If you have one satisfied client who has the potential of sending you 3-5 referrals, imagine if you have 100 or 1000 satisfied clients.
Q: What do you feel is the major difference between entrepreneurs and those who work for someone else?
Ans: Entrepreneurs are forced to think outside the box, take on challenges, and set goals to get to the next level. I feel that when you work for someone else, the joy I get from trying to grow our business is removed because someone else is responsible for growing the business. As an employee, we would be a piece of the cog that keeps things moving along.
Q: What kind of culture exists in your organization? How did you establish this tone and why did you institute this particular type of culture?
Ans: Our culture is one of equals. Our staff is like our 2nd family. Therefore, we treat each of our team/staff as how we would like to have been treated and offer great respect to each other. We strive to create a comfortable environment.
Q: In one word, characterize your life as an entrepreneur.
Ans: Happy
Q: If you had the chance to start your career over again, what would you do differently?
Ans: I don't think I would do anything differently.
Q: How has being an entrepreneur affected your family life?
Ans: Initially, until things pick up, yes. It is difficult to get any new business off the ground. However, once you have established a foundation, the business falls into a routine. What is most important is that you do not lose the dedication and persistence – you have to continue working at your business every day.
Q: How did you decide on the location for your business?
Ans: We chose Carrollton, Texas as the location of our Principal Office because it is central to most of our clients and the areas that we serve.