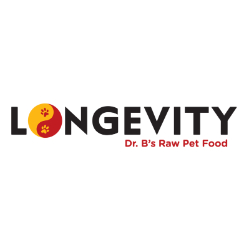 Q 1. Kindly give our readers an introduction to your business. Please include what your business is all about, in which city you are located and if you have offices in multiple locations/ cities.
Ans: Longevity Raw Pet Food is a unique frozen, raw pet food brand based in Northern NJ and created by long-time holistic veterinarian Dr. Gerald Buchoff, known by his clients as Dr. B. Dr. B infuses Longevity products with his expansive veterinary knowledge and a holistic, integrative approach that results in the most nutritious, health-promoting food possible for your cat or dog.
Q 2. Kindly give us a brief description about yourself (it should include your brief educational or entrepreneurial background and list some of your major achievements).
Ans: Dr. Gerald Buchoff (Dr. B) is a practicing veterinarian and the founder and CEO of Dr. B's Longevity Raw Pet Food. Tired of seeing far too many pets suffer from ill health, including allergies, autoimmune disorders, and cancer, Dr. B began formulating his own raw pet food based upon many years of study in pet nutrition.
Dr. Buchoff received his pre-vet B.S. degree and an M.S. in Immunology from Rutgers University in New Jersey. He received his Doctorate in Veterinary Medicine (BVScAH) from G.B. Pant University in India. He has completed numerous courses in alternative modalities including homeopathy, Veterinary Orthopedic Manipulation (chiropractic), acupuncture, glandular nutritional therapy, cold laser therapy, and Reiki. He is the owner and director of Holistic Pet Care, PA, in Little Falls, NJ. Before moving to Little Falls, Dr. Buchoff owned and operated North Bergen Animal Hospital in North Bergen, NJ for almost 20 years.
Professionally, Dr. Buchoff served four years as President of the Northern New Jersey Veterinary Medical Association and more recently as Vice President and President of the American Holistic Veterinary Medical Association (2002-2006).
You may see him on reruns of The Pet Stop (New 12 NJ-TV), which he hosted for 50 episodes. He has also been featured in newspapers, magazines, and on television, and radio for his expertise in animal wellness.
Q 3. What inspired you to (start a new business venture) or (to make significant changes in an existing business)? How did the idea for your business come about?
Ans: Dr. B's passion is to help animals achieve health and a high quality of life. As a practicing veterinarian and student of animal nutrition, Dr. B saw firsthand how conventional commercial pet foods were impacting the health of his patients. With a passion for wellness and a burning desire to make a positive change for his clients, he began to formulate his own raw pet food designed to boost the immune system and give the body the most powerful nutritional tools possible to ward off illness.
Q 4. What three pieces of advice would you give to budding entrepreneurs?
Ans: Follow your passion with persistence. When you are driven by passion, you are driven to achieve the very best result that you can. However, even with passion guiding you, there will be inevitable obstacles and bumps along the way. Staying the course and keeping your eye on your goals is the only way to achieve your
Q 5. What would you say are the top three skills needed to be a successful entrepreneur?
Ans: Creativity, drive, and a willingness to work hard. You have to innovate, you need to be motivated to achieve your vision, and the only way you get there is to be willing to get your hands dirty and do the work!
Q 6. How many hours do you work a day on average?
Ans: More than one can count. Between a very busy veterinary practice and Longevity Raw, Dr. B hardly sleeps!
Q 7. To what do you most attribute your success?
Ans: Building a great team that shares the vision and mission of the business.
Q 8. How do you go about marketing your business? What has been your most successful form of marketing?
Ans: As Longevity is a new business, we have worked to market our products affordably, using social media, local industry events, and word of mouth. We are fortunate to have a wonderful product that our customers are happy to tell others about because they see so many positive changes in their pet's health, behavior, and energy. The results are so clear and evident, that Longevity's benefits are not hard to identify. Social media has also been a great way for us to get the word out and build our online community of pet lovers who are interested in wellness.
Q 9. Where did your organizations funding/capital come from and how did you go about getting it? How did you obtain investors for your venture?
Ans: We are a family-owned business and have not taken on investors as of yet.
Q 10. What is the best way to achieve long-term success?
Ans: Ask us again in a few more years!
Q 11. Where you see yourself and your business in 5 – 10 years?
Ans: We would like to see Longevity Raw available to pets through independent retailers across the US within the next 5 years as well as to expand our food lines for both dogs and cats to include some specialty products and treats during that time. We envision quite a bit of growth over the next 5-10 years and are excited about the possibilities!
Q 12. Excluding yours, what company or business do you admire the most?
Ans: Standard Process is a company that we really admire because not only are they passionate about and dedicated to health and wellness, they are also very committed to nutrition and supplementation through whole foods and are dedicated to organic farming and sustainability. Their approach to their products and their business is holistic in every sense and that is something we strive to achieve as well.
Company Detail:
Company : Longevity Raw Pet Foods
Address : 145 Paterson Ave, Suite 2
City : Little Falls
State : NJ
Zip : 07424
Phone : 888-810-5954
Email : info@drbslongevity.com