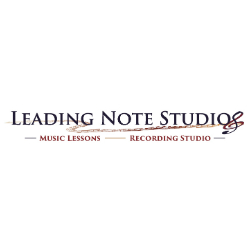 Q 1. Kindly give our readers an introduction to your business. Please include what your business is all about, in which city you are located and if you have offices in multiple locations/ cities.
Ans: Business Introduction: Leading Note Studios is located in Encinitas CA and was started in 2009. We are a full-service studio teaching all types of music instruments, music styles, theory, songwriting, and performance. We are the only music studio with a full operating recording studio complete to mastering the project and also available to anyone.
Q 2. Kindly give us a brief description about yourself (it should include your brief educational or entrepreneurial background and list some of your major achievements).
Ans: About Me: I opened the doors of Leading Note Studios in August of 2009 with 5 students. This courageous move brought compassion to music lessons you will not find anywhere else in San Diego. As a graduate of Berklee School of Music 1994
in Boston, MA, I have taught and performed in Nashville and sang with Barry Manilow, Vince Gill, and Amy Grant. I have also appeared singing on national television as a child.
Q 3. What inspired you to (start a new business venture) or (to make significant changes in an existing business)? How did the idea for your business come about?
Ans: Opening Leading Note Studios was a result of being inspired by my mentor when living in Nashville, TN and working at Jan William School of Music. I watched a strong female run her business seamlessly and knew I was capable of that as well.
Q 4. What three pieces of advice would you give to budding entrepreneurs?
Ans: The three pieces of advice I would give to a fellow entrepreneur would be to get the word out! Don't be afraid to share what you are doing to others. Take care of clients, customer service, because they are your greatest advocates for advertising. Build a team! Surround yourself with other ideas and don't be afraid to put into action.
Q 5. What would you say are the top three skills needed to be a successful entrepreneur?
Ans: Top 3 skills for any entrepreneur would be taking risks, learning and leading with heart,
Q 6. How many hours do you work a day on average?
Ans: I used to work 7am – 8pm and always answered the phone at any hour. Now with a team in place, I'm 40 hours a week but not behind a door teaching anymore but actually managing the company.
Q 7. To what do you most attribute your success?
Ans: My success has been because of the joy of my job. I love laughing, teaching, sharing a skill that everyone wishes they had learned, wished they had never quit or happy to listen and put smiles on faces.
Q 8. How do you go about marketing your business? What has been your most successful form of marketing?
Ans: Marketing ideas; Client referrals!! I personally write and thank you card to each one. I write welcome notes to each new client letting them know I'm here for them. The website has to be top notch, up to date, clean and easy to navigate. I also keep a weekly ad in the local newspapers and is absolutely necessary as well.
Q 9. Where did your organizations funding/capital come from and how did you go about getting it? How did you obtain investors for your venture?
Ans: I was teaching a student a lesson when her dad while saying goodbye claimed I needed to start my own business – funny I had just pitched the business plan to family and was declined so I had the folder in my car, handed it to him and he gave me the money 24 hours later.
Q 10. What is the best way to achieve long-term success?
Ans: Long term success comes from staying persistent, attention to detail, communication, caring about employees and teachers. Not being afraid to jump in anywhere when needed. Never forget where you came from and started. Appreciating where you are at any time. Accepting your failure and not being afraid of them.
Q 11. Where you see yourself and your business in 5 – 10 years?
Ans: In 5-10 years I would like to be managing 2 or 3 other locations or helping finance another teacher to open up a location with my support and business model. Having a management team of leaders taking care of business and reporting to me.
Q 12. Excluding yours, what company or business do you admire the most?
Ans: I admire companies that are professional "mom and pop" that provide service into the community long term. Companies that offer benefits, and long term employment.
Q 13. How important have good employees been to your success?
Ans: Great employees are everything. They need to be teachable, encouraged, willing and talented with their skill.
Q 14. How long do you stick with an idea before giving up?
Ans: When I get an idea or shared with me; and if it excites me I don't give up on it! I go and you better get on board with me or get out of the way.
Q 15. What motivates you?
Ans: The joy of my job and the people around me. I miss days that I don't go in because I miss the laughter.
Q 16. What are your ideals?
Ans: I want to be a business owner that is respected and reached out to for help or inspiration.
Q 17. How do you generate new ideas?
Ans: I have a CORE group of 4 of us and have a weekly 10-minute scrum. Don't sit, three sentences and we share what we are working on, dealing with, ideas, or things to plan.
Q 18. How do you define success?
Ans: Success is being happy. Loving your work that it is not defined as work anymore but something to enjoy daily.
Q 19. How do you build a successful customer base?
Ans: Customer base is built on customer satisfaction. So many times I'm not treated like I want to treat people and I feel it is a learned art that needs to be shared! Being open to say hello with names, listening to customers ideas and adjusting things for them when able.
Q 20. What is your favorite aspect of being an entrepreneur?
Ans: I love being an entrepreneur at a music studio because of seeing someones face light up because I'm inspiring them to learn music. I love that clients run in the door and hug, share and are excited to be there. Hearing them on a recording from the studio and amazed with the product as a result of hard work.
Q 21. What has been your most satisfying moment in business?
Ans: My most satisfying moment is my CORE leadership team telling me to stay away, I work too hard and they got it! The willingness to see the value I have created and employees wanting to continue that.
Q 22. What do you feel is the major difference between entrepreneurs and those who work for someone else?
Ans: An entrepreneur believes they can do it, handle it, manage it, work 80 hours, listen to good and bad ideas. An employee wants to clock in, do a good job, clock out and go home. Employees are happy to follow an entrepreneur is a natural leader!
Q 23. What kind of culture exists in your organization? How did you establish this tone and why did you institute this particular type of culture?
Ans: My culture is a team of musicians making a career playing/teaching music! Proving a music degree is worth something! Jamming, creating, sharing, supporting and encouraging to be the best teachers, musicians, and adults one can be.
Q 24.In one word, characterize your life as an entrepreneur.
Ans: Relentless.
Q 25. If you had the chance to start your career over again, what would you do differently?
Ans: I would market more from the beginning. I made excuses for because of my budget and I should have quit my day job sooner, not work two jobs for 3 years. I did not trust myself that I could make it work financially but I did and I do now.
Q 26. How has being an entrepreneur affected your family life?
Ans: I worked a lot while the kids growing up but I also worked at their school so I had time with them. Now they all enjoy music and my daughter is graduating with a business degree in music. My husband is also a musician and he came up with Leading Note Studios name. (The 7th tone of the scale that leads you home!). He has great sales and customer etiquette that helped me in many situations.
Q 27. What is your greatest fear, and how do you manage fear?
Ans: FEAR: False Evidence Appearing Real. I don't buy it. I don't give it energy. I roll my sleeves up and do it! I think appreciation keeps fear at bay. I've been in valleys and I have always landed on a better, bigger mountain with more opportunity presenting themselves daily.
Q 28. How did you decide on the location for your business?
Ans: The location I chose was close to my first job where I taught music to Preschooler -High School at a local Christian school for 14 years. I knew they would follow me for lessons. It was an old Dr. office and there was minimal build out and kept the cost low. I just jumped.
Q 29. Do you believe there is some sort of pattern or formula to becoming a successful entrepreneur?
Ans: No pattern for success. I have three family members all millionaires who all sold the businesses they built. One from Stanford, one from community college, one never went to college. It is necessary to find what you are passionate about and move that. It creates joy in yourself and others want to be around happy people. It is the pursuit of opportunity!
Q 30. If you could talk to one person from history, who would it be and why?
Ans: Queen Elizabeth I, daughter of King Henry the VIII and ruled during the Golden Age. She rose out of a terrible situation yet became a great leader with supporters around her she listened to for advice. Elizabeth was the first Tudor to recognize that a monarch ruled by popular consent. She therefore always worked with parliament and advisers she could trust to tell her the truth—a style of government that her Stuart successors failed to follow. Some historians have called her lucky; she believed that God was protecting her. Priding herself on being "mere English", Elizabeth trusted in God, honest advice, and the love of her subjects for the success of her rule. In a prayer, she offered thanks to God.
Q 31. Who has been your greatest inspiration?
Ans: My mom! She had her own business when I was growing up and opened up a second location also. She has shown me how to work hard. . . Now I need to show her how to relax. (Me too!)
Q 32. What book has inspired you the most? (OR what is your favorite book?)
Ans: Francine Rivers; A Voice in the Wind. A book about challenges but all things work together for good. Trump's book The Art of the Deal has inspired me to be okay to negotiate and walk away, think don't make an "in the moment decision".
Q 33. What are some of the biggest mistakes you've made?
Ans: Mistakes in thinking I could do things with one foot in the door and another in a different door.
Q 34. How can you prevent mistakes or do damage control?
Ans: Communicate and talk! No texting or emails. Get on the phone or face to face is ALWAYS best!
Q 35. What are your hobbies? What do you do in your non-work time?
Ans: Love to work in the garden and work out doing Jazzercise, hiking and being with family.
Q 36. What makes you happy?
Ans: My kids calling me.
Q 37. What sacrifices have you had to make to be a successful entrepreneur?
Ans: Having to say "no" yet it has made my kids have amazing values and I think we have had great memories.
Q 38. If you were conducting this interview, what question would you ask?
Ans: Has there ever been a time you wanted to give up?  For me no.  Never even entered my mind.  There was a time I needed to tell the landlord I could not pay full rent but quitting was never an option, I was looking for advice and help instead.
Company Detail:
Company : Leading Note Studios
Contact : Camille Hastings
Address : 2146 Encinitas Blvd #105
City : Encinitas
State : CA
Zip : 92024
Phone : 760-753-7002
Email : info@leadingnotestudios.com