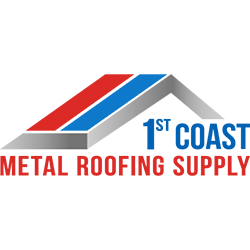 Q: Kindly give our readers an introduction to your business. Please include what your business is all about, in which city you are located and if you have offices in multiple locations/ cities.
Ans: 1st Coast Metal Roofing is your top source for affordable metal roofing materials that are built to last. We stay at the forefront of the industry with high-quality metal roofs that look great and provide the protection you need for years to come.
Q: What inspired you to (start a new business venture) or (to make significant changes in an existing business)?
Ans: How did the idea for your business come about? The business has been open since 1961, we have continued the values and commitment to great products and customer service that kept the doors open for 31 years until ownership changed.
Q: What three pieces of advice would you give to budding entrepreneurs?
Ans: Remain committed to your ideas, success is not an overnight result. Treat your customers well and your employees even better, they are the lifeblood of your business.
Q: What would you say are the top three skills needed to be a successful entrepreneur?
Ans: Patience, Commitment, Drive
Q: How many hours do you work a day on average?
Ans: 12
Q: To what do you most attribute your success?
Ans: Continuing to work hard every day knowing that the path to success is not a straight and easy one.
Q: How do you go about marketing your business? What has been your most successful form of marketing?
Ans: Word of mouth through our roofing contractor network and also a new push into digital marketing has been huge.
Q: Where did your organizations funding/capital come from and how did you go about getting it? How did you obtain investors for your venture?
Ans: Purchased the business with existing capital.
Q: What is the best way to achieve long-term success?
Ans: Detailed planning and timely execution of that plan. Nothing is ever going to be perfect, sometimes you just need to "do" and you can polish it up later.
Q: Where you see yourself and your business in 5 – 10 years?
Ans: Business growing and an expansion of manufacturing capabilities.
Q: Excluding yours, what company or business do you admire the most?
Ans: All of our competition. They help drive us to be better every day!
Q: How important have good employees been to your success?
Ans: Quality employees are critical to a business' success. Treat them well!
Q: What motivates you?
Ans: My family and employees. We are here for them.
Q: What are your ideals?
Ans: Provide quality materials and superior customer service.
Q: How do you generate new ideas?
Ans: All of our employees are involved with making our business better every day. More eyes equals more ideas that help make our business more efficient and profitable.
Q: How do you define success?
Ans: Year over year growth
Q: How do you build a successful customer base?
Ans: By making sure we provide the best products and prices that make our customer so happy that they tell their friends about us.
Q: What is your favorite aspect of being an entrepreneur?
Ans: Building. The challenge of creating something not only for myself, but by creating something that helps our employees and their families.
Q: What has been your most satisfying moment in business?
Ans: There hasn't been a single moment, it has been the steady growth that makes the decision to own a business more satisfying every day.
Q: What kind of culture exists in your organization?
Ans: How did you establish this tone and why did you institute this particular type of culture? We are an employee driven business. Our end goal is to convert our organization into a 100% employee owned business. When employees have a stake in the company's success, then we grow together.
Q: In one word, characterize your life as an entrepreneur.
Ans: Crazy
Q: How did you decide on the location for your business?
Ans: Centralized to the area that we serve at a great value.
Q: Do you believe there is some sort of pattern or formula to becoming a successful entrepreneur?
Ans: Outside of working hard everyday and sticking to your plan, nope.
Q: How can you prevent mistakes or do damage control?
Ans: Listening closely to your customer's experiences with your company as well as relying on employees to provide inputs on the various aspects of your business and how to make it better and more efficient.