The Gilkey Restaurant Consulting Group, a trendsetter in restaurant and hotel consulting services, has been a pioneer in successfully serving all restaurant categories for over three decades now. Renowned for having operated over a hundred restaurant concepts across the United States, The Gilkey Restaurant Consulting Group, takes pride in having created restaurant brands like Princess Cruises, Palomino Restaurant Rotisserie and Bar, Kincaid's Fish Chop and Steak House, On the Border Mexican Grill, Thaifoon Taste of Asia, Ruby's Diner, Amazing Jakes, Lee Ann Chin, and much, much more.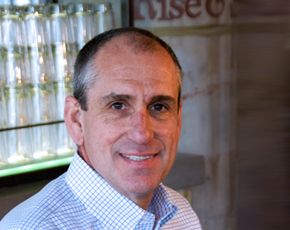 Consisting of skilled industry professionals with expertise spanning over restaurant, and hotel food and beverage to market feasibility studies; from business planning, recipe development, and kitchen operations to restaurant kitchen design and food service design services, to restaurant turnarounds, and financial management- you name it, they have it!
Owner and operator, Scott Gilkey of The Gilkey Restaurant Consulting Group shares with the Ebrandz team his 30 long years of mammoth experience, his tremendous efforts and his constant endeavors to sustain versatility that change the idea of conventional dining.
Our readers would most certainly like to know all about your business.
The Gilkey Restaurant Consulting Group is primarily a restaurant and hospitality consulting firm. We specialize in providing a wide range of solutions to the restaurant and hotel industry. From concept creation to margin improvement to pre-opening launch we can assist you in taking your business to the next level. We have earned the right to be called back, time and again, from our existing clients list, and you will find us to conducting business at the highest level of integrity.
In 30 years you have had many feathers to your cap. Would you kindly highlight.
For the past 30 years I have been in the hotel industry as a restaurant owner and operator and I like to create compelling restaurant concepts for my customers and run great restaurants.
I have held executive positions such as Franchise Owner/Operator, Vice President of Operations, Director of Operations, and Food and Beverage Director for nationally recognized restaurant brands such as Palomino Rotisserie and Bar, Kincaid's Fish Chop and Steak, Ruby's Diner, Zoopa Salad Pasta and Bakery, and Pallino Pastaria — brands recognized for their excellence in outstanding food and service and innovative restaurant concepts.
I believe my greatest ability is to bring concepts to life. Hence, I like to create restaurants with different themes and ideas. I have opened and operated more than 30 full service restaurant concepts across the country and supported 10 Palomino restaurant openings nationwide. Palomino is a Nation's Restaurant News 1995 "Hot" concept award winner.
So how did it all begin?
It really began with my father and brother in law. During family celebrations and gatherings they would routinely encourage me that with my varied experience and years in the industry I should open a restaurant consulting firm. They felt that since many independent restaurant owners have not received professional training there was an overwhelming need for someone like me, who has a copious experience in restaurants, to provide assistance. Eventually I came to the same conclusion and felt that I, indeed, should go for it.
How important is it to a good team? What role have your employees played in your success?
It is impossible to achieve anything without the assistance of a great team. Working collectively can yield greater results than working separately as individuals .Taking into account how the restaurant business has continued to evolve at such a fast pace –in terms of food, beverage, and design ,without the collective efforts of a strong team, there's no way to create and open a compelling restaurant business.
What three pieces of advice would you give to college students who want to become entrepreneurs?
Well there are just two pieces of advice that I would like to give to become a sole proprietor entrepreneur. One is join a first rate company in a similar industry and learn as much as you can. And two, don't be afraid to take risks. Now that I have opened two businesses, I wish I had done it sooner.
If you had the chance to start your career all over again, what would have you done differently?
I would have launched my own business sooner. I wish I would have taken the risk sooner.
What would you say are the top three skills needed to be a successful entrepreneur? Number one is to become a strong leader. Great leaders know how to get their teams involved in the vision for the company and motivate them to take initiative. Two, is to set high personal and professional standards of performance. The high quality work force and consumers in today's times are looking for integrity and quality in the work environment and the products they buy. Number three is to measure or inspect what you expect.
How long do you stick with an idea before giving up?
If I can't get others excited about an idea, than I drop it. As I said before, it takes a group of individuals, a team to accomplish anything well and if others don't get excited about an idea, it not worth pursuing.
How many hours do you work a day on average?
10-12 hours of work in an average day.
Does being a successful entrepreneur give you quality time for your family life?
Well the days are busy and long generally, and most of the times there's no one to hand a project to. So at times like these, it's rather difficult to spend time with the family. But when I'm home I make sure that I spend quality time with my family and if I feel I give them quality time, then I don't seem to miss much.
What motivates you?
I get a great deal of motivation from the thrill of landing into a new business and seeing my customers happy with the products and services they receive. Each of these two things keeps me pushing ahead day to day.
How do you generate new ideas?
The restaurant industry is cyclical in its presentation and seems that restaurant concepts, foods, designs, etc. return in time. What are different are the returns interpreted using today's products and innovation. So I like to look back at what has worked in the past and then spin into a current presentation it so it appeals to a contemporary audience.
What is your greatest fear, and how do you manage it?
Unsatisfied customers-they are my biggest fear. It really drives me internally to know that my clients will be pleased with my work. Even when I have under bid a project or someone needs help and can't afford it, I will stay the course because I don't want them to be disappointed in our work. I don't know if that's a fear but it does drive me.
What are your ideals?
I believe in the golden rule. Do unto others as you would have them do unto you. I live by these ideals and greatly respect those that do as well. At the end of it all, I believe it is important for people to say," They did it with great integrity and character."
How do you define success?
An amalgamation of a successful marriage, a successful relationship with my children, family and friends, happy customers, and a team that is well taken care of! They are all important but I tend to prioritize in this order. That is success for me!