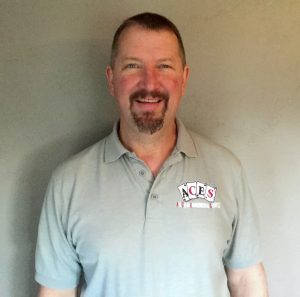 Q.1 Kindly give our readers an introduction to your business. Please include what your business is all
about, in which city you are located and if you have offices in multiple locations/ cities.
Ans: All Clean Environmental Services is a local, family-owned and operated business, which is based in Oshkosh, WI. All Clean Environmental Services performs mold testing and mold remediation, as well as, exterior services such as deck restoration and commercial and residential exterior cleaning of siding, concrete and brick.
Q.2 Kindly give us a brief description about yourself (it should include your brief educational or
entrepreneurial background and list some of your major achievements).
Ans: 50 years old. Born and raised in Northeast Wisconsin. Married and a father of 4.
Q.3 What inspired you to (start a new business venture) or (to make significant changes in an existing
business)? How did the idea for your business come about?
Ans: I grew up on our family farm where my parents were self-employed, so running a business is not entirely new to me. Although I did not continue my parents' line of work (a produce and greenhouse business), I have continued to be interested in being self-employed. I wasn't willing to pursue business ownership just for the sake of being self-employed; rather, I wanted something that matched my interests and skills; I enjoy solving problems, physical work and helping others make improvements. When I discovered an all-natural, biodegradable product that kills mold, I felt like it was a great way to help others solve an annoying problem and also a great way to use my skills and experience. At the same time, I met an experienced entrepreneur who was familiar with the mold remediation and cleaning industry and was willing to guide me through establishing and starting up a business in that field. His advice and encouragement has been extremely helpful in areas that were unfamiliar to me.
Q.4 What three pieces of advice would you give to budding entrepreneurs?
Ans: 1) Accurately determine if your product or service is in demand.
2) Become familiar with marketing (technology has expanded marketing in ways I had never imagined)
3) Communicate with a successful entrepreneur and gladly receive advice from him or her.
Q.5 What would you say are the top three skills needed to be a successful entrepreneur?
Ans: 1) Willingness to work long hours.
2) Determination to succeed.
3) Expecting and humbly accepting areas of failure and then being willing to change and try something new in order to succeed.
Q.6 How many hours do you work a day on average?
Ans: It's difficult to determine an average workday, as owning a business (especially in the beginning because you're always changing and improving), requires the owner to wear so many hats and learn so many things. When I am out in the field, providing services to my customers, I generally work from 8:00 am until 5:00 pm, but that's only part of my job. I also research business options, make phone calls, send and receive emails, write estimates and invoices, maintain my equipment, order and stock my cleaning product and meet with prospective customers. I've even had opportunities to give a presentation of my services at staff meetings. I definitely work six days a week, but I strive to protect Sundays for rest, as this is important to my faith, my family, and my health.
Q.7 To what do you most attribute your success?
Ans: Without a doubt, I would not be able to succeed in my business without an effective, high-quality cleaning product that allows me to provide thorough cleaning services with a manageable investment of time and labor. This allows me to keep my pricing extremely competitive.
Q.8 How do you go about marketing your business? What has been your most successful form of
marketing?
Ans: Most successful? Because I provide services to customers in their homes or workplaces, I have found that various websites that act as connection hubs for service providers and home or business owners are effective. Because I am charged a fee only when an individual actively seeks my services (rather than a fixed monthly fee), there is the drawback of paying for those who are not seriously looking for a service provider, but overall, it is a good way to connect with customers.
Q.9 Where did your organizations funding/capital come from and how did you go about getting it?
How did you obtain investors for your venture?
Ans: It has long been a high priority for me to eliminate debt and avoid accumulating new debt. I was at a point in my life where I had eliminated all of my debt. I was not willing to accrue any new debt, so I had not actively pursued business ownership, but was keeping the thought in the back of my mind. When my parents passed away, I inherited the funds that I needed to invest in this business. I hope to do the same for my children some day.
Q.10 What is the best way to achieve long~term success?
Ans: Communication with the customer is big! Always be honest with the customer. Be on time. Explain delays when they arise. Do what you say you will do.
Q.11 Where you see yourself and your business in 5 – 10 years?
Ans: I hope to keep All Clean Environmental Services in the family. I have children who may be interested in taking over the actual mold remediation and cleaning services. I have found that I enjoy talking with members of the community, answering their questions and helping them solve their cleaning issues, so I would hope to be focusing on that aspect of the business while the younger members of my family are taking care of the cleaning projects.
Q.12 Excluding yours, what company or business do you admire the most?
Ans: A local, family-owned trucking company in Neenah, WI, named N&M Transfer. The owner, Tom Polacek, once shared that one of his chief reasons for running his company is so that he can provide the level of jobs that maintain a quality standard of living, to as many persons as possible. His business practices reflect that, and it has made a big impression on me.
Q.13 How important have good employees been to your success?
Ans: A good employee is one that I can trust to provide the same high quality of service, whether I am present or not.
Q.14 How long do you stick with an idea before giving up?
Ans: I generally don't spend a lot of time or energy on an unsuccessful idea. It usually doesn't take long to determine if an idea has been successful, so if it is not, I try something new.
Q.15 What motivates you?
Ans: I am motivated, of course, to provide for my family, but my motivation is doubled when I can end the day with satisfied customers that are pleased with the services that I have provided.
Q.16 What are your ideals?
Ans: Truth is a chief ideal in my life, and I am proud to carry it into the mold remediation business. It is extremely important to me to be honest about the dangers (or non-dangers!) of mold. I have found that dishonesty is rampant in the mold testing and remediation business, using scare tactics and lies to promote sales, and I am determined to never make that a part of my business. If services are not warranted, I will not pretend that they are, nor will I propagate "facts" about "killer mold" that are not proven. It is important to me to treat others the way that I would want to be treated.
Q.17 How do you generate new ideas?
Ans: Usually the customers provide new ideas! If they have some great ideas or suggestions, I am happy to try them out! Talking to other business owners in the mold and cleaning industry is also very helpful.
Q.18 How do you define success?
Ans: If, at the end of the day, I have provided for my family, have provided an honest and quality job, and my customer is satisfied, then I have been successful.
Q.19 How do you build a successful customer base?
Ans: To build a successful customer base, I believe that being honest and following through on what I have promised, with the goal of making sure that my customer is satisfied, is key.
Q.20 What is your favorite aspect of being an entrepreneur?
Ans: I truly enjoy the process of meeting with prospective customers, discussing their needs, and then finding a way to fulfill their needs.
Q.21 What has been your most satisfying moment in business?
Ans: The first time that I drove past a home that we had completely restored from extensive mold infiltration and saw that people were living in the home. It was a very satisfying feeling to know that we had taken an unlivable space, due to overwhelming mold, and had completely restored it to a clean and healthy living environment.
Q.22 What do you feel is the major difference between entrepreneurs and those who work for someone else?
Ans: Working for others provides a level of certainty and security that is not present for entrepreneurs. This lack of a "safety net" was probably the most difficult psychological hurdle for me when I began my business.
Q.23 What kind of culture exists in your organization? How did you establish this tone and why did you institute this particular type of culture?
Ans: I think I really try to encourage a culture of professionalism in our business. It is important to me that we maintain a professional profile so that customers feel confident in our abilities, dedication and sincerity. As I have mentioned, the mold remediation business can be an area of rampant unprofessionalism and even dishonesty, so it is important to me that customers know that All Clean is valid and professional. I also want to maintain a small, family-operated culture at All Clean. Others have encouraged me to expand and change the business, but I prefer to keep All Clean a small, easily-managed organization, with low overhead, that can personally care for each customer and attend to their needs in an economical, yet high-quality manner. Large restoration companies simply cannot supply effective, economic ways to deal with mold, but All Clean can fill that need.
Q.24 In one word, characterize your life as an entrepreneur.
Ans: Full.
Q.25 If you had the chance to start your career over again, what would you do differently?
Ans: I would have started the business sooner, if I had had the opportunity.
Q.26 How has being an entrepreneur affected your family life?
Ans: The effect on our family life has actually been an improvement! Because I can be flexible with my hours, and because my family can actually be involved with the business, it has been beneficial for virtually everyone.
Q.27 What is your greatest fear, and how do you manage fear?
Ans: I cannot really report any big fears, as my faith in God's sovereign control has really put much of my fears and worry to rest.
Q.28 How did you decide on the location for your business?
Ans: My line of work does not require a store front, therefore selecting a location was not really an issue for me. I travel to the customer and perform all services at their residence or workplace.
Q.29 Do you believe there is some sort of pattern or formula to becoming a successful entrepreneur?
Ans: I doubt that there is just one pattern for success in business, but I believe that knowing which products or services that are in demand is vital.
Q.30 If you could talk to one person from history, who would it be and why?
Ans: I would enjoy a talk with George Washington, as he had a broad range of skills and abilities, he could keep his morale and the morale of his troops high when things looked bad, and he was willing to sacrifice and put the needs of others before himself.
Q.31 Who has been your greatest inspiration?
Ans: Jesus Christ
Q.32 What book has inspired you the most? (OR what is your favorite book?)
Ans: The Bible
Q.33 What are some of the biggest mistakes you've made?
Ans: I've made plenty of mistakes in my business endeavor already, and know that I will make many more, but I guess some of the biggest mistakes I've made would be: not starting this business at a younger age and not knowing my cleaning products as thoroughly as I should before I began using them.
Q.34 How can you prevent mistakes or do damage control?
Ans: In order to prevent mistakes and keep damage under control, it is so important to keep the standard of quality high. Quality and customer satisfaction always have to be in my mind when talking with customers or performing work. I have to put thoughts of other commitments or interests out of my head and focus on the quality of the job at hand.
Q.35 What are your hobbies? What do you do in your non-work time?
Ans: I enjoy playing football and other games with my kids, riding motorcycle and spending time at our cabin up north.
Q.36 What makes you happy?
Ans: My faith in God, my family, and knowing that I've done a good job for others all make me happy.
Q.37 What sacrifices have you had to make to be a successful entrepreneur?
Ans: I've had to sacrifice the security of a consistent paycheck for the uncertainty of a business venture and I've had to sacrifice approval in some personal relationships because some family and friends that know me didn't think I should start a business. I also had to sacrifice space at our home to stock cleaning products and supplies. We had to get rid of other belongings to make room for items related to the business.