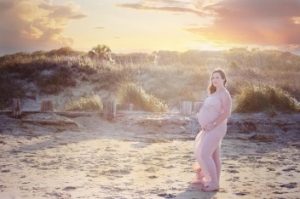 Q.Kindly give our readers an introduction to your business. Please include what your business is all about, in which city you are located and if you have offices in multiple locations/ cities.
Ans – Hello I am Mandy from Mandy Clark Photography, LLC. I am a studio light posed newborn photographer. I also photograph children, families & maternity session. My studio is located in Summerville SC just outside of downtown. I primarily shoot all over Charleston and its surrounding areas when I am not shooting newborns in the studio.
Q.Kindly give us a brief description about yourself (it should include your brief educational or entrepreneurial background and list some of your major achievements).
Ans – I am mostly self-taught with up to date newborn workshops that I attend with other photographers that inspire me to become better at what I do. I try to attend at least one a year to keep me up to speed on certain poses and safety precautions.
Q.What inspired you to (start a new business venture) or (to make significant changes in an existing business)? How did the idea for your business come about?
Ans – It all started with my children back in 2011. It was the holidays and as you would know it my children were sick and couldn't make their big box store session. I decided well why not pull out my "big girl camera" since the tree and the fire place were already decorated. As I cringe at those pictures now I started to learn from my mistakes and it drove me to become better at it. It was a rush of an imagination that I craved. I needed to keep going. Photography wasn't something you just learned all in one day it still challenges me to learn something new every day. Once the pictures of my kids came out on social media my friends and family wanted me to take their pictures mind you this all took place in my home. So practicing on them drove me to try all subjects to shoot. My first newborn was in August of 2012 and I haven't stopped since. She always holds a special place in my heart! Her and her family have become family and still continuously come to me multiple times a year to have their pictures taken.
Q.What three pieces of advice would you give to budding entrepreneurs?
Ans – Honestly you have to invest money to get money but with that being said… You don't need the best of everything either the expression "Don't keep up with the Jones' is so true in my case. Get a feel for if that is something you truly want to do in life. Most people go through life without finding their passion. I have been so fortunate to have found mine. You want to make sure that what you decided to do doesn't feel like work that it is that good of something where you get lost in time do it. Utilize what you have to the fullest don't go into debt trying to keep up with everyone and also VALUE you! Don't undercut yourself create a plan where you know what income you need to survive. Defiantly don't compare yourself to anyone but yourself.
Q.What would you say are the top three skills needed to be a successful entrepreneur?
Ans – Communication, organization & and set reasonable expectations.
Q.  How many hours do you work a day on average?
Ans – In photography alone I work about 2-3 hours a session just shooting then about an hour or 2 to edit them. I also have time I spend on correspondence of getting these sessions booked and anything else leading up to the sessions and after. For instance last week I had 7 sessions 14- 21 hours of shooting roughly 14 hours of editing and 14 hours of correspondence. So an average 42- 49 hours a week on just photography. That's not counting my full time job in the Air Force.
Q.To what do you most attribute your success?
Ans – I give back to my clients. I strongly believe that because they were my client once that they need to be taken care of. I want them to know I value them as much as they value me. I give them a VIP discount on any other session they book after their initial session. When I need models for certain props send me they are who I go to first and they get a free session for it. I would rather keep the clients I already have then trying to chase down new ones. Word of mouth is everything so they keep me really busy and I love it! Although new ones are always welcome.
Q.How do you go about marketing your business? What has been your most successful form of marketing?
Ans – It started on facebook then the big change happened where people were no longer seeing businesses post unless you paid a bunch of money so you hoped they see them but… they still were not. I found that the quicker I would get a session done the faster my clients would post about their session and I would immediately get 2 -3 new booking from their friends or family because they saw the final product. People will go to who they feel comfortable going to and if they see their family or friends going to them that is one step closer to them wanting to book you. Then I hired my SEO manager Ben from Fu dog media. At first I was a little hesitant on the price each month but again it resorts back to what advice I gave in the beginning… You need to invest money to make money. I knew that if I had done at least one session per month it would pay for it by itself. Let's just say being on the front page of google because of him gives me more than just one booking a month so it pays for it.
Q.Where did your organizations funding/capital come from and how did you go about getting it? How did you obtain investors for your venture?
Ans – For me I was really fortunate to have another job. So whatever money I did bring in from sessions basically was able to go right back into my company. Now that I am getting out of the military it will be one of my soul incomes but I am at this point I don't need to really invest into the company anymore that it's mostly all profit.
Q.What is the best way to achieve long-term success?
Ans – Long term success it to know that it isn't a way to make a quick buck. It requires blood sweat and tears but overall so so so rewarding when your client gets that gallery and says "I can't believe you were able to capture my real (insert child's name here)" or when you know that its hot in the studio and you are sweating so the baby can be warm in their birthday suit but you happen to look over and the family watching from a far are sobbing tears of joy knowing that their little one is just so perfect makes everything in an instant a sign that you are doing the right thing in life this is your calling. But onto the business side of the house is organization, book keeping, ect. All up to date because you want to strive to keep clients coming in even on slow seasons
Q.Where do you see yourself and your business in 5 – 10 years?
Ans – Back in 2012 I saw myself continuing to do photography out of my home until I retired from the Air Force and move into a commercial studio. But my plan got bumped up considerably and I was in a commercial studio by 2015. At this point I was already ahead of my business plan. By 2020 I wanted to be traveling and teaching others who would love to learn my style newborn photography. Again that has bumped up considerably and I am doing that this year in 2017. I would say that my new 5-10 year business plan is to hire my daughter as another shooter for my company and keep it in the family.
Q.Excluding yours, what company or business do you admire the most?
Ans – Chic-Fil-A They have it all together! I mean from customer service to flawless long line ordering. They are friendly quick clean and genuine.