Kindly give readers an introduction to your business. Please include what your business is all about, in which city you are located and if you have offices in multiple locations/ cities. *
Landmark Financial is a wealth management firm that offers tax planning, retirement planning, investment planning, business planning, estate planning, and insurance. Our advisors assist clients in the pursuit of their financial goals in a tax-efficient manner, taking into consideration how each financial decision impacts their entire situation. We are business owners providing tax-centric wealth management to fellow business owners and individuals in our community and beyond. We work tirelessly as financial coaches and challenger to define your goals and bring them to reality.
The firm is locally owned with Arkansas offices in Fort Smith, Little Rock, Rogers and Russellville, and Arizona offices in Surprise and Scottsdale. Our team continues to expand our ability to provide complete and well-rounded financial advice clients throughout the United States.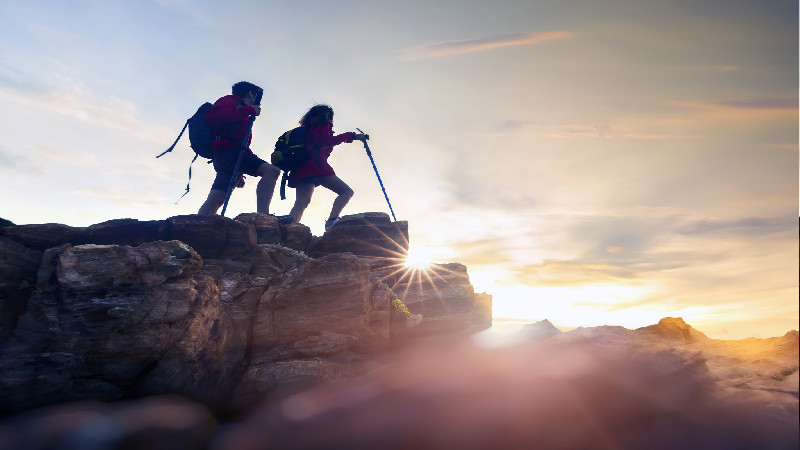 Give us a brief description about yourself (it should include your brief educational or entrepreneurial background and list some of your major achievements). *
Dale Brunk: Dale Brunk is a financial advisor, Certified Employee Benefits Specialist and Accredited Investment Fiduciary. Dale loves working with motivated clients to help them achieve their long-term financial goals. The most rewarding part of his job is working with clients throughout their entire financial lifecycle—from startup to retirement to passing on generational wealth. He is passionate about making a meaningful impact on his clients' lives by helping them invest well, prepare for the future, and build a success story.
Dale is a graduate of the University of Arkansas. He is a Leadership Fort Smith graduate and a recipient of the Northwest Arkansas Business Journal's 40 Under 40 award. He serves on Advantax's Advisory Council.
Dale and his wife, Kim, have two children, Trey and Lexi. Dale enjoys traveling, business, real estate, sports, and spending time with his family. He is a survivor of the September 11, 2001, World Trade Center attack. He considers himself blessed and thankful for each day. He has shared his story through over 200 speaking engagements, articles, and interviews
David Monheit: David Monheit is a CPA, financial advisor, and Personal Financial Specialist. He's a native Arizona resident who loves the Valley of the Sun. David is a second-generation CPA with 30 years of experience in personal taxation, trust taxation, and financial planning. David's educational background and years of practice allow him to integrate his knowledge at all levels of financial decisions so that clients can count on him for personal CFO-level advice. David knows that there is no single approach for all clients. He takes the time to get to know his clients, their goals, and their investment risk tolerance. After examining the whole picture, he can design a comprehensive solution that considers all the risks and rewards inherent in one's financial plan.
David is a graduate of the University of Arizona and is a member of the Sun Health Board of Trustees. When not at the office, David is a dedicated family man who enjoys travel, fitness, mountain biking, and keeping up with his three children.
What inspired you to (start a new business venture) or (to make significant changes in an existing business)? *
After realizing that many of our clients were not properly serviced by their financial advisors, the firm took steps to integrate financial planning and portfolio management into their practice. After having many clients work with outside financial advisors to implement plans based on our advice, we were seeing the plans implemented differently than we intended. So, we decided to bring that expertise in-house so we could provide a better experience and more tax-advantaged outcome for our clients. The whole idea of our wealth management services being established was to leverage the synergies of financial expertise accounting expertise to provide a comprehensive plan for our clients.
How did the idea for your business come about? *
After working with CPA clients very closely and referring them to outside financial advisors, it became clear that we could do a better job in-house and have a better impact on our clients' outcome. When our clients went to an outside advisor, we lost control of the process, and we still ended up doing a lot of the work. So we thought, "If we're going to do all the work, we might as well control the process all the way through to make sure our clients have the best possible outcome."
Who has been your greatest inspiration? *
David: Tony Batman, the Chairman and Chief Executive Officer of 1st Global, which was our broker-dealer before they merged with Avantax. Tony Batman's structure at 1st Global made it turnkey for both my clients and me. They had the asset allocation models, and they educated us on the importance of the models, what they meant, and how they could bring peace of mind to our clients. That made it easier to communicate value to my clients. Another inspiration for me is my dad. He started our CPA firm, and his entrepreneurial energy is what I felt when I started. He didn't try to control what I did. He embraced the ideas that I came up with and empowered me to proceed.
Dale: I can't name just one person that's been a big influence on my life, but clients, business owners, and my partners have had the greatest influence on me. They have inspired me to help create our wealth management firm, and they have been the inspiration for the moral compass that I want to follow as well as where we want the business to go moving forward.
What makes you different from other businesses in your industry? *
Accounting by itself only captures part of the picture. Wealth management by itself only captures part of the picture. So the synergy and differentiator of our firm is bringing accounting and wealth management together to get the entire picture. Our clients have access to two very distinct disciplines in one location, working together to achieve the maximum outcome for them. That's what makes us so different. We also have specialization. Each of our advisors has a background and a level of specialization that is different from each other. Whether it's a CPA-first mentality for our CPAs or a wealth-management first mentality for our advisors, our whole team works together to create unique, comprehensive plans for our clients that take into account their whole financial picture. We foster an environment where we are experts working collaboratively for the benefit of our clients. We did not want to create an environment like a big wire house. What we wanted was a collaborative environment where a client of Landmark has access to all the expertise of Landmark, not just one individual advisor's expertise.
We all have the autonomy to do what is best for the client. And we have a common vision and goal—to make a meaningful impact in our clients' lives.
To what do you most attribute your success? *
Dale: Humbleness, a servant leader mentality, and a mindset of constant improvement. What makes us so successful is that our entire team strives for perfection, meaning that we're constantly looking for ways to improve our clients lives and financial wellbeing. We don't accept the easy answer. We're constantly looking for law changes, tax code changes or investment opportunities that will make a difference for our clients.
David: I attribute my success to the desire to help my clients with complex financial matters by making it simple for them. That drives me to educate clients on available solutions, make recommendations, and show them the benefits. We are quarterbacks and advocates for our clients. We advocate for our clients in all sorts of financial situations, whether it's buying a car or financing a business.
What do you think is the best way to achieve long-term success in business? *
Constantly reinvest in yourself, your business, and your clients. Do the right thing, and do what you're passionate about.
One of the things that has been different about our firm that's allowed us to evolve over time has been our willingness to change and adapt—our willingness to improve from an education standpoint as well as from a professional standpoint. That constant state of improvement means that we're always looking to provide cutting-edge ideas for our clients. I tell clients all the time, "You should not like all of our ideas. If you like all of our ideas, then that means we aren't bringing you enough ideas." We want to help our clients improve their situation. That means we need to bring them enough different ideas so they have information to make an informed decision.
Where you see yourself and your business in 5 – 10 years? *
David: A continuation of the same, but in a progressive way because we are constantly learning as we go. Our firm is going to grow based upon the ideas and motivation we have. For me in particular, that means I'm going to embrace more of a business-owner's focus because of my relationship with Dale and his expertise.
Dale: My vision is to grow the firm in a way that as our clients change and evolve, our firm changes and evolves alongside them. That means we can help our clients throughout any phase of their business—from creating the business, growing the business, exiting the business, and passing on generational wealth.
Excluding yours, what company or business do you admire the most? *
David: I admire subscription-based businesses. For example, Netflix. Businesses like that can't be lazy. They must always think about the future and about what they're going to deliver to their subscribers.
Dale: I admire business owners who have been able to start a business and grow it into something that becomes greater than just the business owner. Starting a business is extremely hard, and there's a high percentage of new businesses that fail. But there's an even smaller percentage of businesses where the business owner can turn it into something bigger than just the individual. A lot of small business owners just create jobs for themselves. I truly admire the business owners who build their business so that it truly becomes a business–not just a job for the owner.
I hope that that's what we create here at Landmark—that we create a firm that is greater than any one individual. Because when you do that, that's how you achieve the greatest level of service for your clients. If something were to happen to me and someone else at Landmark could not help them, have I really helped my client for the long-term? No, I've only helped my client for the short-term. But the idea that we are a firm that can continue on even without me means I have taken care of my clients for the long-term, beyond just my career. I have helped my clients' next generation and the generation after that. Now we're talking about creating generational wealth. And that's important.
Who is your target demographic? *
Dale: My target demographic is people who are looking to make improvements in their financial wellbeing. Someone who is willing to entertain ideas to make improvements in their situation. It could be improvements in tax savings, improvements in investment returns, or improvements with their overall estate plan. My ideal client is engaged; someone who is not happy with the status quo.
David: My ideal client is someone who is engaged in their own financial life and is interested in working with a professional like me as their financial quarterback. I really focus on being a personal CFO for my clients.
Please list 3-5 talking points about your business that you feel are most relevant to your target audience. *
Dale: Maximizing tax benefits is our number one priority, and it's also the number one synergy we have to offer by blending wealth management and accounting. When it comes to business owners, we manage their financial lives for them. We handle all of their investments, we handle their tax planning, and we handle their retirement plans. We give them a turnkey solution.
David: For individuals, our priority is lifetime income protection. We focus first on their cash flow and meeting their expense needs. Once their plan is in place, there's little concern about volatility in the market. They feel financially secure.
What are your overall thoughts on your industry? Any advice you could give people about your industry? *
David: As an advisor, it's about responsibility. A lot of what we do comes naturally to us, but our clients don't have that level of comfort. We have to do the right thing for our clients because of the disparity between where they're coming from versus the knowledge we have as financial advisors.
Corporate America used to think and plan for their employees' retirements. They used to have pension plans in place. Employees knew throughout their career that if they stayed for so long, they were going to have a steady income for the rest of their lives. Now there are so many details in the solutions our clients have to use to manage their retirement income that our responsibility level steps up even more than before because we have to, once again, educate them on what their options are and how those options work.
Dale: There is a lack of financial education in the United States, and there are a lot of people who aren't prepared for retirement. So our responsibility to our clients is to tell them the truth. Sometimes they don't want to hear the truth, but we need to tell them the truth about being prepared for retirement. Our industry is more important than ever because there is an enormous pool of people who need help managing their finances and prepare for retirement. We are facing a retirement crisis. There's an increase in people upgrading their homes. The average household has more cars. There's more debt with less money saved for retirement. Our industry needs to do a better job of educating people to be fully prepared for retirement, or unfortunately, people are just going to have to work longer because they have to—not because they want to. Beginning in the '80s, there has been a reduction in the amount of pension plans or guaranteed retirement programs from corporations, so we're now starting to see a generation of workers retire with no guaranteed income. Truthfully, America needs this financial education awakening. But it doesn't have to be complicated. It could be as simple as knowing what a cup of coffee costs. If somebody buys a $4 cup of coffee every day, how can that actually impact their lives over 20 or 30 years? It could be something as simple as understanding interest rates on credit cards. People need to realize that they're spending 20-25% interest rate on credit cards that, quite frankly, they'll never get out of if they only make the minimum payment. It is a huge responsibility for our industry to educate people about their future and be truthful about what their future's going to look like without some changes.
How do you give back and support your community? *
David: I'm on the investment committee for multiple organizations in my community, which takes a lot of volunteer time. But I think being part of the community is huge. If anybody comes in with a question, we're always there to help. If somebody comes in and asks, "Do I even have enough in assets? Is my situation complex enough for you?" my response is "You're in the community. I'm here to help."
Dale: I give back through time and talent. I've never turned down a client. Never. We manage over 200 retirement plans, so there are thousands of employees within those retirement plans. Any one of those employees can call or come in and ask questions. We will always give just good, general education advice. We don't charge extra for that. If I can help educate someone about credit card debt or mortgage debt or saving for retirement, I'll always help.
What motivates you?
Dale: I operate in a constant state of improvement. I feel that it is my duty to be better today than I was yesterday. That doesn't always happen, but I am motivated to constantly improve. I feel that Landmark has a story to tell. We have this synergy where we blend accounting and wealth management together. I think that we do that better than anybody. So what motivates me is that there's something we have that nobody else can do. As a result, I feel an obligation to tell as many people as possible. Our expertise of blending tax and wealth management together can improve lives, whether you're an individual or a business owner. Whenever you feel like you have this nugget of knowledge that most other people don't, you get super excited about it and want to share it. So you wake up every day thinking, "I want to share this. Who can I tell? Who can I share this experience with?"
David: I am innately driven to produce quality deliverables and advice for my clients. And I always strive to learn more as I go. I also love positive feedback. When I see clients that are comfortable because of what we've done and how we've progressed, that's satisfying.
How do you generate new ideas?
David: I generate new ideas through collaboration with people that we interact with, like fellow professionals, as well as through resources, like news.
Dale: I've said it a couple of times now already, but through a constant state of improvement. Whether that's reading books or newspapers and periodicals or by talking to peers and people with differing opinions. I like to be challenged about what I think. That allows me to come up with new ideas or to think of something from a different angle.
What is your favorite aspect of being an entrepreneur?
Dale: Creativity. There's nothing more rewarding than coming up with an idea that can have a meaningful impact on your clients' lives or your firm and then work collaboratively to implement it. As an entrepreneur, you can do that. You can come up with a new idea or new process that will have a meaningful impact on your clients or your firm. If you're part of a big corporation and just a cog in the wheel, you don't have that same freedom.
David: Freedom. I don't like to work within boundaries, so being an entrepreneur allows me the freedom to work outside of boundaries and do my thing.
What has been your most satisfying moment in business?
David: The compliments and thank yous I get from long-term clients because they're comfortable. They have everything taken care of. They have nothing to worry about from their tax, investments, cash flow, and estate plan perspective. They're at peace. I like that. Another satisfying moment is having a team that's aligned toward the same goal of making clients happy and satisfied with using our firm for the services that we provide.
Dale: Seeing clients come full-circle with their financial plan is satisfying to me. It's taking a business owner's ideas about how they want to improve their business, and minimize their taxes to eventually selling the business and retiring.
The second-most satisfying thing for me is seeing employees grow and succeed. Seeing them join our team as a new employee and, 10 years later, becoming my partner in the business. Here's someone that we hired right out of college and providing them the foundation and opportunities for growth. It's investing in that person and their career and seeing them grow from an employee I hired to my business partner. That's extremely rewarding.
What book has inspired you the most (or what is your favorite book)?
Dale: "Titan." The biography of John D. Rockefeller. I read it thinking that it was going to teach me a lot about business, but I learned more about philanthropy and giving money away. The most thought-provoking books I've read lately have been those by Peter Zeihan, a geopolitical scientist. He writes about the power and struggles of nations and energy independence. He's written three or four books, and he makes you think. My favorite strategy book is "The Art of War" by Sun Tzu. It's actually one that I've read multiple times. I really enjoy that from a strategy standpoint. There are a lot of life lessons in that book. With the title "The Art of War," you wouldn't have thought that, but there are a lot of life lessons in that book.
What would you say are the top three skills needed to be a successful entrepreneur?
David: The willingness to learn, to educate yourself further on your specialty and profession.
Dale: Having a positive mindset. Being an entrepreneur is tough. There are going to be days when you just feel awful or that you're going to be down. As an entrepreneur, you must have a positive mindset and the ability to not allow that negativity to weigh you down. Sometimes when things aren't going good, I'll look at myself in the mirror and just say, "Today's a great day. I'm going to do phenomenal things today," even if it's a lie. But you have to keep that positive mindset no matter what. And you must do whatever it takes. An entrepreneur doesn't have an 8:00 to 5:00 job.
For More Information Visit us at www.mylandmarkfinancial.com