Q1 – Please give our readers an introduction to your business. Please include what your business is all about, in which city you are located?
Ans – Hello, I'm Hannah Zackney. I'm a Licensed Marriage & Family Therapist and the Creator of Heart Wide Open Women's Empowerment groups and Intensives.
I help individuals reconnect with their body, in a way that mends the soul. I use somatic modalities such as EMDR (Eye Movement Desensitization Reprocessing), CRM (Comprehensive Resource Modeling), Brainspotting, DBT (Dialectical Behavioral Therapy), and ACT (Acceptance Compassion Therapy).
I often partner with physicians, doctors and integrative naturopaths in helping clients transform and transcend trauma to restore a sense of overall happiness and wholeness. I offer healing opportunities through private sessions, classes, group programs and retreats.
I'm very excited about my growing staff of associates who specializing in cutting edge technologies to serve those in need of holistic mental health services.
Hannah Zackney Therapy & Heart Wide Open Therapy is located in Folsom, Ca
Q2 – Please provide a brief description about yourself.
Ans – I'm a Licensed Holistic Psychotherapist, Meditation Teacher, and Yogi that specializing in women's issues. My work focuses on integrating brain science, emotional intelligence, mindfulness and body awareness to guide women and men on an empowering journey of deep connection. I have helped hundreds or individuals usher their visions into reality by teaching them to become their own best advocate. I call this process living "Heart Wide Open."
Q3 – What inspired you to start this business or get into this industry? Or to make significant changes in an existing business? How did the idea for your business come about?
Ans – The world desperately needs to be healed. I believe women are necessary in this repair.
During my many years of psychotherapy I've heard and deeply related to the hearts of women. I've listened to so many women report feeling alone, with no time for the pursuit of their passions or purpose. I believe empowering and lifting one another up is the remedy to our collective sense of isolation.
Over the years I've seen women struggling to do it ALL, all on their own.
Women are experts at nurturing others and they desperately deserve to nurture themselves.
I wanted to create a place for women to come together in a positive and non-competitive way where they learn to heal one another, support on another and lift one another up. We women need to work together. It's time.
Women possess the qualities our world needs to heal. We are much more powerful together.
I am blessed to bring communities of women together in longstanding group participation and open the door to lasting friendship. Together these women hold one another accountable. They learn how to shed anything that hides their vibrant souls via the use of yoga, volunteering, self-care, therapy, gratitude practices, meditation, creative expression and more.
Q4 – What would you say are the top skills needed to be a successful as a therapist/counselor/trauma counselor/women's empowerment group leader?
Ans – ….hmmmmm. I think you need to have had a few rounds in the ring of "life" yourself. I feel the variety of experiences and challenges I've had both personally and professionally allow me to relate in some way to almost everyone I know. Also, you have to be curious, and believe in people. I genuinely believe that we are all doing the best we can with what we have at the time and that belief allows me to be curious about motivations, thoughts and feelings of others. I think when you are curious enough to figure all that out about someone, then that someone feels deeply seen. There is authentic healing for both parties in that type of connection.
Q5 – To what do you most attribute your success?
Ans – My rituals and my commitment to them. I've been taught that your rituals must be stronger than your neurosis. At this point in my life I pretty much make time for quiet and reflection on a daily basis. My morning routine involves movement (running, walking, yoga), journaling and meditation along with an intentionally healthy lifestyle and diet. My rituals are non-negotiable for me. And reading. I absolutely can't get enough. On average I read about a book a week. Reading grows me. It inspires me. It teaches me. It relaxes me. It sometimes gives me permission to really know what I already know.
Q6 – What motivates you?
Ans – Oh gosh, so much. People who know and have experienced so much more than me are great motivators. Podcasts are definitely a part of my world. Stories people share of overcoming the odds. I'm motivated by a desire to make a difference. We are daily reminded of what's broken in our world. Sometimes that depresses me but most often it's a motivator to create some healing and change. I'm an optimist to a fault. I see most things as "figure-out-able".
Q7 – What are your ideals?
Ans – Love. Love is the answer.
Collective consciousness.
That we are all one. Namaste consciousness.
That LOVE heals everything.
That there's more than enough room for us all to experience our dreams coming true and that the world would be a happier place if we learned how to join together to help one another achieve them.
A world full of people who genuinely celebrate one another's wins.
Q8 – How do you define success?
Ans – Connection. I feel a great amount of success when people I've worked with connect to their purpose. I love when my clients become unafraid to realize their potential and let go of worrying what others think. When they say "I never thought I could feel this way" with grin from ear to ear. The next thing they say is "I want to share it with the world." This always gives me hope. That feels like success.
I also feel incredible success when people I've worked with deepen their connection with healthy friends and family and claim their right to exchange love in an honoring way. When I hear, "you saved my marriage" I definitely feel like the work I'm doing matters, and I guess that's my definition of success; to know what I'm doing is bettering someone's life in a powerful way.
Q9 – What has been your most satisfying parts of your practice?
Ans – Hands down when someone SMILES so brightly as they tell me that they didn't know they could experience life so joyfully. My favorite quote is The Purpose in Life is to Be Happy. – The Dali Llama I love it when someone tells me how they are showing up more lovingly and that they have experienced the change they thought they never would. When they surprise themselves and reach the potential I knew they could. That feels incredible to be a part of.
Q10 – How did you decide on the location for your business?
Ans – I love the community of Folsom. People here and in the surrounding area take great interest in their lives. I love to work with people who want to help themselves. That kind of energy is infectious and inspiring. Folsom is the heart for both the HWY 50 and the 80 corridors. I'm consistently in admiration of what a hub Folsom is for so many in the surrounding area.
Q11 – Do you believe there is some sort of pattern or formula to becoming a successful entrepreneur?
Ans – Ha. The other day my husband sent me this picture. I think it sums this question up quite nicely…on repeat!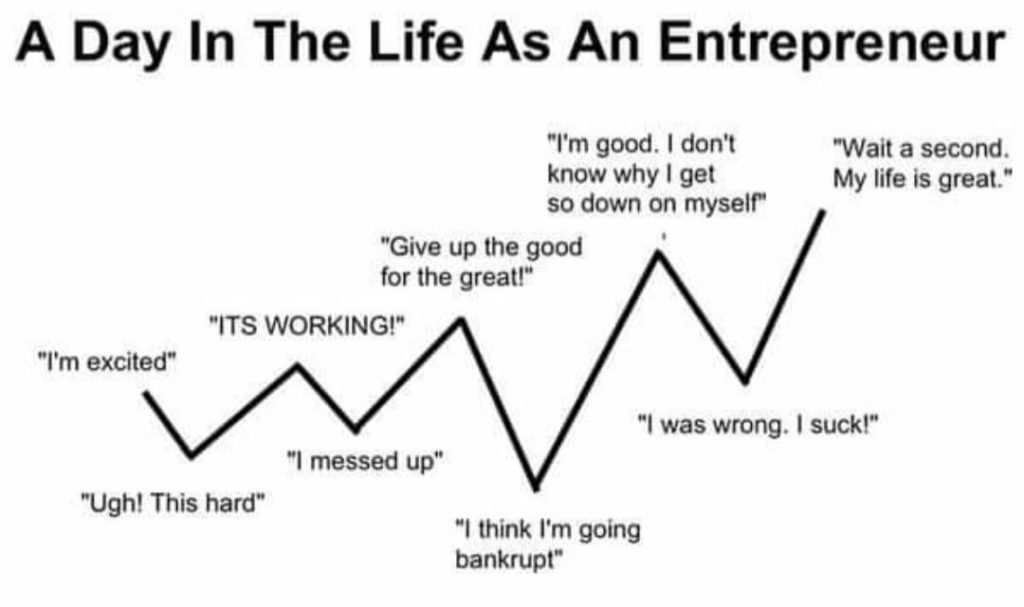 Q12 – If you could talk to one person from history, who would it be and why?
Ans – That's tough. Maybe Marilyn, ("Monroe" Of Course!). She was a budding feminist and unabashedly all things female. I love how her inner courage matched her outer beauty. But I mostly love how unabashedly unapologetic she seemed. I wonder what she left too early to say. And more…. Anne Frank, Abraham Lincoln, Mother Teresa, my Grammy.
Q13 – Who has been your greatest inspiration?
Ans – Cliché, but probably Oprah. She's wise and real and imperfect and amazing. And, Amy Fox Helms. She died several years ago in a car accident. he was in so many ways a nurturer for me. She was a model of emotional capacity and vulnerability and of friendship, love and connection. I miss her daily. She was one of my dearest friends.
Q14 – What book has inspired you the most? (OR what is your favorite book?)
Ans – That's an impossible question. I could never pick just one. However, The Untethered Soul by Michael Singer has definitely made an impact on me. In it Michael talks of how it's easy to open our hearts. Not so easy to keep them OPEN (especially when things are hard). This concept has really shaped my Heart Wide Open programs.
Q15 – What are some of the biggest mistakes you've made?
Ans – I regret waiting too long to do what I KNOW I should do. Procrastination (aka fear) sometimes gets in the way. I can call fear out quicker these days. I've also made mistakes staying in things longer than they served me. When I was younger I had a lot of unbalanced relationships.
Q16 – How can you prevent mistakes or do damage control?
Ans – Ha. If you figure this one out lmk. Actually, I don't aim to life a "mistake" free life anymore. I embrace failure. I just underlined this quote yesterday as I was reading. "Mistakes are the growing pains of wisdom. Without them there would be no individual growth, no progress, no conquest." – William Jordan
Q17 – What are your hobbies? What do you do in your non-work time?
Ans – Well, with three active boys ages 12, 13 and 14 and a traveling husband I don't have a lot of extra time. But when I do have space I love to be outside hiking, paddle-boarding, running and biking, especially in the mountains. I love to travel and explore new places. I love date night!
Q18 – What makes you happy?
Ans – My husband. He gets my humor and makes me feel like the funniest, most beautiful girl in the world. My dog Tillie, she's sick right now and I fear I'll soon embrace a great loss. And my kids, daily I smile at the opportunity to be their mom. Kahlil Gibrans poem On Children reminds me of the gift my children are. Hint: go google it now. Beautiful!
Q19 – What sacrifices have you had to make to be a successful entrepreneur?
Ans – Uh. Ha! What haven't I sacrificed? Time, sleep, money, comfort, security, retirement, a matching 401k. And YES, it's been 100% worth it!
Q20 – If you were conducting this interview, what question would you ask?
Ans – If you could do anything in the entire world and didn't have to worry about money, or time, or what others thought, what would you do?
Contact
Business Name : Hannah Zackney
Address : 101 Parkshore Drive, Folsom, CA, 95630
Phone : 916-932-6929
E-mail Id : Hannah@HannahZackney.com
URL : https://www.hannahzackney.com/