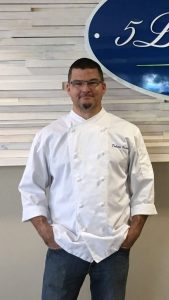 Q. Kindly give our readers an introduction to your business. Please include what your business is all about, in which city you are located and if you have offices in multiple locations/ cities.
Ans: 5Loaves 2Fish Café, located on the St. Johns River in downtown Jacksonville.  We currently offer Breakfast, Lunch, full coffee bar, smoothies, house-made baked goods.  We are a full-service caterer with a beautiful on-site event venue, as well we have a fully equipped food truck that currently provides weekday lunches, attends festivals, events, and weddings.
Q. Kindly give us a brief description about yourself (it should include your brief educational or entrepreneurial background and list some of your major achievements).
Ans: Ive been in the restaurant industry for 28 years and have a bachelors degree in Restaurant Operations from the Culinary Institute of America.  After many years of working in all facets of the industry, including a six year stint as a private chef, I opened 5Loaves 2Fish Mobile Kitchen in February 2014.  Ive since expanded in to a 174 seat restaurant in a 10,000 sq.ft. space that serves as the hub for all the current operations.
Q. What inspired you to (start a new business venture) or (to make significant changes in an existing business)? How did the idea for your business come about?
Ans: Food trucks were an up and coming business model that offered lowered start up costs than the average brick & mortar establishment, so I took the leap of faith and started planning my concept and secured SBA financing to get the ball rolling.  The success of the food truck opened other doors for expansion in to a permanent location
Q. What three pieces of advice would you give to budding entrepreneurs?
Ans: Even if you think you have enough capital to sustain the growth period, it probably is still not enough.  However conservative you may have been in financial projections, be ready with a plan to meet the shortfall.  Have a big enough head to accommodate all the hats you need to wear.
Q. What would you say are the top three skills needed to be a successful entrepreneur?
Ans: People skills, financial acumen, and the mental stamina to deal with the risk and the hurdles
Q. How many hours do you work a day on average?
Ans: 12
Q. To what do you most attribute your success?
Ans: My wife, the sense of reason
Q. How do you go about marketing your business? What has been your most successful form of marketing?
Ans: Social media posts, both organic and paid, word of mouth, in-house print media, a little bit of radio, and SEO/Website development.
Q. Where did your organizations funding/capital come from and how did you go about getting it? How did you obtain investors for your venture?
Ans: A credit score of over 800 at the time of inception, an SBA business loan, and an available cash advance balance on a personal credit card to satisfy the initial 20% personal capital injection needed by SBA requirements.  Otherwise, I started my business without a dime out of my own pocket.
Q. What is the best way to achieve long-term success?
Ans: Micro manage to the bottom line.  In the restaurant business, there are already slim margins on operations and it takes a long time to build clientele while still providing a quality product at a competitive price point
Q. Where you see yourself and your business in 5 – 10 years?
Ans: Hopefully thriving, providing dinner service, a bustling catering business, and possibly a few other locations.
Q. Excluding yours, what company or business do you admire the most?
Ans: There are a few independent restaurant operators in town with multiple locations that are at the top of their game, providing great food, service, and ambiance.
Q. How important have good employees been to your success?
Ans: That's the most important aspect of success.  Without great employees, the business would fail.
Q. How long do you stick with an idea before giving up?
Ans: Until it maintains a negative growth track for several consecutive weeks without any glimpse of a turn around
Q. What motivates you?
Ans: Providing for my family
Q. What is your favorite aspect of being an entrepreneur?
Ans: Im working for myself and my success or failure is all on my decisions
Q. What has been your most satisfying moment in business?
Ans: Expanding in to a restaurant
Q. What do you feel is the major difference between entrepreneurs and those who work for someone else?
Ans: Willingness to work for free until the business can actually pay you
Q. In one word, characterize your life as an entrepreneur.
Ans: Rewarding yet stressfull
Q. What is your greatest fear, and how do you manage fear?
Ans: Going out of business