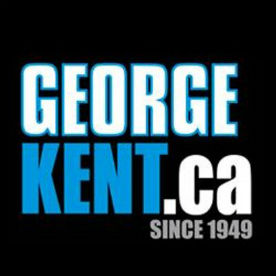 Q. Kindly give our readers an introduction to your business. Please include what your business is all about, in which city you are located and if you have offices in multiple locations/ cities.
Ans: George Kent Home Improvement is one of the oldest Window, Door, Roofing & Insulation companies in the GTA. Located in Mississauga with an additional showroom in Vaughan Ontario
Q. Kindly give us a brief description about yourself (it should include your brief educational or entrepreneurial background and list some of your major achievements).
Ans: "George Kent Home Improvement is owned by Wayne Palmer & Paul Travis.
Wayne has been in the industry for over 43 years and Paul for over 25 years.
Wayne holds a business degree from Concordia University and a Masters Certificate from Queens. He was formerly General Manager of Alcan Building Products."
Q. What inspired you to (start a new business venture) or (to make significant changes in an existing business)? How did the idea for your business come about?
Ans: George Kent approached us in 2009 to see if we would be interested in acquiring his business as he had built a Great company and wanted to be sure it was in good hands and would continue for many more years.
Q. What three pieces of advice would you give to budding entrepreneurs?
Ans: Be prepared to work harder than you ever have before. Surround yourself with the best people you can find. Think and Dream Big and don't be afraid to go outside your comfort zone.
Q. What would you say are the top three skills needed to be a successful entrepreneur?
Ans: Hard worker, Strong sales/marketing skills and be a good financial manager
Q. How many hours do you work a day on average?
Ans: 10 hours
Q. How do you go about marketing your business? What has been your most successful form of marketing?
Ans: "We use various marketing strategies including radio, print, internet & direct mail.
Our most successful form of marketing has been creating our own direct mail piece featuring non competitive products where the cost was shared by other companies thereby lowering our cost per piece. We expect our new venture with a booth at the Improve Canada Center, a year round Home Show, will be our best source of future new business."
Q. Where did your organizations funding/capital come from and how did you go about getting it? How did you obtain investors for your venture?
Ans: Personal funds / savings were used to finance the growth of the company
Q. What is the best way to achieve long-term success?
Ans: Create a unique identity that perpetuates itself and ensures growth in spite of market or economic conditions. This includes a strong financial plan that minimizes operating costs while maximizing sales opportunities.
Q. Where you see yourself and your business in 5 – 10 years?
Ans: Myself to be retired but the business will be continuing with my partner and possibly other family members.
Q. Excluding yours, what company or business do you admire the most?
Ans: Link Energy
Q. How important have good employees been to your success?
Ans: Extremely
Q. How long do you stick with an idea before giving up?
Ans: that varies
Q. What motivates you?
Ans: Desire to succeed and provide for my family
Q. How do you generate new ideas?
Ans: Constant thought and study of other successful strategies in any industry.
Q. How do you define success?
Ans: Constant growth
Q. How do you build a successful customer base?
Ans: Sound marketing strategies
Q. What is your favorite aspect of being an entrepreneur?
Ans: Freedom to make decisions and live with the consequences and having flexible hours to be with my family when needed.
Q. What has been your most satisfying moment in business?
Ans: Purchasing the George Kent business
Q. What do you feel is the major difference between entrepreneurs and those who work for someone else?
Ans: Accountability for your time and your actions
Q. What kind of culture exists in your organization? How did you establish this tone and why did you institute this particular type of culture?
Ans: A FAMILY type culture with the clear understanding of everyone's role
Q. In one word, characterize your life as an entrepreneur.
Ans: exciting
Q. If you had the chance to start your career over again, what would you do differently?
Ans: Would have become an entrepreneur earlier in life
Q. How has being an entrepreneur affected your family life?
Ans: Trying at times because of the stress involved but rewarding in terms of having flexible hours.