Q: Kindly give our readers an introduction to your business. Please include what your business is all about, in which city you are located and if you have offices in multiple locations/ cities.
A: Poster Display Cases sells authentic movie poster cases and marquees.  Our customers are primarily movie enthusiasts, home designers, and commercial theaters.  Every case and marquee is custom made to order.  Our business office is located in Encinitas, CA however we ship all across the US.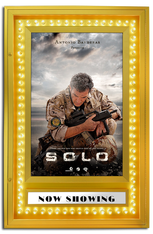 Premiere Series ETS-8 Poster Case w/Chase Lights
Q: Kindly give us a brief description about yourself (it should include your brief educational or entrepreneurial background and list some of your major achievements).
A: I have been in ecommerce since 1997. During these years, I have successfully built, marketed, and managed numerous ecommerce sites and provided consulting for other clients.  I have sold a few companies as well.   
Q: What inspired you to (start a new business venture) or (to make significant changes in an existing business)? How did the idea for your business come about?
A: I am an ecommerce and internet marketing consultant by trade but came across a home theater décor website that was for sale.  I decided to acquire it and began learning about the various products within this industry.  One of the best selling offerings was our poster cases so we decided to build a site dedicated to them.  Unlike any other, the site offers a wide selection and complete customization of the cases.
Q: What three pieces of advice would you give to budding entrepreneurs?
A:  1) Don't try to be everything to everyone.  Do something specific well and do it better than anyone else.
2) Hire the help you need rather than going into partnerships.  While intentions are good, they are difficult to manage. You only can have one leader.
3) Find good mentors and people that are smarter than you to surround yourself with.
Q: What would you say are the top three skills needed to be a successful entrepreneur?
A:
1) Strong Work ethic
2) Be god at sales
3) Focused
Q: How many hours do you work a day on average?
A: 11 hours/day
Q: To what do you most attribute your success?
A: Strong work ethic and good at sales
Q: How do you go about marketing your business? What has been your most successful form of marketing?
A: Search engine optimization and Paid Search
Q: Where did your organizations funding/capital come from and how did you go about getting it? How did you obtain investors for your venture?
A: This business was self-funded.  I have had investors in the past for other businesses.
Q: What is the best way to achieve long-term success?
A: Plan long term rather than working day to day..  
Q: Where you see yourself and your business in 5 – 10 years?
A: I enjoy what I do.  I may acquire some additional ecommerce websites.
Q: Excluding yours, what company or business do you admire the most?
A: I don't pay too much attention to other companies actually.  I would admire any company where the employees are happy and the company is making positive cash flow.  
Q: How important have good employees been to your success?
A: Of course good employees are important.  I always like to surround myself with smart, impactful employees.
Q: How long do you stick with an idea before giving up?
A: Too long.  I need to work on that
Q: What motivates you?
A: The feeling of accomplishment.  Money is also a big motivator for me.
Q: What are your ideals?
A: Be good to people without expecting anything in return.
Q: How do you generate new ideas?
A: I'm an observer.  I watch people.  I look for where problems are and then figure out if there are ways to solve them.
Q: How do you define success?
A: Now that I am married and have children, the definition of success is a little different than it was before.  Business success means being profitable and being able to provide for my family.
Q: How do you build a successful customer base?
A: Work really hard and try different things.  Customers are in all different places.
Q: What is your favorite aspect of being an entrepreneur?
A: Freedom to set my own schedule.  Being in control of my own destiny
Q: What has been your most satisfying moment in business?
A: Anytime someone asks me what I do, I'm proud to say that I work for myself.  
Q: What do you feel is the major difference between entrepreneurs and those who work for someone else?
A: Entrepreneurs often are a little more comfortable with risk.  They also sometimes have difficult listening to other people.  They want to do things their way so starting a business is one way to do that.
Q: What kind of culture exists in your organization? How did you establish this tone and why did you institute this particular type of culture?
A: Work hard but have fun doing it.  Lead by example.
Q: In one word, characterize your life as an entrepreneur.
A: Intense
Q: If you had the chance to start your career over again, what would you do differently?
A: Would have done my first business alone and stuck with it.
Q: How has being an entrepreneur affected your family life?
A: Yes, the positives are you have more flexibility when you want to take off time.  The negatives are you rarely have time.
Q: What is your greatest fear, and how do you manage fear?
A: Not having enough money to cover expenses.  I manage it by working hard.
Q: How did you decide on the location for your business?
A: Our office is down the street from my residence.  It was an easy decision.
Q:  Do you believe there is some sort of pattern or formula to becoming a successful entrepreneur?
A:  I think there are elements that are similar but really everyone is different.  I think there a lot of hard work, timing, and even a little luck for all of the right things to come together.
Q:  Who has been your greatest inspiration?
A:  My mother.  She was an amazing entrepreneur (and parent).
Q:  What book has inspired you the most? (OR what is your favorite book?)
A:  Love is Letting Go of Fear
Q: What are some of the biggest mistakes you've made?
A: Not thinking ahead of how problems could have been avoided with a little planning.
Q: How can you prevent mistakes or do damage control?
A: Plan ahead on what the different mistakes could be.
Q: What are your hobbies? What do you do in your non-work time?
A: I exercise daily and host a podcast for dads.
Q: What makes you happy?
A: My children laughing, my wife's smile, taco Friday's at our house, and closing a deal.
Q: What sacrifices have you had to make to be a successful entrepreneur?
A: less social activities, wear and tear on my body
Order Product at http://www.posterdisplaycases.com