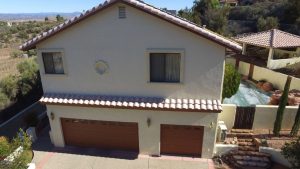 Q. Please give our readers an introduction to your business. Please include what your business is all about, in which city you are located and if you have offices in multiple locations/ cities.
A. As your Prescott painting service, we work closely with our customers to transform your vision into a vibrant reality. Whether you have an expansive estate, or a modest bungalow, we guarantee the very highest quality of craftsmanship compared with any of our competitors. We have built our reputation on the time we take to listen to our customers, and to provide our customers with the highest level of service.
Q. How long has your firm been in business?
A. We are a full service painting contractor, interior and exterior painting company, with over 20 years of experience. Our goals are to bring superior service,
value and integrity to every project we take on.
Q. What services do you offer?  
A. Our services include interior painting, exterior painting, stucco, wood siding paint and repair, drywall repair, deck restoration, door/trim repair and replacement and more.
Q. How do you help people choose paint colors?  
A. We have just the thing to help you out! Sign up on our front page for your free color picking guide. We'll walk you through the color picking process and link you to a color picker that changes the colors of photos you upload, so you can see your choices in action!
Q. What is the price range of your services?  
A. First we want to learn about your project. What problems are you trying to resolve, and do the solutions offered truly meet those needs? What is your budget? What are your time frame requirements? All of this requires careful listening, creative thinking, trust, patience, and teamwork. The end result from the process: You will know what your project will cost, how long it will take, and what it will look like.  Each individual project varies greatly based on client needs. Our free consultations will assess the pricing and timeframe of your project, as well as any additional work that may be needed, like drywall or stucco repairs.
Q. Do you offer a guarantee?
A. Our Goal is Simple: We want your repeat business, and we want you to spread the good news about us to your friends. If for that reason only, we take great care to ensure that you are 100% satisfied with our work. We take extra care to ensure all of your personal property is completely protected. We mask, cover and/or remove any items that are necessary to keep all of your treasured possessions safe, clean and secure.
About Mile High Painting: Miles High painting LLC, your experienced Prescott Painting Company! We are a full service painting contractor, interior & exterior painting company! Dedicated Professional Painters for 25 years. Serving Prescott, Prescott Valley, Chino Valley, Dewey & rest of greater Northern Arizona. We guarantee the highest quality craftsmanship. Let's transform all your old paint jobs into a masterpiece. Our goals are to bring superior service, value and integrity to every project we take on. Free Estimates available. Contact us today for a FREE quote!
Company Name:  Miles High painting LLC
Address: 7760 E State Route 69, C-5 329, Prescott Valley, Arizona 86314
Contact: 928-772-8854
Save
Save