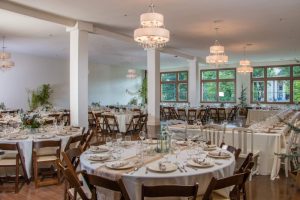 Q. Please give our readers an introduction to your business. Please include what your business is all about.
A. The Plaza View Ballroom is a venue unlike any other in Prescott, for hosting groups up to 299 people. It's the perfect space for weddings, parties, business meetings, or any other social gatherings. When your guests enter the Plaza View Ballroom, you'll be struck immediately by its elegance and grandeur, as well as the fabulous views of Prescott's famous courthouse plaza.
Q. Where are you located?
A. The Plaza View Ballroom, is located in the heart of downtown Prescott, AZ. Located on the 3rd floor of the 1929 historic Old Capital Market Burmister Building, this is one of Prescott's most unique and historic landmarks.
Q. Please describe the ballroom.  
A. The Plaza View Ballroom is elegant and charming with gorgeous chandeliers, heroic murals, 18-foot ceilings and amazing views of Downtown Prescott.
Q. What type of events can be held here?
A. The spacious layout is ideal for many different types of events ranging from wedding receptions to corporate events. Step inside the doors of Plaza View Ballroom and treat yourself and your guests to elegance.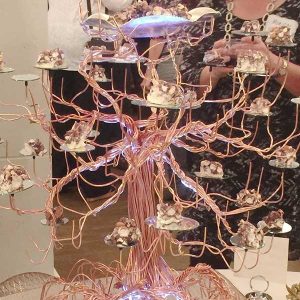 Q. What's the maximum number of guests you can accommodate?  
A. The 6000 square foot event space provides an ample space for up to 299 guests for a seated meal, with a dance floor.
Q. Who is the catering provided by?
A. Catering is provided by our exclusive catering service, Premier Catering and Events. We are proud to provide you a distinctive and crowd pleasing selection of menus for your your events.
Q. Will people need to bring in sound equipment?  
A. We offer audiovisual equipment, including LCD projectors, drop down screen, wireless microphone, headphones and flip charts.
About Plaza View Ballroom: Get a perfect space for weddings, parties, business meetings, & social gatherings only at Plaza View Ballroom!! Top quality services are provided by a professional and dedicated catering and banquet team who will assist you with the planning process. We are excited to have the opportunity to serve you in the beautiful Plaza View Ballroom. It is truly a Historic Gem, in the heart of downtown Prescott!
Company Name:  Plaza View Ballroom
Address: 120 W. Gurley, Prescott. Arizona 86301
Contact: (928) 925-6521
Save
Save