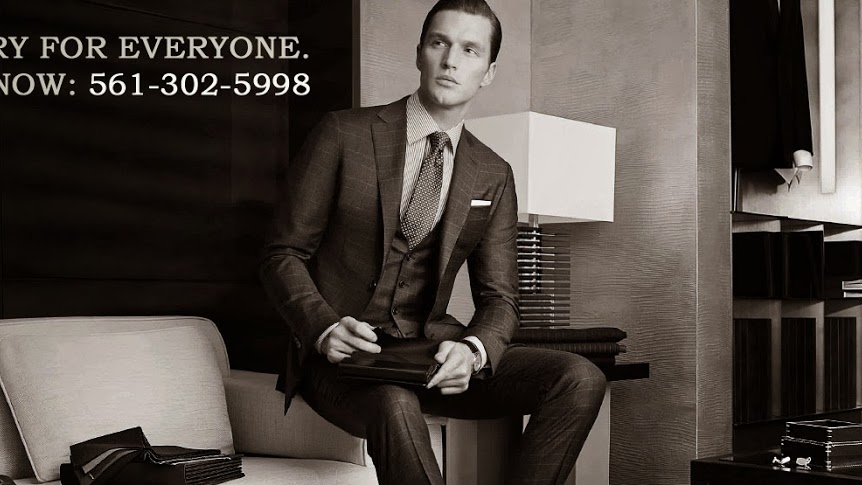 Q 1.    Give our readers an introduction to your business. Please include what your business is all about, in which city you are located and if you have offices in multiple locations/ cities.
Ans:    Massimo Roma is an Italian Custom Clothier, based in Miami Florida. Massimo Roma offers luxurious yet affordable Made-to-Measure and Ready-to-Wear Menswear through a one-on-one service that aims at tailoring the perfect garment for each individual client.
Q 2.     Provide us a brief description about yourself (it should include your brief educational or entrepreneurial background and list some of your major achievements).
Ans:    Born and raised in a country where the importance of getting dress properly is worldly known, I built my foundation as a professional in the Navy. The military environment taught me the importance of integrity, discipline and precision. Values that I've carried on with me when I started my own menswear business 11 years ago. Since then, I've helped all types of gentlemen around the world to get dressed well with our Italian garments. In fact, we've sold 5,000+ suits individually to clients all over the world (covered 50+ countries). Today, I'm enjoying helping local clients in South Florida to build their dream garments that reflect their style, needs and budgets.
Q 3.    What inspired you to (start a new business venture) or (to make significant changes in an existing business)? How did the idea for your business come about?
Ans:    The demand for Made to Measure has increased over the last few years. The smart professional today has realized that spending an additional 20-30% than for a typical retail garment, it will get them 200% payback on their Made to Measure garment. Entire customization (from fabrics to details, from fit to constructions, etc) means better overall look, comfort and…better impressions with their clients.
Q 4.    What three pieces of advice would you give to budding entrepreneurs?
Ans:    Transform your dream into a written business plan. Find the right partner. Believe in what you do and get obsessed with it.
Q 5.    What would you say are the top three skills needed to be a successful entrepreneur?
Ans:    Passion with what you do. Quick thinker/problem solver. Good with interpersonal skills.
Q 6.    How many hours do you work a day on average?
Ans:    10
Q 7.    To what do you most attribute your success?
Ans:    Passion in what I do and love for my country (Italy)
Q 8.    How do you go about marketing your business? What has been your most successful form of marketing?
Ans:    Make your clients happy. They'll get you new business.
Q 9.    Where did your organizations funding/capital come from and how did you go about getting it? How did you obtain investors for your venture?
Ans:    I used my own savings because I believed in what I was doing. If you don't have them, show potential investors your passion and you'll find believers in you.
Q 10.    What is the best way to achieve long-term success?
Ans:    Long term planning.
Q 11.    Where you see yourself and your business in 5 – 10 years?
Ans:    N. 1 Custom Clothier in South Florida with a successful network of sales people
Q 12.    Excluding yours, what company or business do you admire the most?
Ans:    Ermenegildo Zegna, Brunello Cucinelli and Ferrari.
Q 13.    How important have good employees been to your success?
Ans:    I have none at this time but I am partnering with someone now.
Q 14.    How long do you stick with an idea before giving up?
Ans:    Until you believe in it.
Q 15.    What motivates you?
Ans:    My passion and the importance of building something for my child.
Q 16.    What are your ideals?
Ans:    Ideals are dangerous things. Realities are better. They wound, but they're better.
Q 17.    How do you generate new ideas?
Ans:    By exposing yourself to other people. By making experiences and living your life to the fullest.
Q 18.    How do you define success?
Ans:    Not necessarily tied to what you make but being 100% happy with what you do.
Q 19.    How do you build a successful customer base?
Ans:    By delivering a product that exceeds their expectations but also assisting them 24/7.
Q 20.    What is your favorite aspect of being an entrepreneur?
Ans:    Freedom of managing your own life.
Q 21.    What has been your most satisfying moment in business?
Ans:    Not one in particular but when clients call me to thank you and tell me how happy they are.
Q 22.    What do you feel is the major difference between entrepreneurs and those who work for someone else?
Ans:    Freedom and passion are typically the two differences.
Q 23.    What kind of culture exists in your organization? How did you establish this tone and why did you institute this particular type of culture?
Ans:    Respect above everything.
Q 24.    In one word, character
ize your life as an entrepreneur.
Ans:    Freedom
Q 25.    If you had the chance to start your career over again, what would you do differently?
Ans:    Pick a partner sooner.
Q 26.    How has being an entrepreneur affected your family life?
Ans:    In a good way, it has always given me the chance to participate in my child's life, activities, growth in general
Q 27.    What is your greatest fear, and how do you manage fear?
Ans:    Fear is a natural feeling that we all have. It's not manageable.
Q 28.    How did you decide on the location for your business?
Ans:    Brickell Ave. is the fastest growing financial center in the USA. It was an easy choice.
Q 29.    If you could talk to one person from history, who would it be and why?
Ans:    Probably Michelangelo. I'd like to know how he could possibly come up with such amazing masterpieces back then. Leonardo da Vinci is also another one I'd talk to.
Q 30.    Who has been your greatest inspiration?
Ans:    My mother.
Q 31.    What book has inspired you the most? (OR what is your favorite book?)
Ans:    Playing for Pizza – John Grisham
Q 32.    What are some of the biggest mistakes you've made?
Ans:    Choosing the wrong high-school
Q 33.    How can you prevent mistakes or do damage control?
Ans:    You can't. Mistake will always happen. With good planning, you can reduce them.
Q 34.    What are your hobbies? What do you do in your non-work time?
Ans:    My biggest passion and hobby is Soccer. I play the game at time and I also work-out.
Q 35.    What makes you happy?
Ans:    Tranquility, health and seeing my daughter smiling.
Company Details:
Company      : Massimo Roma
Address        : Espírito Santo Plaza, 1395 Brickell Avenue #900
City              : Miami
State             : Florida
Zip               : 33131
Phone           : (305) 998-0409
Email           : massimo@massimoroma.com