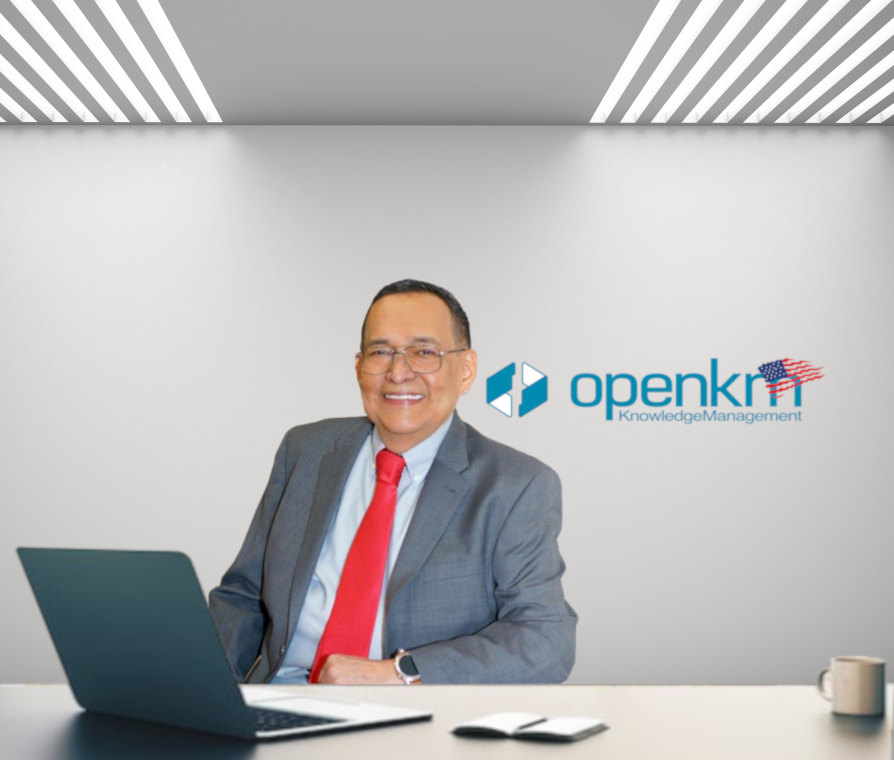 Q 1. Kindly give us a brief description about yourself it should include your brief educational or entrepreneurial background and list some of your major achievements)
I'm Mario Zules, the founder and CEO of OpenKM. I realized early on in life that entrepreneurship is the path for me, so I dived right into it while still at Palm Beach State College and FAU.
Ten years down the line, I have managed several business ventures which have helped me gain the experience needed to successfully respond to the needs of local customers here in the US and those interested in the OpenKM application across the world.
Q 2. What inspired you to (start a new business venture) or (to make significant changes in an existing business)?
Ans: For the many years, I've served in business; I realized business owners struggled most with one thing: files and data management. Many businesses are still relying on outdated methods, and for small companies, modern technology is expensive to implement.
I saw there was a better way to manage business data (without charging an arm and a leg!). Together with my team, we started OpenKM as a modern and inexpensive solution that will help businesses; organize all files and data in one place, keep track of all critical documents, speed up workflow, improve accuracy and provide around the clock access to documents from any part of the world.
Q 3. What three pieces of advice would you give to budding entrepreneurs?
Ans: When it comes to running a successful business, three things define you:
Vision; without a clear vision, you will just be drifting.
Purpose; without purpose, you won't have the fuel to chase down your vision.
Tenacity; without tenacity, you won't be able to overcome obstacles and inspire those around you.
Q 4.What could you say are the top three skills needed to be a successful entrepreneur?
Ans: 1. It would help if you were a clear thinker and clear communicator – to be able to rationalize complex issues and ensure all the relevant stakeholders are on board with you;
You need to be able to sell – to sell the opportunity to investors, to sell the company to prospective employees, and of course, to sell products to customers; and
You need to work hard – companies don't build themselves!
Q 5. How many hours do you work a day on average?
Ans: Well, OpenKM follows a standard 9-to-5, 40-hour workweek. However, as the CEO, I'm generally one of the first in the office, and I find myself working even at odd times of the day, many times more than 40 hours per week. Long story short, you can't have work-life balance in a startup!
Q 6. To what do you most attribute your success?
Ans: Passion and the resilience to keep going. Also, we have a great team at OpenKM. They have been very instrumental in the success of our business.
Q 7. How do you go about marketing your business? What has been your most successful form of marketing?
Ans: We use our blog, email marketing, and social media platforms, among other marketing techniques to position OpenKM as the leading Document Management System. Also, the fact that we rank on page 1 of Google for this keyword, we attract massive organic traffic to our site.
Q 8. Where did your organization's funding/ capital come from? And how did you go about getting it? How did you obtain investors for your venture?
Ans: I had a strong faith and conviction that OpenKM would work, so starting I willingly took the risk of investing my life savings there. Support from family and friends came in handy too.
We are currently on the lookout for angel investors who are in the same line as OpenKM or who have expertise in our target market.
Q 9. What is the best way to achieve success?
Ans: I think the best way to achieve success is to look beyond ourselves, and the money. As an entrepreneur, it's essential to consider the impact your business will have on those around you and future generations as well.
Q 10. Where do you see yourself and your business in 5- 10 years?
Ans: Our goal is to provide modern and inexpensive solutions to empower small businesses that wouldn't otherwise have access to advanced technology. We are gradually filling that gap.
In 5-10 years, I see OpenKM as the number one document management system. We've been expanding at a rapid rate, and there's no reason for us to believe that we can't do it.
Q 11. How important is it to have good employees being to your business?
Ans: Our team of employees is the most crucial asset in our business. They are involved in the day to day operations of our business, and we would not be where we are without their efforts.
Q 12. How long do you stick with an idea before giving up?
Ans: It depends on the specific idea and what I am looking to accomplish.
Q 13. What motivates you?
Ans: The impact we make on other businesses. OpenKM helps businesses save a lot of time and money. Our solution also allows companies to foster collaboration among colleagues and clients, improve the decision-making process, and improve their customer services and sales.
Q 14. What are your ideals?
Ans: To help business boost efficiency and reduce costs.
Q 15. How do you generate new ideas?
Ans: By keeping our eyes open to problems and opportunities in our field.
Q 16. How do you define success?
Ans: For us at OpenKM success is seeing a customer beam because our software is helping them manage their documents in a more natural and less costly manner in addition to solving other problems in their business.
Q 17. How do you build a successful customer base?
Ans: By offering quality products and treating customers well. We believe excellent customer service is the sure way to set our brand above the crowd.
Q 18. What is your favorite aspect of being an entrepreneur?
Ans: Solving a problem and making a difference in the process. I enjoy solving a crisis for a business and giving people what they need.
Q 19. What has been your most satisfying moment in business?
Ans: There's a lot of uncertainty in business, and most of the time, you are not sure whether your ideas will work. Seeing our plan begin to bear fruit was one of my most satisfying moments.
Q 20. What do you feel is the major difference between entrepreneurs and those who work for someone else?
Ans: Entrepreneurs are always racing to solve the next problem; their minds are always on the search for inconveniences and complaints. While employees will only find issues, entrepreneurs will not stop there; they will go ahead and solve the problem.
Q 21. What kind of culture exists in your organization? How did you establish this tone and why did you institute this type of culture?
Ans: We are a resilient organization that always strives to adapt to the current market shifts while still focusing on our strategy. The reason we developed this culture is that the business world, especially technology, changes very fast. You have to adjust if you want to remain relevant.
Q 22. In one word characterize your life as an entrepreneur
Ans: Rewarding.
Q 23. Given a chance to start your career over again, what would you do differently?
Ans: Think even bigger. I have made a few mistakes here and there, and I look at them as sources of experience and vital parts of the journey to success.
Q 24. How has been an entrepreneur affected your family life?
Ans: Sometimes you need to put in extra hours to meet a customer's expectations, and this can eat up on your family time. I, however, try as much as possible to spend time with my family.
Q 25. What is your greatest fear and how do you manage fear?
Ans: Fear of the unknown is probably my greatest fear as an entrepreneur. There are rarely any guarantees in business, and it's easy to feel out of control. I try to eliminate this fear by conducting in-depth research.
Q 26. How did you decide on a location for your businesses?
Ans: Orlando is a great place; it's often described as 'The world's capital of entertainment parks,' but more importantly, it is a prosperous city that is emerging as a technological hub of the east coast.
Q 27. Do you believe that there is some sort of pattern or formula for becoming a successful entrepreneur?
Ans: Yes, there are specific characteristics that are essential to becoming an entrepreneur; for instance, you must be a problem solver, learn to identify issues, and come up with their solutions. It would help if you also were a leader and a listener.
Q 28. If you could talk to one person from history, who would it be and why?
Ans: It would have to be Leonardo da Vinci. The man was more than just a genius; he was a painter, architect, mathematician, inventor, and engineer to mention a few.
Q 29. Who has been your greatest inspiration?
Ans: Steve Jobs, he is the modern-day Leonardo da Vinci: able to combine technology and design, and to imagine what no one else has yet. Generally, I am inspired by people who do amazing things.
Q 30. What book has inspired you the most? (or what is your favorite book?)
Ans: How Google Works" by Eric Schmidt and Jonathan Rosenberg. The book helped me to unlearn many things about business and management, invest in human resources, and how vital small aspects can become when it comes to managing a company.
Q 31. What are some of the biggest mistakes you've made?
Ans: I was not always adaptable; I later learned that adaptability is one of the essential characteristics of today's entrepreneurs. It would help if you kept trying different ways and solutions until you find the best.
Q 32. How can you prevent mistakes or damage control?
Ans: Being prepared and planning goes a long way. When you take time to visualize each step of the process, you will anticipate and solve mistakes before they happen, therefore preventing them from happening in the first place.
Q 33. What are your hobbies? What do you do in your non-work time?
Ans: I love reading and playing chess. Both are great for your mind, and reading helps me relax.
Q 34. What makes you happy?
Ans: I can help other businesses solve their problems. Generally, I love to be of help to others.
Q 35. What sacrifices have you had to make to be a successful entrepreneur?
Ans: Stability, work-life balance, and sometimes sleep.
Q 36. If you were conducting this interview, what question would you ask?
Ans: What would you be doing right now if you weren't here?
Company Detail:
Company : OpenKM
Contact : Mario Zules
Address : 37 N. Orange Ave. Suite 536
City : Orlando
State : FL
Zip : 32801
Phone : 646-206-6071
Email : info@openkm.us