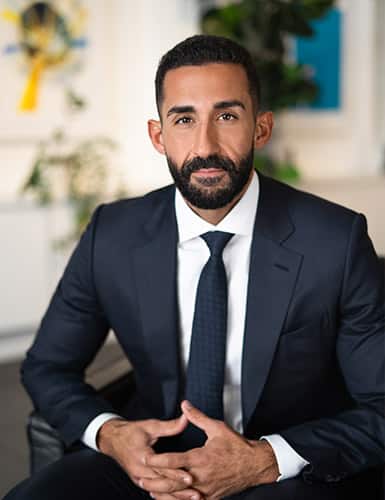 Question: Kindly give our readers an introduction to your business. Please include what your business is all about, in which city you are located and if you have offices in multiple locations/ cities.
Answer: The attorneys at ALL Trial Lawyers have handled thousands of cases throughout Southern California, including cities within the greater areas of Los Angeles, Orange County, San Diego, Riverside and San Bernardino. Unlike lawyers at other law firms, our lawyers have dealt with thousands of cases, litigating matters of a wide range of severities and we have delivered important victories to our clients. There is no such thing as a case that is too big or too small. We have offices in Orange, California and Diamond Bar, California.
Question:Kindly give us a brief description of yourself (it should include your brief educational or entrepreneurial background and list some of your major achievements).
Answer: My name is Mohammad Abuershaid, and I am an attorney and the founding partner of ALL Trial Lawyers. I am the lead attorney handling the firm's juvenile dependency practice (CPS defence). I have counselled and represented hundreds of parents against Child Protective Services (CPS), the Department of Children and Family Services (DCFS), and other social service agency investigations. I have fought for and protected parents in juvenile dependency cases in numerous counties in Southern California, including but not limited to, Orange County, San Bernardino, Los Angeles, and Riverside. I am highly equipped to handle juvenile dependency cases of all severities, including cases involving allegations of general neglect or negligence, failure to protect, severe physical abuse, positive toxicology results in infants, sexual abuse, fractures or broken bones, head injuries, and trauma.
There are two sides to every story and I will make sure your side is heard. I have witnessed many times that investigative agencies, such as CPS and DCFS, do not accurately represent the facts of a case. This bias and slanted reporting by CPS and/or DCFS will always be to the detriment of the alleged offending parents. Ultimately, the parental rights of the alleged offending parents are violated. Understanding how incredibly important and precious children are to their parents, I rely on my extensive experience and expertise to zealously fight to reunite families. I am driven and focused on protecting your parental rights against CPS and DCFS.
In addition to my juvenile dependency practice, I am equally well versed in representing people accused of committing felony and misdemeanour crimes. I have over 20+ jury trial and bench trial experience under my belt. I have delivered a great number of victories to so many of my clients in the form of favourable settlements, dismissals, and acquittals. I have represented numerous high-profile clients, including the family of the San Bernardino shooters. Before forming ALL Trial Lawyers, I was a Public Defender at the Orange County Public Defender's Office, where I represented thousands of indigent clients accused of committing various crimes of all severities.
I am an active member of the Orange County Bar Association and Orange County Criminal Defense Bar Association. I obtained my Juris Doctorate from Western Michigan University.
Question: What inspired you to (start a new business venture) or (to make significant changes in an existing business)? How did the idea for your business come about?
Answer: I started my legal practice because I wanted to balance business and family life better while passionately advocating for my clients.
Question: What three pieces of advice would you give to budding entrepreneurs?
Answer: My advice for those seriously considering becoming an entrepreneur is to be patient, stay focused on your goals, and always keep a good reputation. You are your business, and your business is a reflection of you.
Question: What would you say are the top three skills needed to be a successful entrepreneur?
Answer: I don't know if anyone has the perfect formula. Still, I think the top three skills needed to be a successful entrepreneur are learning how to set SMART (Specific, Measurable, Achievable, Relevant, Time-Bound) goals, and building and maintaining relationships, and time-management skills.
Question: How many hours do you work a day on average?
Answer: I work on average 10 – 12 hours a day. Some days I work more, and some days I work less, depending on my calendar and caseload.
Question: To what do you most attribute your success?
Answer: I attribute my success to the people around me. You must surround yourself with people who will support you and challenge you to think differently and critically. Equally, my relationships with my current and past clients are a huge reason for my success.
Question: How do you go about marketing your business? What has been your most successful form of marketing?
Answer: The most successful form of marketing is word of mouth. Nothing replaces having a solid reputation and track record for what you do. My reputation for handling particular cases, such as criminal cases and juvenile dependency / CPS cases, is excellent marketing for my firm. Marketing your business is like marketing yourself. Again, you reflect your business, so your everyday interactions with people are free marketing.
Question: Where did your organizations' funding/capital come from and how did you go about getting it? How did you obtain investors for your venture?
Answer: I invested my own money. While working at my previous job, I would put money aside to save up for opening up my firm. And when I first started making money, I would continue to reinvest my money into my business to help it grow.
Question: What is the best way to achieve long-term success?
Answer: I attribute my long-term success to believing in myself. You have to set your goal and do whatever you can to achieve it. Write down your goals and manifest / envision how you want your dreams to come to life. You have to be your biggest supporter every single day.
Question: Where do you see yourself and your business in 5 – 10 years?
Answer: In 5 – 10 years, my firm will grow throughout California. I will have offices in Northern California as well as throughout Southern California. So my firm will be a firm that helps people throughout California in all areas of law.
Question: Excluding yours, what company or business do you admire the most?
Answer: I admire the In-and-Out franchise because of its proven and consistent quality. No matter which restaurant you go to, you know what to expect and what you will receive. I also respect that it is family-owned and their backstory of how they built their fast-food empire.
Question: How important have good employees been to your success?
Answer: Having good employees is everything because your employees are a reflection of your firm and you. You need employees you can trust because your employees are the face of your business, as they interact with your clients daily.
Question: How long do you stick with an idea before giving up?
Answer: Every idea is different. There is no one specific timeline that you use for your goals. Instead, you have to set deadlines and see how those goals perform under those time limits.
Question: What motivates you?
Answer: Providing for my family is my biggest motivation. I want to create a legacy that my family can rely on and carry. I also want to give the best service to my clients. I want my clients always to be able to rely on me as they face the scariest and most challenging moments of their lives.
Question: What are your ideals?
Answer: I value honesty, reliability, and the golden rule of doing things for other people you want to be done for you and your family.
Question: How do you generate new ideas?
Answer: I generate new ideas by talking with the people I work with. By bouncing ideas off people you work with and trust, you can start to see new perspectives. Sometimes new ideas can also come in critiques, so it is essential to the positive and negative feedback.
Question: How do you define success?
Answer: Success is when my work aligns with a fair (just) legal system, and I can use my skills to help my clients feel safe and well served.
Question: How do you build a successful customer base?
Answer: Building a successful customer base comes from the work you're doing, the work you've done, and the work you will do. You need to provide quality service or products that your clients can depend on.
Question: What is your favourite aspect of being an entrepreneur?
Answer: My favourite aspect of being an entrepreneur is dealing with the unknown.
You are building something with your name and reputation as the foundation, and you can make it as great as you want to make it. But it is on you to put in the time and effort to build something unique for yourself, your family, and your future.
Question: What has been your most satisfying moment in business?
Answer: The most satisfying moment in business was when I knew that my business could work independently and grow on its own.
Question: What do you feel is the major difference between entrepreneurs and those who work for someone else?
Answer: Entrepreneurs have to be patient and must accept the unknown. You have to accept and appreciate the fears and risks that come with being on your own and rise to that challenge. You have to be able to bet yourself. You can't rely on anyone else because you have to be the boss and the problem solver.
Question: What kind of culture exists in your organization? How did you establish this tone and why did you institute this particular type of culture?
Answer: We are client-centred and client-focused. We have a culture of transparency, honesty, consistency, and urgency. Our clients are our priority because their lives and liberties are in our hands, and that is not something we take lightly. That culture is instituted by having lawyers and employees who understand the firm's mission and vision.
Question: If you had the chance to start your career over again, what would you do differently?
Answer: I wouldn't do anything differently. Everything, the good and the bad, has led me to the moments I have now. Every failure was a learning opportunity. You have to take the good with the bad to grow.
Question: How has been an entrepreneur affected your family life?
Answer: Being an entrepreneur will impact your family life. Some days you will have to pull late nights to handle client needs—other days, you will have time to recharge or spend more time with your family and be more present. It just depends on the day.
Question: What is your greatest fear, and how do you manage fear?
Answer: Failure. I don't want to let down the people around me. But I try to manage that fear by accepting that fear. If you don't manage your fears, your fears will control you.
Question: How did you decide on the location for your business?
Answer: Location is everything. I have been working in Orange County for several years, so I wanted a central location. I then chose to expand to Diamond Bar because it was another central location for our clients.
Question: Do you believe there is some sort of pattern or formula to becoming a successful entrepreneur?
Answer: No. There is no one size fits all formula. The key to being successful is consistency, the ability to take risks, and believing in yourself.
Question: If you could talk to one person from history, who would it be and why?
Answer: I would talk to my younger self. I would like to remember why I started my business and encourage my younger self to never give up, even when situations seem impossible.
Question: Who has been your greatest inspiration?
Answer: My dad. My father is an immigrant and came here from another country and started with nothing. He had to start a new career, work long hours, stay committed, and always strive to be better for his family. He came to the United States with nothing and never let anything stop him. All he had was his goals and his family, and he worked hard to achieve them every day.
Question: What book has inspired you the most? (OR what is your favourite book?)
Answer: The Alchemist. The story of learning from every situation is vital and timeless.
Question: What are some of the biggest mistakes you've made?
Answer: The biggest mistake is not trusting your gut. You have to trust your instincts when facing difficult situations. Also, don't be afraid to let other people in. Some people will want to help you -let them. Finally, don't feel like you have to do everything yourself. Instead, allocate tasks that you don't have to handle yourself.
Question: How can you prevent mistakes or do damage control?
Answer: You prevent future mistakes by learning from your past mistakes. You're always going to make mistakes so learn from them. You manage damage control by owning up to your mistakes and not making the same mistake twice.
Question: What are your hobbies? What do you do in your non-work time?
Answer: I like to work out, watch movies, and play basketball.
Question: What makes you happy?
Answer: When the people around me are happy, I'm happy. I love making my clients and family happy.
Question: What sacrifices have you had to make to be a successful entrepreneur?
Answer: Being a successful entrepreneur takes a toll on your relationships, your family, and your health. The good news is that those are all things you can manage. You just have to learn how to manage your time.
Question: If you were conducting this interview, what question would you ask?
Answer: What are the best ways to network and meet new clients? Those are essential for self-growth and clientele development.