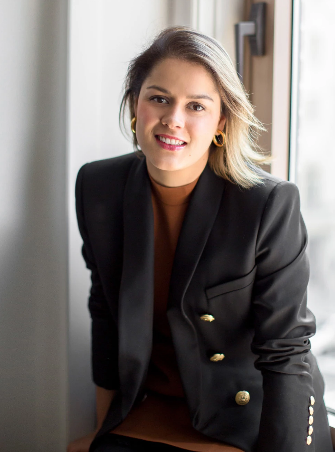 Q. Kindly give our readers an introduction to your business. Please include what your business is all about, in which city you are located and if you have offices in multiple locations/ cities.
 
A. Andrea Gomez is a modern, colorful lifestyle footwear brand designed by and made for women. Striving to strike a balance between trends and true, lasting style, Andrea Gomez footwear combines three essential values: the femininity of Latin women, the style and attitude of New York and the quality and tradition of European craftsmanship. Inspired by their international background, the brand was created by three Venezuelan sisters with distinctly different lifestyles and introduced for Spring 2017. Andrea and her two sisters collaborate closely on every aspect of the business. Based in New York, the collection is manufactured in Italy by small, highly skilled, family run factories in Tuscany. Key to every collection, is taking into consideration every facet of a women's needs…from casual boots to elegant flats to exquisitely refined heels, and meeting those needs with shoes that are stylish, comfortable, desirable, relatable and accessible…all while never sacrificing quality. 
 
Q. Kindly give us a brief description about yourself (it should include your brief educational or entrepreneurial background and list some of your major achievements).
 
A. Andrea Gomez found her way to shoemaking both accidentally and by design. Having grown up in a large family in Venezuela, Andrea was surrounded by nature's beauty, extraordinary color and many incredibly refined and impressively stylish women. From a very young age, Andrea was drawn into and inspired by every detail of these stylish women, as well as the genuine beauty that surrounded her. She went off to study jewelry design in Florence Italy and found a deep respect for artisan craftsmanship and luxurious materials. Transitioning to New York to continue her studies in jewelry and accessories design at FIT, Andrea discovered she was really being drawn to shoes.
Upon returning to Venezuela, footwear had taken a firm hold on Andrea's heart and together with her two sisters, Leonor and Mariela, they decided to create an international lifestyle brand of footwear designed by and made for women. The brand's mission was to strike the right balance between trends and true lasting style, while combining three important points of reference: the femininity of Latin women, the style and attitude of New York and the quality and tradition of European craftsmanship. Their belief in quality, refinement and relatability form the DNA of the Andrea Gomez collection, launched in New York for Spring 2017. This has brought Andrea full circle; back to Florence, where she first fell in love with artisan craftsmanship, luxurious materials and how they can be transformed into beautiful objects.
"Shoes have a certain magic about them. They combine my innate love of color, sculpture, luxurious materials, and respect for traditional artisan craftsmanship. But, they come to life when a woman tries them on and she has an emotional response to how it transforms her foot, then her posture and sometimes, even the way she feels about herself! What else can do that?" Andrea Gomez
 
Q. What inspired you to (start a new business venture) or (to make significant changes in an existing business)? How did the idea for your business come about?
 
A. My two sisters and I had three shoe stores in Caracas, where our family is from. Over time, our lives brought us to New York and Miami. We weren't finding shoes that felt genuinely like us, so we moved our focus from Caracas to New York, creating a brand that feels more suitable to our current lives and how we dress. It wasn't an easy decision, but it also felt like an opportunity and a challenge to try our hand at a much larger market.
 
Q. What three pieces of advice would you give to budding entrepreneurs?
A.  
1–     Be persistent and never lose sight of your goals.
2–     Trust your gut and be true to yourself
3–     Choose your team wisely
 
Q. What would you say are the top three skills needed to be a successful entrepreneur?
A.  
1–     Patience
2–     Leadership
3–     Creativity
 
Q. How many hours do you work a day on average?
 
A. When it's your own business you have to be available 24/7, 365 days per year and wear many hats!
 
Q. To what do you most attribute your success?
 
A. Having a firm goal and never losing sight of it, persevering when challenges arise and surrounding myself with a great, supportive team.
 
Q. How do you go about marketing your business? What has been your most successful form of marketing?
 
A. Social media has been great for us. Also, direct contact with consumers through trunk shows has been a perfect way of gauging reaction to the brand in general, new styles in particular, the fit (which is essential for footwear) and what is on a customer's mind.
 
Q. What is the best way to achieve long-term success?
 
A. There are so many areas to focus on, but we have identified these: it is important to have a great, consistent, desirable product, excellent customer service, pay attention to detail, have the right team and always be flexible and innovative, while growing at a reasonable pace. Don't expand to quickly…thoughtful, measurable growth is best. 
 
Q. Where you see yourself and your business in 5 – 10 years?
 
A. We see ourselves growing both the wholesale and direct to consumer segments of our business. Additionally, we would like to partner with more international retailers and ship worldwide. Possibly add additional accessories categories to the collection.
 
Q. Excluding yours, what company or business do you admire the most?
 
A. Apple for their user friendly engagement as well as their consistency and innovation in design. More generally, companies that identify a need and develop the product to fill that need.