Q. Please give our readers an introduction to your business. Include what your business is all about, in which city you are located and if you have offices in multiple locations/ cities.
A. Webaround is based out of Highland, Michigan and provides webcam backdrops that fasten easily to the back of your computer chair. We ship our Webarounds nationally and internationally and are available for purchase online through our site www.thewebaround.com, as well as on Amazon and eBay. The Webaround is ideal for tele-medicine, live customer service, online gaming platforms, and any other video conferencing situation that requires a uniform, private background.
Q. Kindly give us a brief description about yourself (it should include your brief educational or entrepreneurial background and list some of your major achievements).
A. I have an associate's degree in nursing and have been working as a full-time nurse for the past 25 years. I have always had an entrepreneurial spirit and worked on conceiving my first invention at the age of 20.
Q. What inspired you to (start a new business venture) or (to make significant changes in an existing business)? How did the idea for your business come about?
A. I was at work in the hospital one night many years ago when I noticed a doctor on a video call with a patient. The doctor was video calling from his messy kitchen, and I immediately thought of the solution. I discussed the idea with my colleague Vickie Childers, who is today my partner in the Webaround, and we decided to pursue the project in a joint business venture.
Q. What three pieces of advice would you give to budding entrepreneurs?
A. 1.) Never give up. 2.) Growing a business take time, so be persistent. 3.) Know it's a risk and don't be afraid to take it.
Q. What would you say are the top three skills needed to be a successful entrepreneur?
A. 1.) Be organized. 2.) Be resourceful. 3.) Be persistent.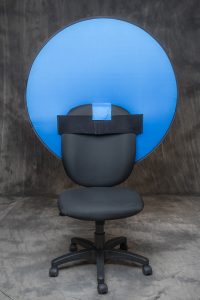 Q. How many hours do you work per day on average?
A. I work 12 hour shifts as a nurse and spend a lot of my free time working on my business.
Q. To what do you most attribute your success?
A. My go-getter personality and my upbringing.
Q. How do you go about marketing your business? What has been your most successful form of marketing?
A. Today the internet is our #1 marketing tool. Although I do not actively market online, many big industry clients have found me through search.
Q. Where did your organizations funding/capital come from and how did you go about getting it? How did you obtain investors for your venture?
A. Personal investment from myself and my partner.
Q. What is the best way to achieve long-term success?
A. Having a great team of sharp, dedicated individuals who are experts at what they do allows me to focus on managing the bigger picture.
Q. Where do you see yourself and your business in 5 – 10 years?
A. I see myself as being a very successful entrepreneur with a booming business and a reliable work team.
Q. Excluding yours, what company or business do you admire the most?
A. I admire hospitals as they are successful businesses that take care of people.

Q. How do you generate new ideas?
A. Customer feedback helps me to generate new ideas and improve my strategy. I am also always seeking out new information on the internet that could give my company a competitive edge in an increasingly competitive business environment.
Q. What is your favorite aspect of being an entrepreneur?
A. I love the adventure, the ups and downs, and the thrill of winning.
Q. What has been your most satisfying moment in business?
A. When I land a major client who emails me from a big-name company, I feel like a real winner!
Q. If you had the chance to start your career over again, what would you do differently?
A. Nothing.
Q. How has being an entrepreneur affected your family life?
A. With my husband, my daughter and my son, my business is truly a family affair – everyone has their hand in something.
Q. What are your hobbies? What do you do in your non-work time?
A. I love rock collecting and going to gem shows. If I could have chosen another career path, I would have loved to have been a geologist. In the future when I have more free time, I'd like to go on more geology fieldtrips.
Save
Save