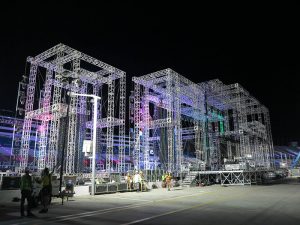 "If you're not in Nashville, you should be," says Joey Gallagher, president of Gallagher Staging. His company, headquartered in La Mirada, CA., has recognized for years the benefit of opening a shop in Music City to better serve their Nashville and surrounding area clients. With careful planning, Gallagher Staging is now staged for a new chapter, and will open a local office to offer Nashville the same level of service and attention to detail that they have become constantly recognized for.
The Gallagher team has been in the custom staging fabrication and rental business for 30 years. Joey had been working on and off with his father, Joe Gallagher Sr., for more than 10 years, before they ventured out on their own to create Gallagher Staging in 2012.
Right out of the gate, Gallagher Staging became a trusted brand, building a reputation for a dependability and reliability that started with the foundation established by the Gallaghers themselves. Their experience within the industry was also reflected in the simple yet effective problem-solving design of one of their earliest products, the G-Block ballast system. It starts with a 3,500 pound, 36-inch cube that encases a cement core in black powder-coated steel. It has bolt patterns for 12-inch and 20.5-inch box truss on five sides. The whole G-Block series (G-Block; Mini-G-Block; and now the Micro-G-Block) has revolutionized the staging industry with their multi-functional properties, and they have become go-to products for the live event industry.
Within a few years of their business launch, the company brought home a number of industry awards, including the 2013 Rock Our World Award for their G-Block system and Parnelli Awards in recent years — the first being their 2013 "Indispensable Technology" award recognizing their Mini-G Block and the 2014 Parnelli for Set Construction Company of the Year.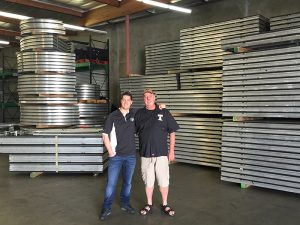 "When building our new company, we looked hard at various companies around the industry and talked about what worked and what didn't," explains Joey. "We wanted to start the new business off on the right foot and build a company that our clients can trust and rely on. Despite the fact that so many clients came onboard quickly, we chose to grow slowly. We didn't want to take on too much at first and risk becoming overwhelmed to a point where we might produce sub-standard products."
They spent a lot of time and effort into building the foundation of their business before going after larger-scale projects. "Four years later, there isn't a job we can't take on. While we may still be in our infancy as a company, part of our success has been surrounding ourselves with veterans and professionals that know what it takes to make a project successful."
Far from being confined by the status quo, Gallagher Staging is open to new ways of meeting their clients' needs. In 2012, for example, the company built a custom set designed to be completely projection-mapped for Chris Brown's tour. It was one of the first times that kind of projection mapping — now commonplace at festivals — was used for a major live event. They look forward to fresh ideas and fabricating designs that are a challenge.
One thing that doesn't change from project to project is the importance the Gallaghers and their team of professionals put on safety, quality, reliability and customer satisfaction. "It started with my father," says Joey. "He'll go out of his way to make sure the show goes on and that his clients come first." As he works to build Gallagher Staging in size and prepare for their newest location in Nashville, Joey is maintaining this commitment to these fundamental principles.
Good Vibrations
Joey Gallagher may be a guy who loves surfing ocean waves, but this landlocked city in the middle of Tennessee has quickly won him over. "There is just something special about Nashville — I plan for a three day trip and end up staying for five or six days," he says. "The feel, the people, energy and lifestyle have taken hold of me. Everywhere you go there is live music, unbelievable food, and folks that are full of energy."
The potential for growth is just as vibrant, Joey adds. "The growth is just staggering. We are constantly sending equipment from our other locations to meet our client's needs in Nashville."
Currently, Gallagher Staging has offices right on Music Row that offer clients a place to meet and discuss projects. In the coming months they will open a shop less then five miles away from downtown where they will be offering the same level of fabrication and rental support as their other locations across the country.
"We want to be right there to support our clients needs whether for a tour, rehearsal or one-off," adds Gallagher. The shop will follow the same mantra that made Gallagher Staging so successful in the beginning — by offering rental staging equipment while examining the needs and trends that their Nashville based clients require and expect.
Gallagher designs and builds custom staging, seating platforms and outdoor structures that are designed to meet strict safety requirements. "At this point, there isn't really anything we don't do," continues Gallagher. From custom corporate and rock 'n' roll scenery and sets to aerospace fabrication, Gallagher Staging steps up to any challenge that a client brings them. "The Gallagher team has been referenced as 'corporate meets rock 'n' roll,'" jokes Gallagher. But the two have totally different needs when it comes to custom sets. The challenge with designing and building scenery for rock 'n' roll is that it has to live up to the tour life. "The set has to be easy and quick to set up. But it must pack away nicely and take the abuse of being out on the road for months as a time."
Since the beginning, Gallagher's clients have told them that they need to have a shop in Nashville. "We listen to our clients, but we want to set things up correctly, just like we have with all of our other locations," says Gallagher. Opening a new shop always faces challenges. The difference for Gallagher is having the right people and knowing the challenges of starting a new shop. He is pleased with the key people he was able to get on board and be part of this exciting new chapter. "Not only are they professionals, but they are local," he says. "They eat, sleep, drink and live the Nashville life. They know what the area needs and the potential growth segments."
By having a centrally located hub in Nashville, it makes it so much better for all the touring acts that Gallagher caters to. Clients of his such as Kid Rock play a lot of weekend shows based in the southern U.S. area where they have a huge following in that music genre. The trucks full of gear need a place to sit in between weekends, and it makes it easier to add and subtract different set elements required for different sized shows. For one gig, the artist may need a thrust added or perhaps a balloon drop or a scissor lift. But they want it out of their trucks before the next round of shows. Having space with gear located in Nashville helps their weekend warrior clientele as well as Gallagher keep shipping costs down in the end. It's a win-win scenario for both artist and vendor.
There is most certainly a brotherhood of locals in this town. "It could be difficult for an outsider to come into Nashville to set up shop. It's like a big family with all of the locals," Joey says. "Having local people on our staff who truly understand the Nashville culture, helping to start the shop will be one of the many keys to our success. They will help us to develop roots and in time become a trusted name in Nashville."
The company has a successful track recording with new offices, having planted their flag in San Francisco, Las Vegas and Florida as well. And while Nashville is a key focus right now, Joey notes that the company will be just as devoted to meeting the needs of customers in the other key cities. "They too deserve the attention and level of service that we want to provide all of our clients," he says. "Each office is equally important in our eyes, but it comes down to giving each client and project the same level of attention."
For more information, please visit www.gallagherstaging.com