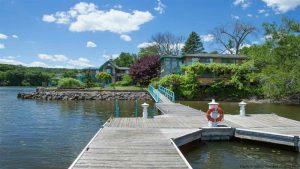 Q – Kindly give our readers an introduction to your business. Please include what your business is all about, in which city you are located and if you have offices in multiple locations/ cities.
A – We are a Residential and Commercial Real Estate company based in Upstate New York with 6 offices located in Kingston, NY, Woodstock, NY, Saugerties, NY and Phoenicia, NY.
Q – Kindly give us a brief description about yourself (it should include your brief educational or entrepreneurial background and list some of your major achievements).
A – Win Morrison was born and raised right here in the Hudson Valley, growing up in Freehold. Besides his formal education, Win quickly learned that working hard paid big dividends.
He was the sole owner of the Snowflake Ski Shop for a time, and has been an antique dealer for most of his adult life. Win even sold automobiles to supplement his living expenses.
Win Morrison spent many years as an IBM executive, based in the Former IBM Kingston facility. From this ideal vantage point, he observed how much the region had to offer and how its people and business community constantly fought back against economic limbo. Long before he formed WMR, Win began to formulate ways to revitalize The Hudson Valley.
Wherever Win worked, and in whatever field, he always worked with the public, finding his greatest satisfaction came from interacting with others. And so, the transition into real estate came naturally.
Opening the Kingston office of WMR in 1982 was Win's first step. Since then, the company has grown steadily in size, effectiveness and impact. Win Morrison Realty now has six offices to serve the region.
Active with six MLS (Multiple Listing Services) the company is pursuing its goal of becoming a truly regional firm serving the entire Hudson Valley from Albany to New York City.
Q – What inspired you to (start a new business venture) or (to make significant changes in an existing business)? How did the idea for your business come about?
A – We understand that growth is a natural part to every company and we've been lucky enough to have a great team that continues to show great promise
Q – What three pieces of advice would you give to budding entrepreneurs?
A – Hard work, focus and determination
Q – What would you say are the top three skills needed to be a successful entrepreneur?
A – Hard work, focus and determination
Q – How many hours do you work a day on average?
A – 20 hours a day
Q – To what do you most attribute your success?
A – Hard work
Q – How do you go about marketing your business? What has been your most successful form of marketing?
A – The internet age has brought about great opportunity for Real Estate marketing
Q – Where did your organizations funding/capital come from and how did you go about getting it?
A – Personal Savings has allowed me to fund this company.
Q – What is the best way to achieve long-term success?
A – Hard Work
Q – Where you see yourself and your business in 5 – 10 years?
A – Continuing to build the Real Estate business in the Hudson Valley area and beyond
Q – Excluding yours, what company or business do you admire the most?
A – Some of the wonderful lending companies that exist throughout the region
Q – How important have good employees been to your success?
A – It wouldn't have been possible without a team effort, so, very important
Q – How long do you stick with an idea before giving up?
A – I'm a very persistent person
Q – What motivates you?
A – Success, Real Estate, and making our clients satisfied
Q – How do you build a successful customer base?
A – Constantly providing first-class service to our buyers and sellers
Q – What has been your most satisfying moment in business?
A – Continuing to be able to build a great company with an outstanding group of agents
Q – What do you feel is the major difference between entrepreneurs and those who work for someone else?
A – There is definitely a challenging balance between work and life.
Q – What kind of culture exists in your organization?
A – Team work, hard work and a customer-first attitude
Q – In one word, characterize your life as an entrepreneur?
A – Busy
Q – If you had the chance to start your career over again, what would you do differently?
A – Nothing
Q – How did you decide on the location for your business?
A – The demand for a reputable Real Estate broker
Q – Do you believe there is some sort of pattern or formula to becoming a successful entrepreneur?
A – Constant Hard Work
Q – How can you prevent mistakes or do damage control?
A – By focusing on hiring the right individuals
Q – What are your hobbies? What do you do in your non-work time?
A – Antiques
Q – What makes you happy?
A – Real Estate is what fuels my day-by-day
Q – What sacrifices have you had to make to be a successful entrepreneur?
A – Time, mostly time.
Win Morrison Realty  is one of the biggest financial decisions you will ever make. When it comes to residential mortgage lending, trust our experienced real estate specialists and support team at Win Morrison Realty to provide a helping hand.
Business name: Win Morrison Realty
First Name: Win
Last Name: Morrison
Address: 63 John Street
City/Town: Kingston
State: NY
Zip code: 12401
Tel No: 845-339-1144