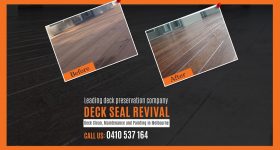 Q 1.    Kindly give our readers an introduction to your business. Please include what your business is all about, in which city you are located and if you have offices in multiple locations/ cities.
Ans:    Melbourne based deck timber restoration company. Restore the old plus preserve the new.
Q 2.    Kindly give us a brief description about yourself (it should include your brief educational or entrepreneurial background and list some of your major achievements).
Ans:    After leaving school, I became a butcher and then into manufacturing and now service industry. Running my own business is definitely my best achievement.
Q 3.    What inspired you to (start a new business venture) or (to make significant changes in an existing business)? How did the idea for your business come about?
Ans:    Completing my own deck at home, I realised there was a market for it.
Q 4.    What three pieces of advice would you give to budding entrepreneurs?
Ans:    Be prepared to work for long hours, don't give up and offering a great service with fantastic staff is must for a successful business.
Q 5.    What would you say are the top three skills needed to be a successful entrepreneur?
Ans:    Work ethic, Persistance and Adaptability
Q 6.    How many hours do you work a day on average?
Ans:    12
Q 7.    To what do you most attribute your success?
Ans:    Hardwork, Teamwork and Commitment
Q 8.    How do you go about marketing your business? What has been your most successful form of marketing?
Ans:    Local Paper and Website
Q 9.    Where did your organizations funding/capital come from and how did you go about getting it? How did you obtain investors for your venture?
Ans:    No Investors.
Q 10.    What is the best way to achieve long-term success?
Ans:    Never g
ive up and don't expect anything but the best.
Q 11.    Where you see yourself and your business in 5 – 10 years?
Ans:    Bigger, Better and More Efficient.
Q 12.    How important have good employees been to your success?
Ans:    The most important thing.
Q 13.    How long do you stick with an idea before giving up?
Ans:    6 Months.
Q 14.    What motivates you?
Ans:    My Family
Q 15.    What are your ideals?
Ans:    Happy staff, Successful business that provides a fantastic service.
Q 16.    How do you generate new ideas?
Ans:    Watching, Listening and Learning
Q 17.    How do you define success?
Ans:    Happiness and Fulfilment
Q 18.    How do you build a successful customer base?
Ans:    By providing a great service to ensure return customers
Q 19.    What is your favorite aspect of being an entrepreneur?
Ans:    Being my own boss.
Q 20.    What has been your most satisfying moment in business?
Ans:    Our affiliation with Cabot/Integrian
Q 21.    What do you feel is the major difference between entrepreneurs and those who work for someone else?
Ans:    Commitment, Standards, Flexibility and Workethic
Q 22.    What kind of culture exists in your organization? How did you establish this tone and why did you institute this particular type of culture?
Ans:    We have very happy staff, they are well looked after and treat my jobs as their own.
Q 23.    In one word, characterize your life as an entrepreneur.
Ans:    Challenging
Q 24.    How has being an entrepreneur affected your family life?
Ans:    Holidays booked in low season, quotes on weekends and at night
Q 25.    What is your greatest fear, and how do you manage fear?
Ans:    Failure and manage it by taking the good with the bad
Q 26.    Who has been your greatest inspiration?
Ans:    My family
Q 27.    What makes you happy?
Ans:    My family
Q 28.    What sacrifices have you had to make to be a successful entrepreneur?
Ans:    Free time
Company Detail:
Company name : Deck Seal Revival
Address             : 30 Royton St
City                   : Burwood East
State                  : VIC
Zip Code           : 3151
Tel No               : 0398863350
Mobile No         : 04 1053 7164
Fax No              : 0398863360
E-mail Id           : info@deckseal.com.au
Save