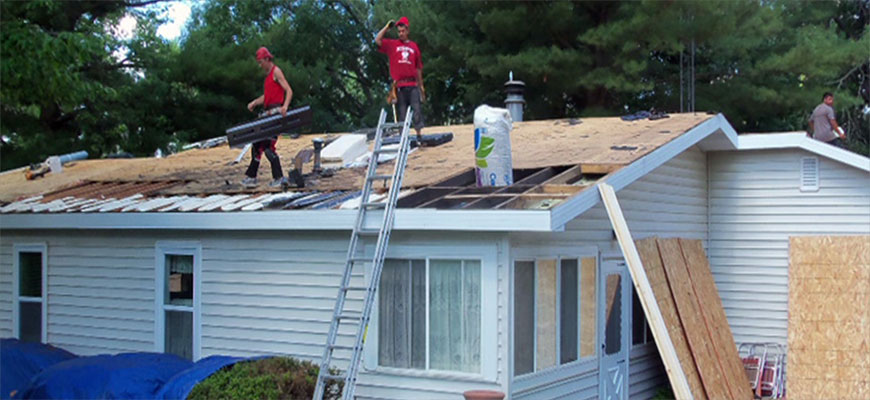 Q- What inspired you to (start a new business venture) or (to make significant changes in an existing business)? How did the idea for your business come about?
Answer Chad Strutzel – Felt there was a better way to assist home owners with their insurance claims. I knew there was potential to improve the way homeowners would make claims with their insurance company and utilizing my experience in both the adjustor and construction field, I was able to do that with my business.
Q- What three pieces of advice would you give to budding entrepreneurs?
Answer Chad Strutzel – Do their homework – don't ever start a business without first looking into what already exists out there that's similar to what they want to create. You need to make yourself standout, find the pros and cons of those similar businesses, and use that knowledge as the building blocks of your new business.
Consult with their accountant – first make sure they can even afford to support themselves when they begin this new venture. It's important to have money saved up for several months to support your every day expenses until the business can actually support you. If you don't have the funds to begin, pitch your idea(s) to investors, or even family or friends who might be willing to invest in your idea(s).
Stay focused – easier said than done. It's really difficult to stay focus when you have so much going on at the beginning of a budding business. You need to have a goal set in mind, and you need to constantly work toward that goal. Always keep that goal in your peripheral in order to always remind yourself what your business is and wants to be.
Q – How many hours do you work a day on average?
Answer Chad Strutzel – I work as long as I need to in a day. My average day of work is about 12 hours, though being a business owner typically means you're on the clock every day.
Q – To what do you most attribute your success?
Answer Chad Strutzel – My ambition to succeed. My drive to succeed in what I've started. I always follow through in whatever goals I set for myself.
Q – How do you go about marketing your business? What has been your most successful form of marketing?
Answer Chad Strutzel – We just really started utilizing the internet this year. We created a webpage for our company, and several social media accounts to interact with our followers/clients/potential clients more. We are still just in the beginning stages of really marketing our business, however we have always been very successful with referrals. We are lucky that our clients are happy to talk about our work to their circle of friends and family. Most of our work so far has been from client referrals, and we really can't thank them enough for first off, giving us to opportunity to work with them, and secondly, trusting us to work with their friends and family as well. Our most successful form of marketing is really through our existing client pool, and our teams incredible work ethic and quality materials.
Q – Where did your organizations funding/capital come from and how did you go about getting it? How did you obtain investors for your venture?
Answer Chad Strutzel –  I'm using my own equity to support the company that I created. I started out small with this company by investing a small amount of money, and from that I built it up by never giving myself any paychecks, working the long hours necessary, and investing all of the money, I made back into the company to make it successful.  Working from the ground up is never easy, especially at the beginning when anything could bring down your company. There's always a learning curve when you first start a business, where you have to work out all the kinks, figure out where the money should be spent, what is necessary to run an office, and how to find the right staff. All of this factors into how successful a company will become, and it all starts with what you put into it. I put my own money into this business, and I know I'll make it successful because I'm the sole investor of this project.
Q – What is the best way to achieve long-term success?
Answer Chad Strutzel – To always stay true to your company's core values and mission statement. If you always strive to give great customer service and quality materials and craftsmanship, in anything that you do, you cannot fail. Our mission statement is as follows "we have you covered with our top of the line products and craftsmanship. Being family owned means we will treat you like one of our own."  This company really believes in being focused on offering the best of everything. Keeping it straightforward and simple allows very little mistakes to occur and gives us a straight path toward success.
Q –  Where you see yourself and your business in 5 – 10 years?
Answer Chad Strutzel – I'm hoping to see my company be so successful in the next 5 – 10 years that I would find myself an unnecessary aspect of the business I started. My employees joke around and say often enough that I just need to wait till I'm no longer need. They want to send me off onto some beach and run the business without me. I'm looking forward to that future. I'm sure every business owner hopes that their company will get to that state of self-sufficiency.
Q – Excluding yours, what company or business do you admire the most?
Answer Chad Strutzel – I really admire a local business in Verona, WI called Skate Armor. A mother created a neck guard product after her son received a neck injury from a skate during hockey. Her drive to protect her son from future injuries let her to create and design a cut resistant metal mess neck guard that eventually led the product to become Mayo Clinic's top performing neck guard in the industry. I love the fact that she was self made, motivated, creative yet simple in her design, and innovative as well in the material she found to use in that design. The material had been around and was already being used for other purposes, but she was the first that I know of, to use the material for a neck guard. This company has become really successful since it started and the success that her company has had is the kind of success I hope to create for my own company.
Q – How important have good employees been to your success?
Answer Chad Strutzel – Just because you have a great idea for a business doesn't mean you are going to be successful. You need like-minded individuals to work with you in order to make your business successful. Employees are the backbone to any company, and without quality, you won't get the results you want. If I didn't have the current staff I do now, our company wouldn't be able to do as much as it does. A good employee is one who doesn't always necessarily have to be the most knowledgeable of whatever product or service you may be selling, it's more important to have self-motivation and drive, positive attitude, and a willingness to learn and turn criticism into action, and to be receptive to the ideas of others. You should want to go to work every day and enjoy the team you work with, since you do, on average, spend 40+ hours each week with them.
Q – What kind of culture exists in your organization? How did you establish this tone and why did you institute this particular type of culture?
Answer Chad Strutzel – Surrounding yourself with creative, motivated individuals creates a positive, open environment for your business. I wanted my team to be able to openly communicate with me and each other, and because of this, everyone really speaks their minds on what direction they feel the company should go, and what is working and what isn't. It's an assembly of people with a variety of skills that where everybody's voice is heard in order to come up with the best policies and solutions in order for us to conduct a future-minded business that's geared up not only to succeed today but to be leaders in the industry in the future. We're a group of people that insist on mutual respect and positive attitude in the workplace. We insist on that from everybody that would join our team. It's not that something can't be done, it's what do we have to do to get it done.
Q – How do you generate new ideas?
Answer Chad Strutzel – As the saying goes "necessity is the mother of all invention".
You never make something, unless you need something. If we have a need for something, then we know we need to come up with an idea. We share our ideas with each other and try to explore the best ideas our team has to offer for whatever "need" we need to fulfill.
About Performance Exteriors & Contracting: Performance Exteriors & Contracting offers quality products & professional services for roofing, siding and windows in Stoughton, Madison and surrounding areas of Wisconsin. Contact for free estimate.
Company: Performance Exteriors & Contracting
Headquarters address: 140 Business Park Circle, Stoughton WI 53589
Warehouse address: 5821 Femrite Drive,  Madison WI 53718
Telephone number: 1-608-320-7007