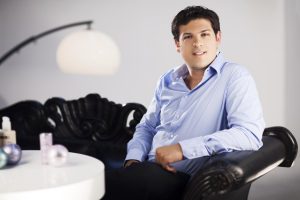 Q. 1 Kindly give our readers an introduction to your business. Please include what your business is all about, in which city you are located and if you have offices in multiple locations/ cities.
Ans : – Talia Skincare is a global skincare company with the headquarters in Tel Aviv, Israel. Talia is an innovative, advanced mineral skincare with a 100% natural fragrance. Talia's products are 100% skin-friendly, all free from: Synthetic Fragrance, Sulfates, SLS/SLES, PEGs Propylene Glycol, DEA/TEA, EDTA, Synthetic AHAs/BHAs and more; certified by PETA as a Strictly Vegan & Cruelty-Free. Talia is premium natural skincare brand, selling in over 700 global points of sale around the world, in more than 19 countries such as: USA, Russia, Finland, Greece, South France, Spain, China, Hong Kong, Australia, Taiwan and more. Talia Skincare is available through High-End Retailers, Department Stores, Concept Stores and Luxury Salons & Spas.
Q. 2 Kindly give us a brief description about yourself (it should include your brief educational or entrepreneurial background and list some of your major achievements).
Ans : – Talia Skincare was founded in 2010 by Eran Windman, a passionate young biologist specializing in Phyto Science – the use of plant by-products for medical and health benefits. Windman's vision was to create sustainable, effective skincare with the focus on visible results, without compromising on a healthy experience.
"I made a conscious decision to create skincare products that I feel safe giving to my loved ones, knowing that every drop used is pure, safe and highly effective".
Q. 3 What inspired you to (start a new business venture) or (to make significant changes in an existing business)? How did the idea for your business come about?
Ans : – Windman's love of nature and technology goes back to his childhood on his family's farm surrounded by vineyards, orchards, fruit trees and herbs. He was always fascinated with the life of plants and their biology, as well as their different possible uses. Windman took his curiosity of nature to university where he studied biology, where he then continued onto specializing in Phyto-Science for a better understanding of the potential medical and health benefits of plant by-products.
As Windman furthered his work and research, he became increasingly conscious of the excessive, unnecessary use of chemicals in industry today. By applying his knowledge of plants, science, and novel extraction methods, he came to the conclusion that natural alternatives are more efficient and effective in achieving cleaner, healthier and superior results. Excited by this observation, he wanted an opportunity to apply his expertise and ideas in the direction that will have a meaningful impact on people's daily wellbeing and eventually found his niche in the cosmetics industry.
Skincare products are used by women daily. This makes the application of alternative ingredients ever so important, not only for maintaining the health and beauty of the skin today, but also for sustaining it over time.
Q. 4 What three pieces of advice would you give to budding entrepreneurs?
Ans : –
1) Solve a problem. Many people become entrepreneurs because they want to work independently and "be their own boss", not because it is the best way to solve an important problem. So, start your own business only if you have a unique solution to the existing problem.
2) Always keep an open mind, meaning stick to your plan, but be ready to adapt to changes.
3) Make a good team. Create a team of people who have strong capabilities and core skills that your business require, that they can contribute to make your business successful.
Q. 5 What would you say are the top three skills needed to be a successful entrepreneur?
Ans : – 1) Focus. Make sure all of your pitches, products, and services are focused on actual customer needs
2) Sales. You need to know how to sell your own product.
3) Finance. You need to know how to raise the funds and manage finances to grow your business.
Q. 6 How many hours do you work a day on average?
Ans : – 12-18 hrs a day
Q. 7 To what do you most attribute your success?
Ans : – 1) Hard work and persistence
2) Sensing the opportunity. In other words, be able to identify opportunity and make a decision fast.
Q. 8 How do you go about marketing your business? What has been your most successful form of marketing?
Ans : – Content marketing through blog, email and share social media content on a daily basis. Email marketing is effective for building relationships with people, turning readers into buyers, and creating brand ambassadors. Through content marketing we become a resource for our customers and provide marketing support to our business partners.
Q. 9 Where did your organizations funding/capital come from and how did you go about getting it? How did you obtain investors for your venture?
Ans : – Part of the capital came from the family and part from investors. Israel is known as a start up nation and has a well established investor's network that helped me greatly in raising the funds. If you have a really good product and you love it yourself, many people will like it too.
Q. 10 What is the best way to achieve long-term success?
Ans : – Build your internal strengths. It isn't just skills, but rather building qualities such as of self-reliance, self-motivation and self-discipline.
Q. 11 Where you see yourself and your business in 5 – 10 years?
Ans : – I see Talia growing around the world being able to have a meaningful impact on people's daily wellbeing by providing clean healthy products.
Q. 12 Excluding yours, what company or business do you admire the most?
Ans : – Uber because it changed the way people travel. By simply pressing a button, you can track the car coming for you and go where you want, no messing with payment at the end. You can use it and pretty much universally to have a pleasant professional ride.
Q. 13 How has being an entrepreneur affected your family life?
Ans : – Being entrepreneur consumes most of your time, so you don't have much time to spend with your family. Therefore you need to be extremely organized. Quality time, rather than quantity time is the key.
Q. 14 What are your hobbies? What do you do in your non-work time?
Ans : – Art, nature, taking off-roads trips with my jeep.
Q. 15 What makes you happy?
Ans : – My kids and my wife.
Business Name: Talia Skincare
Address: 2 Yagia Kapayim St.
City/Town: Tel Aviv
Country: Israel
Zip code: 67778
Tel No: +972-3-736-8389