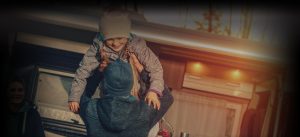 Q1 : Kindly give our readers an introduction to your business. Please include what your business is all about, in which city you are located and if you have offices in multiple locations/cities.
Ans : Wanderlust Crossings is a premier Oklahoma RV park located in Weatherford, Oklahoma. We provide services and amenities that are ideal for family getaways or group outings.
Q2 : Kindly give us a brief description about yourself (it should include your brief educational or entrepreneurial background and list some of your major achievements).
Ans : I have a passion for the outdoors, RVs, and the natural beauty of Weatherford. I also genuinely enjoy helping people have memorable experiences.
Q3 : What inspired you to (start a new business venture) or (to make significant changes in an existing business)? How did the idea for your business come about?
Ans : The idea for the business came from my love of nature and customer service. We are constantly making changes to give our customers unique experiences, and a splash park is coming soon.
Q4 : What three pieces of advice would you give to budding entrepreneurs?
Ans : 1. Understand your customers
2. Deliver what you promise
3. Love what you do
Q5 : What would you say are the top three skills needed to be a successful entrepreneur?
Ans : 1. Knowledge in your field
2. Determination to succeed
3. Good people skills
Q6 : How many hours do you work a day on average?
Ans : While we strive for a 40 hr./wk. schedule for work-life balance. Our customers, however, are here overnight, which means we are always on call.
Q7 : To what do you most attribute your success?
Ans : I attribute our success to our dedicated team, the beauty of Weatherford, and our loyal customers.
Q8 : How do you go about marketing your business? What has been your most successful form of marketing?
Ans : We know happy clients share their experiences with their friends. We are also growing our presence online so that we can help new people plan their perfect RV adventure in Oklahoma.
Q9 : Where did your organizations funding/capital come from and how did you go about getting it? How did you obtain investors for your venture?
Ans : We are an independent company.
Q10 : What is the best way to achieve long-term success?
Ans : Long-term success demands listening to your customers and paying attention to changes with your industry.
Q11 : Where you see yourself and your business in 5 – 10 years?
Ans : I see the business expanding as we continue to update our amenities to provide the best Oklahoma RV adventures possible.
Q12 : Excluding yours, what company or business do you admire the most?
Ans : I admire many organizations. The Stafford Air & Space Museum has my respect. The museum has worked closely with the Smithsonian Institution, NASA, and the U.S. Air Force Museum to assemble one of the finest collections of aerospace artifacts in the central United States.
Q13 : How important have good employees been to your success?
Ans : Our employees are essential for our success. They work tirelessly to ensure that each customer has a visit they will never forget.
Q14 : How long do you stick with an idea before giving up?
Ans : I give ideas enough time to go through the growing pains that come with all changes. Fortunately, our customers are quick to let us know when something is just not going to work.
Q15 : What motivates you?
Ans : I am motivated by the joy that I bring our customers.
Q16 : What are your ideals?
Ans : I want to consistently provide superior service while making every visitor feel at home.
Q17 : How do you generate new ideas?
Ans : I like to collaborate with the entire team at Wanderlust Crossings. I also pay attention to and learn from leaders in the camping industry to come up with new ways to take care of our customers.
Q18 : How do you define success?
Ans : I define success by knowing that our customers enjoy their time with us and return again and again.
Q19 : How do you build a successful customer base?
Ans : A successful customer base comes from developing long-lasting relationships with our clients and doing everything that we can to make them feel special.
Q20 : What is your favorite aspect of being an entrepreneur?
The best part of being an entrepreneur is the freedom to do what I know will best serve our clients without waiting for someone else's approval.
Q21 : What has been your most satisfying moment in business?
Ans : My most satisfying moments in business come when customers return to us. It means we are doing our jobs well.
Q22 : What do you feel is the major difference between entrepreneurs and those who work for someone else?
Ans : Entrepreneurs have to take on more personal risk, but they also have the freedom to rise to new challenges.
Q23 : What kind of culture exists in your organization? How did you establish this tone and why did you institute this particular type of culture?
Ans : We operate as a team. In any service industry, everyone has to work together for the good of the customer.
Q24 : In one word, characterize your life as an entrepreneur.
Ans : Exciting.
Contact details:
Company name: Wanderlust Crossings RV Park
Address: 1038 Airport Road
City: Weatherford
State: OK
Zip Code: 73096
Tel No: (580) 772-2800
E-mail Id: info@wanderlustcrossings.com
Url: http://wanderlustcrossings.com/