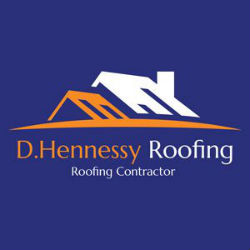 Q 1. Kindly give our readers an introduction to your business. Please include what your business is all about, in which city you are located and if you have offices in multiple locations/ cities.
Ans: Hi, my name is Darren Hennessy and I am the owner of D Hennessy Roofing. We are a roofing contractor company based in Dublin, Ireland. Our business is a family business with generations of roofing expertise. Our office is based in Clonskeagh road, Dublin 6. We cover all aspects of roofing including New roof installations, Roof repairs, Flat roofing, Emergency roofing and many other roofing services our customers may need.
Q 2. Kindly give us a brief description about yourself (it should include your brief educational or entrepreneurial background and list some of your major achievements).
Ans: I have served my time with my father in the roofing trade. My dad has over 30 years of roofing experience and at the young age of 15, I have started with the tools to learn my roofing trade. My apprenticeship took around 5 years and to be honest we are all still learning today because there are so many new materials in today's market for roofing. My biggest achievements so far as the owner of D Hennessy Roofing was that I was able to build relationship with big companies across Ireland. We maintain a few hospital roofs in Dublin. We have worked on some government buildings such as the free mason hall in Molesworth street. We have carried out roof repairs on Cappagh hospital and also we have worked with age action Ireland who looks after all the elderly people in their home roof repairs.
Q 3. What inspired you to (start a new business venture) or (to make significant changes in an existing business)? How did the idea for your business come about?
Ans: My inspiration was to always look after the family business when my father retired. I was very keen to keep our family business in the roofing trade up with the best roofing companies in Ireland.
Q 4. What three pieces of advice would you give to budding entrepreneurs?
Ans: My advice would be to think very deeply about going into business.
Make sure you're well equipped for the business you're ready to start with.
Don't be afraid to build a team around you because it's better to have more eyes and ears to help your business grow.
Q 5. What would you say are the top three skills needed to be a successful entrepreneur?
Ans: Money, business management background, a good knowledge of the business you're about to generate.
Q 6. How many hours do you work a day on average?
Ans: 10 hours a days
Q 7. To what do you most attribute your success?
Ans: I am young and I want to build my company success slowly. I am very happy to make sure that when D Hennessy Roofing is the best Roofing Company in Ireland I want to be sure we built our success in our own company beliefs.
Q 8. How do you go about marketing your business?
Ans: We market our business through the web with sites such as Google AdWords, Facebook, Instagram, LinkedIn, and twitter, also we employ a company called Irish website Design to help with the marketing campaign we have in place.
Q 9. How did you obtain investors for your venture?
Ans: Our Company has been lucky enough to have the uses of our own company money to keep building our success. Our roofing company has always been very strict on making sure all our business money was used in the right way of building a successful business. We have access to bank capital of and when needed to also help with big roofing projects.
Q 10. What is the best way to achieve long-term success?
Ans: The best way to build long term success is to learn to crawl before you walk. Building a company can take a lot of patience and focus and you must be prepared for the problems along the line. Building your company is all about knowing your trade or business and making sure you are making the right decisions in the challenging moments.
Q 11. Where you see yourself and your business in 5 – 10 years?
Ans: I can see our business D Hennessy Roofing over the next 5 to 10 years being one of Ireland's biggest Roofing Companies. We will always put our customers first and will always be there to help with any roofing problem our customer have.
Q 12. Excluding yours, what company or business do you admire the most?
Ans: I admire the Guinness family a lot in Dublin. They have been involved in the Alcohol trade for many of years and have built up a fantastic family business based in the heart of Dublin city, not only are the supplying Guinness to Ireland they have built museums and visitor centers across the world.
Company Detail:
Company : D. Hennessy Roofing
Contact : Darren Hennessy
Address : 111 Clonskeagh Road,
City : Dublin 6
Country : ‎Ireland
Zip : D06 W6P2
Phone : 01 830 4004
Email : info@dhennessyroofing.ie