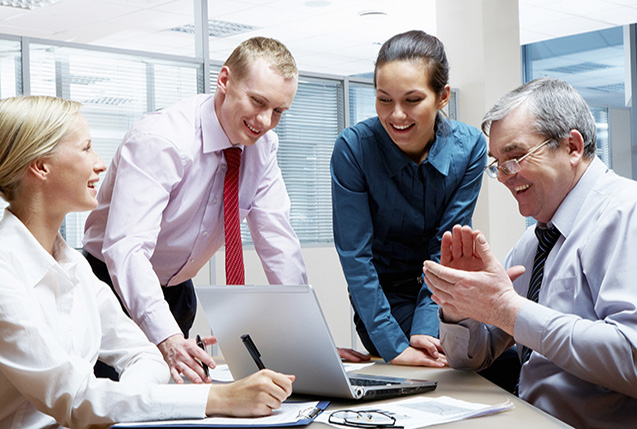 Q 1.    Kindly give our readers an introduction to your business. Please include what your business is all about, in which city you are located and if you have offices in multiple locations/ cities.
Ans:    US Presort is a family owned direct marketing company. We started 15 years ago as a mailing services provider and slowly grew till today as company which provides full range of direct marketing services:
Concept, design, printing, mailing, mailing list and data services, integrated campaigns direct mail + digital marketing.  We are located in Staten Island, NY. Even though for now we serve only businesses located nearby we have capabilities to serve companies all over the United States.
Q 2.    Kindly give us a brief description about yourself (it should include your brief educational or entrepreneurial background and list some of your major achievements).
Ans:    I hold master degree in mechanical engineering and associated degree in business management. I started my first digital printing company while I was still in college. After we moved to the USA I worked for 13 years as a Senior Graphic Designer then Art Director in one of the largest printing companies in Brooklyn, NY. During that time I started the mailing services business. In 2007 I was awarded a special honorary award from AIGA (American Institute for Graphic arts). My hobby and passion is the wooden art, you can see my work here mnmdesign.com  One of my works for selected showcase piece in the 2014 American Art Exhibition in New York.
Q 3.    What inspired you to (start a new business venture) or (to make significant changes in an existing business)? How did the idea for your business come about?
Ans:    The decision to open mailing shop almost 15 years ago came naturally from the long experience in design, advertising and printing and obvious love for the fusion of creativity and marketing.
I love the dynamic and the fact that I have to create something new every single day whether is a simple design, logo or whole campaign concept.
Q 4.    What three pieces of advice would you give to budding entrepreneurs?
Ans:    Never give up; always have a backup plan; don't start business just because of the money – love what you do.
Q 5.    What would you say are the top three skills needed to be a successful entrepreneur?
Ans:    Perseverance; responsibility, honesty
Q 6.    How important have good employees been to your success?
Ans:    9 out of 10
Q 7.    How long do you stick with an idea before giving up?
Ans:    Don't give up, revise the idea to make it successful
Q 8.    What motivates you?
Ans:    If somebody says "this is impossible"
Q 9.    What are your ideals?
Ans:    Never do to somebody else something that you don't want to be done to you
Q 10.    How do you generate new ideas?
Ans:    Form everywhere around, I am always alert
Q 11.    How do you define success?
Ans:    To leave something valuable behind, not only for your family but for your community or even more … even if it's something really small.
Q 12.    How do you build a successful customer base?
Ans:    With exceptional quality services
Q 13.    What is your favorite aspect of being an entrepreneur?
Ans:    To work on your own pace
Q 14.    What has been your most satisfying moment in business?
Ans:    I am not sure about "most" but every day I challenge myself to so or learn something new and of course when achieved I am satisfied
Q 15.    What do you feel is the major difference between entrepreneurs and those who work for someone else?
Ans:    Boring and safety life vs excitement and challenges
Q 16.    What kind of culture exists in your organization? How did you establish this tone and why did you institute this particular type of culture?
Ans:    I am very demanding toward my employees and even family but never demand something I cannot do myself
Q 17.    In one word, characterize your life as an entrepreneur.
Ans:    Happiness
Q 18.    If you had the chance to start your career over again, what would you do differently?
Ans:    Not sure it this would change something … I would always look for something new ..
Q 19.    How has being an entrepreneur affected your family life?
Ans:    I don't have enough time for my family that's true but I hope my children will appreciate this one day
Q 20.    What is your greatest fear, and how do you manage fear?
Ans:    Airplanes and lifts, I avoid them as much as possible. On a more serious note I have only one big fear which involves death so I will not comment out of superstition..
Q 21.    How did you decide on the location for your business?
Ans:    The location was driven by the infrastructure necessary and the availability at the time we looked for place
Q 22.    Do you believe there is some sort of pattern or formula to becoming a successful entrepreneur?
Ans:    You have to care and want it!
Q 23.    If you could talk to one person from history, who would it be and why?
Ans:    I love history and admire a lot of people, never thought of who I want to talk to so can't answer now …
Q 24.    What book has inspired you the most? (OR what is your favorite book?)
Ans:    Quo Vadis Domine
Q 25.    What are some of the biggest mistakes you've made?
Ans:    Getting married too young the first time
Q 26.    How can you prevent mistakes or do damage control?
Ans:    Mistakes are unavoidable part of life, and there is nothing wrong to do mistakes, wrong is to repeat them
Q 27.    What are your hobbies? What do you do in your non-work time?
Ans:    I mentioned my hobby earlier. Lately I don't have enough time .. but my biggest dream is to be able to travel the whole world
Q 28.    What makes you happy?
Ans:    Completing challenge I've set for myself
Q 29.    What sacrifices have you had to make to be a successful entrepreneur?
Ans:    I don't think of the little uncomfortability in life as sacrifice
Contact Detail :
Company name     US Presort
Address                 3801 Victory Blvd., Suite 1
City                       Staten Island
State                      NY
Zip Code              10314
Tel No                  718-980-6556
E-mail Id               info@uspresort.com
Save