We live in a materialistic world and with that comes the constant need to feel good about yourself. But in doing so, more often than not we end up making wrong choices. Similar is the case with Hair extensions and other add-ons that bring back the volume and bounce to your hair.  DNA Hair USA is one such brand that aims at bringing to you top notch hair extension products that are reliable and high on quality. Their range of products include the likes of adhesives, solvents, clip-in hair, I-tips, U-tips, Lace system wigs, skin wefts, etc.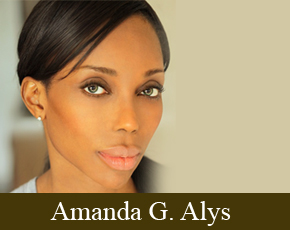 DNA HAIR USA is the brainchild of ex-model and actress, Amanda G. Alys. She not only runs the brand but also represents it by way of News Line adverts. Young and vicacious, here's an excerpt from a recent tete-a-tete with the sharp entrepreneur herself.
Kindly give our readers an introduction to your business.
I am Amanda G. Alys and I have previously worked as a British Model, Actress and entrepreneur. Having worked in entertainment for several years, I realized there was a huge gap in the market and so I moved on to introduce a line of Lace System wigs and extensions in 2006 under the DNA HAIR brand and then eventually decided to relaunch in 2010 with my new brand called "DNA HAIR USA".
The main aim of DNA HAIR USA is to provide 100% human hair extensions that do not shed, tangle or change texture. In the 2nd Half of 2011 DNA HAIR USA will launch its 100% Hair of Russian Origin under the label "AGA".  DNA HAIR USA also plans to Launch its "AGA" Exclusive clip in Hair Line in 2011.
I personally endorse the New Lines and have already been receiving rave reviews in the trade media. At DNA HAIR USA We want your Hair extension experience to be pleasurable and to find you the best of methods to achieve longer or thicker hair.
DNA HAIR USA has its offices based in Beverly Hills California and in Kensington in London.
What ignited the spark in you to start a new? How did the idea for your business come about?
The Idea for the business came about when I realized the lack of good quality human hair on the market at reasonable prices.
How important have good employees been to your success?
Quite helpful but we are a hands on company so I am always in the office helping out and doing things.
What piece of advice would you give to college students who want to become entrepreneurs?
Keep your dream alive! Persevere and stay focused!
If you had the chance to start your career over again, what would you do differently?
I would try and do one thing at a time and do it well before I move on to the next.
What would you say are the top three skills needed to be a successful entrepreneur?
Vision, perseverance and the ability to change your strategy quickly when things are not working.
How long do you stick with an idea before giving up?
Years
How many hours do you work a day on average?
10 to 15 hours depends on the day
How has being an entrepreneur affected your family life?
Well.  Lets save that answer for another time.
What motivates you?
My Vision and the passion to create.
How do you generate new ideas?
They just come to me as an energetic flow of thought.
What is your greatest fear, and how do you manage fear?
My greatest fear is probably not being good enough.  I just don't think about it.
How do you define success?
Success is having the will to try as hard as you can even when you know it may not work out but knowing you will make it work.
What is the best way to achieve long-term success?
Planning and strategy
Where did your organization's funding/capital come from and how did you go about getting it? How did you obtain investors for your venture?
I invested my own money in my projects.
How do you build a successful customer base?
Took years of research, trade shows and advertising.
Do you believe there is some sort of pattern or formula to becoming a successful entrepreneur?
Not really, but there are specific rules maybe.
If you could talk to one person from history, who would it be and why?
Oh yeah, I would love to talk to Martin Luther King about his Passion and Drive.
Who has been your greatest inspiration?
The innate power we have to change our destiny
What book has inspired you the most?
I know why the caged bird sings – by Maya Angelou
What is your favorite aspect of being an entrepreneur?
Challenging myself with endless deadlines.  It is hard but worth it!
What has been your most satisfying moment in business?
I love it when a plan comes together!
What do you feel is the major difference between entrepreneurs and those who work for someone else?
Entrepreneurs take risks!
How do you go about marketing your business? What has been your most successful form of marketing?
I think it has to be online marketing.   That is just the biggest thing in today's world, everything is online!
In one word, characterize your life as an entrepreneur.
Mind Blowing….
What are some of the biggest mistakes you've made?
Putting too much money in a venture with no return.
How can you prevent mistakes or do damage control?
If it is not working just move on.  In business you can't afford to get emotional.
What are your hobbies? What do you do in your non-work time?
I read spiritual books, biographies, see my friends and go out socializing.  Ha ha!
What makes you happy?
Seeing people happy,
What sacrifices have you had to make to be a successful entrepreneur?
The Ultimate!
Excluding yours, what company or business do you admire the most?
Apple
Where you see yourself and your business in 10 years? 20 years?
Sitting on my yatch in the South of France.
If you were conducting this interview, what question would you ask?
Not sure will know when I am conducting it.