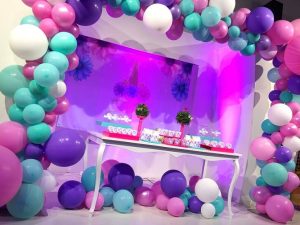 Q. 1) Kindly give our readers an introduction to your business. Please include what your business is all about, in which city you are located and if you have offices in multiple locations/ cities.
ANS: We created and opened this place in Doral, FL based on the idea that as parents, we always want what is best for our kid's celebration. A party place where everything is fully accommodated for both sides: kids and adults; plus, all the facilities in your hands. we offer an extended variety of new games for toddlers, teens, and adults. You will also be able to choose the menu from our exquisite catering that best fits to you, and the best ideas from our custom decoration catalog. But most important, our qualified staff will
Q. 2) Kindly give us a brief description about yourself (it should include your brief educational or entrepreneurial background and list some of your major achievements).
ANS: We are working parents, who always wants to give the best to our kids, as entrepreneurs we always had the idea of managing our own business, and our major achievements has been creating Mini town.
Q. 3) What inspired you to (start a new business venture) or (to make significant changes in an existing business)? How did the idea for your business come about?
ANS: As parents ourselves, we always wanted our kids to have the best party ever, and that's why we decided to create Minitown. We wanted to give the best service to other parents, forget about the hassle of planning a party plus all the amenities involved, but here you have everything in one place to have fun, enjoy, and that's why we came up the idea of an indoor party place.
Q. 4) What three pieces of advice would you give to budding entrepreneurs?
ANS: Always follow your dreams / the road may be hard but keep going / nothing is impossible
Q. 5) What would you say are the top three skills needed to be a successful entrepreneur?
ANS:
1. Perseverance in every step of the way
2. Proactive, always innovating never settled for less
3. Visionary, thinking ahead and try to find how to be different from others so you are unique
Q. 6) How many hours do you work a day on average?
ANS: Around 10-12 hours
Q. 7) To what do you most attribute your success?
ANS: We attribute our success is to our excellent customer service we provide in every step of the way.
Q. 8) How do you go about marketing your business? What has been your most successful form of marketing?
ANS: We have used many marketing materials like Google, social media, etc but our greatest form of marketing has been word of mouth, and this why we always provide the best customer service.
Q. 9) Where did your organizations funding/capital come from and how did you go about getting it? How did you obtain investors for your venture?
ANS: Once we had the idea of Minitown, we got the capital from banks, if you have a good credit history any dream or project could become possible.
Q. 10) What is the best way to achieve long-term success?
ANS: Long-term success, you need to ha have small goals helping you reach your long-term goals
Q. 11) Where you see yourself and your business in 5 – 10 years?
ANS: Hopefully growing and adding new things to Minitown.
Q. 12) Excluding yours, what company or business do you admire the most?
ANS: Disney world
Q. 13) How important have good employees been to your success?
ANS: The importance of having good employees is crucial to any business, they are also sellers of your place, and if they believe in the vision and mission of your company they will provide the best service to our guests and work with you all the way.
Q. 14) How long do you stick with an idea before giving up?
ANS: Never
Q. 15) What motivates you?
ANS: My family
Q. 16) What are your ideals?
ANS: Become a better person every day
Q. 17) How do you generate new ideas?
ANS: Ideas can be anywhere, always be open and on the look out
Q. 18) How do you define success?
ANS: Happiness in doing what you like
Q. 19) How do you build a successful customer base?
ANS: Giving best customer service
Q. 20) What is your favorite aspect of being an entrepreneur?
ANS: Manage your own business
Q. 21) What has been your most satisfying moment in business?
ANS:Listening to the birthday boy say "it was the best day ever"
Q. 22) What do you feel is the major difference between entrepreneurs and those who work for someone else?
ANS: Entrepreneurs are always looking for better ideas on how to improve business
Q. 23) What kind of culture exists in your organization? How did you establish this tone and why did you institute this particular type of culture?
ANS: In our company, everybody is the same, we do everything, no ones has titles here and always look out for our customers to provide them with anything they want and sometimes to go beyond our job description.
Q. 24) In one word, characterize your life as an entrepreneur.
ANS: Adventure