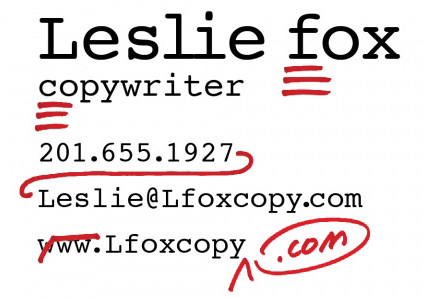 Q 1. Kindly give our readers an introduction to your business. Please include what your business is all about, in which city you are located and if you have offices in multiple locations/ cities.
Ans: LeslieFoxCopy Inc. specializes in advertising and marketing copywriting, in the B2C, B2B, trade and internal communications space. Although the company is currently located in Glendale, California, LeslieFoxCopy Inc. has its roots in New York City. Leslie Fox is President of the company and the primary copywriter.
Q 2. Kindly give us a brief description about yourself (it should include your brief educational or entrepreneurial background and list some of your major achievements).
Ans: I have been at the keyboard as a copywriter since 1982. I have a Bachelor of Fine Arts from the School of Visual Arts in New York City, and a background in Fine Arts and Spanish from Brooklyn College and SUNY @ Oswego. I have worked at advertising agencies in New York City as a full-time copywriter, than went off on my own as a freelancer/consultant in 1995.
Q 3. What inspired you to (start a new business venture) or (to make significant changes in an existing business)? How did the idea for your business come about?
Ans: I decided to go off on my own as a freelancer/consultant so that I could work from home and have the flexibility to spend time with my toddler son. Equally important, freelancing gave me the freedom to say "No" to a project. I have ethical problems with some types of products/services and as a freelancer, I can pass on those jobs. This way, I never compromise my own integrity.
Q 4. What three pieces of advice would you give to budding entrepreneurs?
Ans: Before going off on your own, make sure you have enough experience – this allows them to get the job done proficiently and professionally. Never compromise or ethics or integrity – if something isn't ethically or morally right, don't do it – no matter the paycheck or budget. Never promote products/services that harm people.
Q 5. What would you say are the top three skills needed to be a successful entrepreneur?
Ans: The ability to duplicate what's needed – the client says they need "A," and you understand it to be "A." Professionalism – deliver what was promised, when it was promised. Again, be ethical – it will carry you a long way in business (and life).
Q 6. How many hours do you work a day on average?
Ans: Depends on the workload, but anywhere from 8-12.
Q 7. To what do you most attribute your success?
Ans: My ability to listen, learn, understand and deliver what's promised.
Q 8. How do you go about marketing your business? What has been your most successful form of marketing?
Ans: I find snail mail still to be the best form of marketing my business – letters to agencies and brands.
Q 9. What is the best way to achieve long-term success?
Ans: Again, deliver what's promised and be ethical.
Q 10. Where you see yourself and your business in 5 – 10 years?
Ans: Doubled in size.
Q 11. Excluding yours, what company or business do you admire the most?
Ans: I don't have any one in particular, but any business that rewards hard work and ethical works would top my list.
Q 12. How long do you stick with an idea before giving up?
Ans: Depends what the idea is. But if it's doable and a good idea, I wouldn't give up.
Q 13. What motivates you?
Ans: Making clients/people happy.
Q 14. What are your ideals?
Ans: Be ethical even when it's hard or not popular, never compromise your own integrity.
Q 15. How do you define success?
Ans: In life or in business, it's producing a good product – and helping people.
Q 16. What is your favorite aspect of being an entrepreneur?
Ans: Freedom to say no! I choose whom I work with and the projects I work on. Allows me to stay true to my integrity and ethics – and enjoy what I'm doing.
Q 17. What has been your most satisfying moment in business?
Ans: new client telling me she booked a cruise after she received the cruise direct mail piece I wrote!
Q 18. What do you feel is the major difference between entrepreneurs and those who work for someone else?
Ans: Guts! It takes discipline, persistence, a tough skin, and the ability to keep creating the business week in and week out. Working for someone else, the paycheck will come every two weeks without you going out to find the work – the work is generated for you. However, with an entrepreneur, the sky's the limit. You make it or break it – and that puts the power and control in your hands.
Q 19. In one word, characterize your life as an entrepreneur.
Ans: Interesting! Never a dull moment as I continue to build the client base while producing the work.
Q 20. If you had the chance to start your career over again, what would you do differently?
Ans: Not at all. I like what I do and how I do it.
Q 21. How has being an entrepreneur affected your family life?
Ans: Allowed me to be with my son when he was an infant and toddler.
Q 22. What is your greatest fear, and how do you manage fear?
Ans: Not enough work – I manage it by promoting even more.
Q 23. How did you decide on the location for your business?
Ans: I'm from New York and I worked in New York for almost the entire 33 years of my career. I moved to the Los Angeles area in 2013 to be with family.
Q 24. Do you believe there is some sort of pattern or formula to becoming a successful entrepreneur?
Ans: I think there's a fire in the belly – the desire to break through all ceilings instead of being told what and how to do it.
Q 25. How can you prevent mistakes or do damage control?
Ans: Pay attention. Ask questions. Don't pretend to understand something when you don't. If you make a mistake, you're human. Apologize, correct it, and move on.
Company Name: Leslie Fox Copy Inc
Website Url : http://lfoxcopy.com
Address: 220 East Broadway, #213,
City:  Glendale
State: California
Zip Code: 91205
Tel No.: 201-655-1927