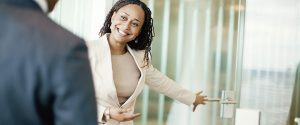 Q 1. Please give our readers an introduction to your business. Include what your business is all about, in which city you are located and if you have offices in multiple locations/ cities.
Ans. :
1. LeasePlan USA is a leading vehicle leasing company. Our core business involves managing the entire vehicle life-cycle for our clients, taking care of everything from purchasing, insurance and maintenance to car remarketing.
2. We have two major offices, with our headquarters in Alpharetta, Georgia and an Operations Center in Rolling Meadows, Illinois with more than 500 employees dedicated to fleet management services.
3. Our mission is to provide innovative, sustainable vehicle leasing solutions whoever you are and wherever you need to be — so clients can focus on what's next.
Q 2. To what do you most attribute your success?
Ans :
1. We aim to grow by providing the most innovative mobility solutions delivered by the best people in the industry. I think our ability to adapt has been a main reason for our continued success over the years.
2. We also attribute our success to our employees. Our belief is "you cannot grow a business; you can only grow people who grow businesses." We make investments in our people, in cultivating the skills and competencies required to succeed in a changing and increasingly digitized landscape. Our employees deserve credit for the energy, commitment and dedication they have shown.
Q 3. Where did your organizations funding/capital come from and how did you go about getting it? How did you obtain investors for your venture?
Ans :
1. We are highly diversified in our funding and draw upon numerous sources to secure capital. This diversification in funding strategy really protects our clients and company should economies, locally and globally, fall back into a recession.
2. During the past year, we raised funding from several resources, which shows the success of our diversified funding model.
Q 4. What is the best way to achieve long-term success?
Ans :
1. To achieve long-term success, we need to innovate and constantly find out ways to reinvent ourselves. We have to adapt our capabilities to better support our clients' needs and translate them into the essence of value.
2. And as a responsible company, we will use our scale, expertise and broad geographic presence to be at the heart of the discussion on sustainability.
3. Our aim is to help create healthier environments in our towns and cities by supporting our clients in promoting cleaner, low-emission vehicles and the infrastructure required to make these cars a viable option in the future.
Q 5. Where you see yourself and your business in 5 – 10 years?
Ans :
1. In addition to continued growth opportunities in our existing corporate, small business and private lease markets, I see a lot of potential in the new 'mobility as a service' market segment. This is especially true with the new generation of ride-hailing businesses which require vehicles, relevant services and flexible leases for their drivers.
2. Lease markets will also benefit from the growth of car-sharing platforms, which need access to a pool of high-quality serviced vehicles to achieve growth. In fact, LeasePlan and Uber have just begun a Pan-European partnership that is sure to benefit many drivers. This is the way of the future!
Q 6. Excluding yours, what company or business do you admire the most?
Ans : I personally admire forward-thinking companies who look to solve problems in the marketplace that no one thought of before, and companies that find the right balance between client needs and returns. The world is changing so quickly. Companies need to stay on the front of innovation to remain relevant and build the value expected by clients.
Q 7. How important have good employees been to your success?
Ans :
1. As I mentioned earlier, our employees are the key to our success. One of our priorities as a business is to give them the information tools and training, not only to do a great job, but also to live a happier and healthier life.
2. We provide continuing education opportunities through LeasePlan Academy, in support of emerging talent and senior leadership. We also encourage engagement in the workplace through employee-led committees for diversity and healthy living, among others.
Q 8. What kind of culture exists in your organization? How did you establish this tone and why did you institute this particular type of culture?
Ans : The culture that exists at LeasePlan USA has been around for as long as the company itself. All our employees deeply care for each other and work together, as a team, to ensure the company's success. This is what guarantees not only our commitment to service delivery excellence, but our ability to remain one of the leading fleet management companies in the industry.
Company : LeasePlan USA
Contact : Kristofer Bush
Address : 1165 Sanctuary Parkway
City : Alpharetta
State : GA
Zip : 30009
Phone : 770-933-9090
Toll Free : 800-951-9024
Email : contactlpus@leaseplan.com