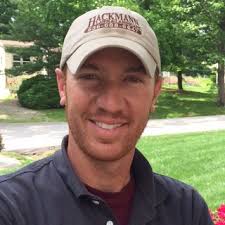 Q. Kindly give our readers an introduction to your business. Please include what your business is all about, in which city you are located and if you have offices in multiple locations/ cities.
A. It was a difficult decision to launch Hackmann Lawn and Landscape LLC in early 2000. I was branching out on my own and it took time and preparation to get comfortable with the idea. From small beginnings we grew to service St Charles and St Louis counties. Our services include patio paving, retaining walls, edging, and landscape design, as well as basic lawn mowing and leaf and snow removal. From the very beginning to the present day we have been focused on the quality of our work no matter how large or small the job.
Q. Kindly give us a brief description about yourself (it should include your brief educational or entrepreneurial background and list some of your major achievements).
A. I received an associate's degree in business management from St. Charles Community College in 2003. I then took horticulture classes at St. Louis Community College while gaining hands on experience running my business. To me, my greatest achievement is providing a great place to work and building a business that supports my family.
Q. What inspired you to (start a new business venture) or (to make significant changes in an existing business)? How did the idea for your business come about?
A. I've always like to work and challenge myself. I was always willing to learn from my mistakes and push myself to reach my potential. With changing seasons, there is always something different and new to do in this industry. The landscape side also allowed me to be creative in our designs and installs.
Q. What three pieces of advice would you give to budding entrepreneurs?
A. You'll get out of it what you decide to put into it.
Know your numbers.
Create a balance of work and home life.
Q. What would you say are the top three skills needed to be a successful entrepreneur?
A. Decision making
Creativity
Honest
Q. How many hours do you work a day on average?
A. 8
Q. To what do you most attribute your success?
A. My family has always supported me in my decisions and helped when needed both when I was starting out and now.
Q. How do you go about marketing your business? What has been your most successful form of marketing?
A. Website SEO (turn the page)
Q. Where did your organizations funding/capital come from and how did you go about getting it? How did you obtain investors for your venture?
A. We've never needed any extra funding as we've always had slow and steady growth.
Q. What is the best way to achieve long-term success?
A. Be different, communicate, and work hard.
Q. Where you see yourself and your business in 5 – 10 years?
A. We see ourselves as a unique type of lawn and landscape company, that is easier to use than others and provides great service. We strive to be a career type employer and make ourselves a great place to work.
Q. Excluding yours, what company or business do you admire the most?
A. I admire other trades such as electricians, plumbers, and contractors. Their employees are usually well trained, well paid, and take responsibility to complete a job per plan or expectations.
Q. How important have good employees been to your success?
A. Good employees are the only way you can be successful.
Q. How long do you stick with an idea before giving up?
A. 1 year.
Q. What motivates you?
A. success
Q. What are your ideals?
A. Great communication between us and our customers
Q. How do you generate new ideas?
A. We try to improve based on profit and loss numbers and customer input.
Q. How do you define success?
A. Achieving goals and maintaining good standards.
Q. How do you build a successful customer base?
A. Communication.
Q. What is your favorite aspect of being an entrepreneur?
A. Having the ability to control my schedule.
Q. What has been your most satisfying moment in business?
A. I always appreciate when our employees are happy to be part of our business.
Q. What do you feel is the major difference between entrepreneurs and those who work for someone else?
A. As an entrepreneur you always have to be thinking of the next step. You can never be completely satisfied and always need the drive to do more.
Q. What kind of culture exists in your organization? How did you establish this tone and why did you institute this particular type of culture?
A. We try to make a career culture with honest, dependable, and hard working employees. We strive to maintain our workforce year round so we can focus on growth, rather than constantly having to hire and retrain.
Q. In one word, characterize your life as an entrepreneur.
A. Busy
Q. If you had the chance to start your career over again, what would you do differently?
A. Know the numbers
Q. How has being an entrepreneur affected your family life?
A. Stressful but rewarding
Q. What is your greatest fear, and how do you manage fear?
A. A low workforce is our fear. We manage that by trying to be a top employer and a place people want to work.
Q. How did you decide on the location for your business?
A. This is where I've always lived.
Q. Do you believe there is some sort of pattern or formula to becoming a successful entrepreneur?
A. No, you just have to be determined.