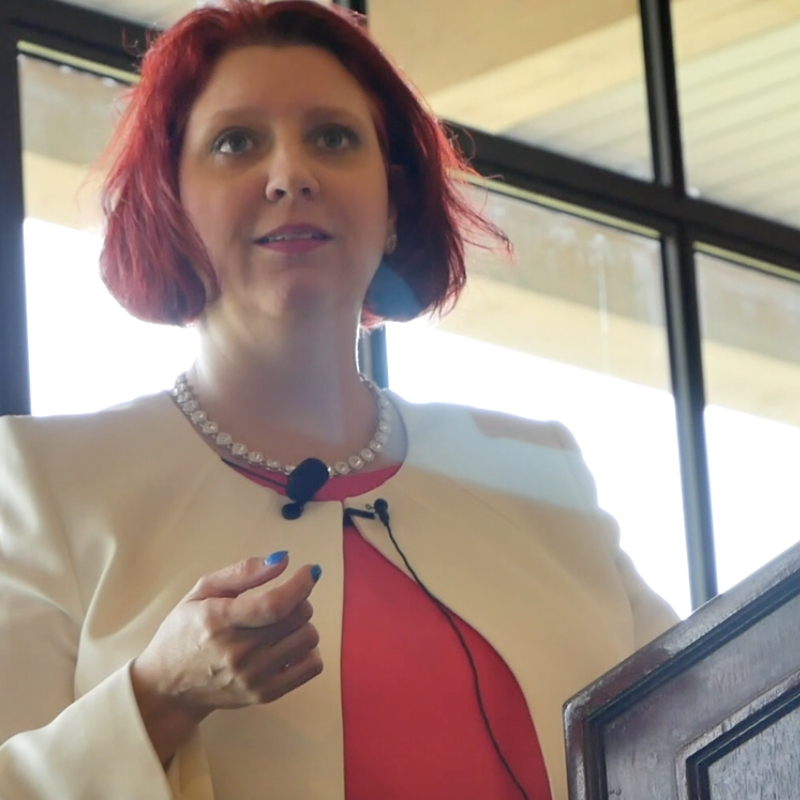 Kindly give our readers an introduction to your business. Please include what your business is all about, in which city you are located and if you have offices in multiple locations/ cities.
Ans:Everybody Up! led by founder Melissa Love, is located in Austin, TX yet provides workshops worldwide. The company is dedicated to helping business improve and refine communication skills using the tools of Applied Improv. Applied Improv teaches employees to actively explore possibilities, innovate and respond to challenges in real time. Through low pressure exercises, we teach participants how to be present in the moment, to listen carefully and contribute confidently. Improv encourages positive collaboration, improves employee morale and interjects energy and enthusiasm among its participants. These improved communications and listening skills, combined with the ability to think on their feet, teaches people to react, adapt, innovate and remain flexible in the face of unplanned events or unexpected situations. Improv helps individuals to become more aware of how they affect other people and how to modify their speaking and delivery skills to build relationships that really matter.
2) Kindly give us a brief description about yourself (it should include your brief educational or entrepreneurial background and list some of your major achievements).
Ans:Coming from the business world with over 25 years as a marketing and advertising executive, Melissa collaborated with national corporations such as Rolls-Royce North America, Comcast, SuperValue, Tropicana Las Vegas & Atlantic City, Trump Entertainment Resorts and Pizza Hut. She has first-hand experience in creating and maintaining strong customer relationships and knows the importance of satisfying a customer base. She's been on the front lines solving client problems, delivering solutions and becoming a trusted partner–not just a vendor– growing clients' businesses alongside them. Adapting and remaining flexible and creating confident solutions in stressful client situations is her specialty. Now she combines her vast corporate background with entertaining and thoughtful low-pressure improv exercises to build customized improv programs for corporate clients like Apple, Samsung, Expedia, Goodwill and Informatica.
3) What inspired you to (start a new business venture) or (to make significant changes in an existing business)? How did the idea for your business come about?
Ans:Nearly nine (9) years ago after just having moved to Austin, TX, I was working for an advertising agency based out of New Jersey. So, as you all know, when you move to a new town the first way you meet new people is through your work. I did not have that luxury since I was working from home. I was talking to my husband on the phone one day I received a Groupon for an improv show, I said to Chris, oh wow, they have improv here, we should go to a show, oh wow they have classes – that might be fun. At that moment, my husband, at the time, kidding, he is still my husband. Chris signed me up for the free class that Saturday. It was one of those free classes, come and see if you like it and then if you do, pay us and you can take classes here. I went because I needed some time that was just mine, was not me as mom, me as the star employee or me as wife…something just for me. I needed to breathe someone else's air than the two (2) males at my house. I had a blast and I was hooked. They gave me permission to have fun, to laugh with people to break down barriers that us silly adults put up to protect ourselves all the time. I signed up and I was in this class with a nurse, an AISD IT person, a call center operator, a quality control programmer and a mathematician. It was an extremely diverse group of people. I have no idea how fast it happened, but a community was formed. I enjoyed being around these people so much. They gave a whole new layer of color to my life. Over a short period of time, besides giving me permission to play every Saturday (as adults, how often do we allow ourselves to play?) for three hours straight hours it allowed me to really be me, my completely authentic self. I could remove the masks that we use to adjust our personality and our character and sometimes our moral being just to make others feel more comfortable. Those masks that we put on to make us look smarter, healthier, happier. I knew this group of people accepted me for me. I knew I could always leave my heavy masks in the car before heading to the theater.
All the silly exercises we did to help us connect, be in the moment with one another, really make fellow human beings the priority…. a strong community was formed. That is the power of improv.
I took all the classes at one theater and all the classes at another theater never becoming interested in the stage performance of improv. The rush of performing in front of an audience was fun and I enjoyed being on stage with friends, but more than anything else I just liked doing improv in the classroom. I loved the freedom it gave me to try new things, say new things, uncap the creative bottle and let the juices flow. I loved being around others that could share in my laughter. No one ever laughed at me, but a shared laugh was the norm.
I spent my entire career working the front lines working with multi-million dollar clients like Trump Entertainment Resorts, Rolls-Royce, Subway, Pizza Hut, Choctaw Casinos. Very demanding clients – to say the least. Clients that constantly had unrealistic expectations and were abusive in their demands. For instance, they would demand the team work overnight several nights in a row because they could not get us the information in time and we had to save their ass. Later I found out, they did not need us to work overnight, they just wanted to see if we would do it. I had another client that screamed at me because he did not feel we were creative enough with a layout for a 2-inch x 3-inch print ad. An ad for a new casino that had not opened yet. It was due long before any work on the casino's brand had been done. The casino had a name and that was it. No logo, no color palette, brand, not even a rendering of what the facility was going to look like. We literally had nothing. This kind of abuse is what myself and my team experienced on a weekly basis from our clients. I was the Director of Client Services, so I had the flexibility to put my team in a room together and have them try some improv games. This job was extremely stressful, and I wanted to give the team the same kind of stress relief I experienced in the improv classroom. I wanted to share the magic of improv with others. I wanted to share the impact of improv with others … I want to help others build a community like I had found. Surely, that community can be inspired other places, with other people.
[Do I add in the heart wrenching story of mosak merger? It is my personal story that pushed me to open my own business and not work for horrible bosses, lack of communication, it was so bad, one of my friends threw up during the experience.] So I was working for a different advertising agency, received a bonus for all the amazing things I was doing for the agency, things outside of what I was actually hired to do. I went on vacation and came back and got fired. Greatness, Bonus, Vacation, Fired. Yes you heard that right. I was fired because I shared a concern with the owner of the agency about him promoting someone. At this time in my career I had been in the industry for over 20 years and he often asked my opinion. But this time, since I was not asked my opinion and I provided it, have you, in a very diplomatic, civilized way, I was fired. I have just recently been able to admit to others that I was fired. Being fired is shameful. Let me go hide under a rock. Craft a story where it was my choice to leave the company. Hide from the truth.
So here I was, jobless. What do I do? There was a moment early on where I decided I have to change course. This advertising rat race of a business is destroying me. I cannot go look for another job at another soul crushing agency to only repeat this cycle. Doing the same thing over and over again and expecting a different result is the definition of insanity. I have to make a dramatic course change.
Because of the experiences I had gone through on the front lines dealing with abusive clients, I wanted to do something that supported those front-line employees. There is so much written and talked about customer service and so much not being talked about in regard to supporting the people that take care of those clients. I wanted to shine a light on those front-line warriors. Those brand ambassadors… the people that make sure your clients are happy. From that Everybody Up was born.
4) What three pieces of advice would you give to budding entrepreneurs?
Ans:1)Get ready for the ups and downs of owning a business.
2)If you own your own business – you are in SALES!
3)Connect, connect and then connect some more (Network like your life depends on it.)
5) What would you say are the top three skills needed to be a successful entrepreneur?
Ans:1)Sales
2)Courage
3)Motivation
4)Family Support
6) How many hours do you work a day on average?
Ans:8-14
7) To what do you most attribute your success?
Ans:Being open to evolving. Letting the market tell you were the opportunities are and being open to changing what you think your business would be or look like.
8) How do you go about marketing your business? What has been your most successful form of marketing?
Ans: 1. Website
2. Sit on board of directors of Austin Contact Center Alliance
3. Networking
4. Use to sit on board for the South Austin Business Assoc.
5. Speaking at networking meetings around Austin and in front of misc. industry associations
6. LinkedIn – use it to connect with specific titled people and then start an email dialogue
7. Most successful: LinkedIn activities. That is how I landed Informatica and Expedia (VRBO/HomeAway)
9) Where did your organizations funding/capital come from and how did you go about getting it? How did you obtain investors for your venture?
Ans: 1. There is no capital.
2. I have no investors.
10) What is the best way to achieve long-term success?
Ans) To get a base of customers that believe that behavior is not changed in one session (or in a day) so they agree to be monthly retainer clients.
11) Where you see yourself and your business in 5 – 10 years?
Ans: 1. Traveling the world, speaking at conferences to change the way we work and how we connect.
2. Perhaps I will have a small staff that I train on how to be facilitators.
3. I will have a full-time marketing person and bookkeeper, so I don't have to deal with those tasks.
12) Excluding yours, what company or business do you admire the most?
Ans: Brands I love:
1. Apple: I love the clean contemporary approach. I love their products. They deliver on the full experience. From a business partner to a customer experience they are top notch. I get excited about going into the genius bar because I know the customer service experience will be superior to most things I experience. Wow, I would love to be known as that in corporate training.
2. Target: It is so clean. Their logo and brand lives in the stores, the parking lot and obviously their advertising. I allow myself Target therapy at least once a month. Must be done alone. No interruptions and I have to be able to buy stuff.
3. Madam Secretary (the TV show): Not sure this is a brand. I just like the way this show makes me feel. Powerful woman, making smart decisions on the fly, standing up for herself, her beliefs and even with a powerful job keeping her family first.
13) How important have good employees been to your success?
Ans:Not at all. I can be successful as a one-woman band.
14) How long do you stick with an idea before giving up?
Ans:Hard to say. I don't give up that easily.
15) What motivates you?
Ans:I am motivated by happiness.
16) What are your ideals?
Ans: 1. To evoke inspiration in the workplace.
2. To inspire authenticity in the workplace.
3. To inspire connectivity with kindness and laughter.
4. Get people talking, openly.
5. Allowing authenticity in the workplace
17) How do you generate new ideas?
Ans:I talk to my husband, network, listen to companies I am pitching about what their needs are.
18) How do you define success?
Ans:I will be successful if Everybody Up!'s net profit this year is 75K. in 2021: 100K.
19) How do you build a successful customer base?
Ans:By facilitating successful workshops. I have all participants complete surveys. Here is a link to the latest deck: https://app.box.com/s/pbf7tceizuiloaea4x9re3gkq8bgule9
20) What is your favorite aspect of being an entrepreneur?
Ans: 1. FREEDOM
2. Not lining someone else's pockets with my blood, sweat and tears!
21) What has been your most satisfying moment in business?
Ans: Doing workshops for Apple.
22) What do you feel is the major difference between entrepreneurs and those who work for someone else?
Ans: 1. Entrepreneurs want to build something.
2. Others are interested in making a living by not having a boss.
23) What kind of culture exists in your organization?
Ans: It is just me.
24) In one word, characterize your life as an entrepreneur.
Ans: Free
25) If you had the chance to start your career over again, what would you do differently?
Ans:Nothing, I needed those years to teach me about business, clients and marketing.
26) How has being an entrepreneur affected your family life?
Ans: For the positive.
27) What is your greatest fear, and how do you manage fear?
Ans: Greatest fear – Because business is sporadic I question my business and reason for being in business. For me to be a successful human being I need to have a successful business … or be successful in business (for someone else)
28) How did you decide on the location for your business?
Ans:Work from home. I do workshops for businesses at their location. It is easier that way… the staff members do not have to deal with transportation.
29) Do you believe there is some sort of pattern or formula to becoming a successful entrepreneur?
Ans: No.
30) If you could talk to one person from history, who would it be and why?
Ans: Maybe Bob Hope. There was something about his humor and the way he conducted himself that makes me feel he was a quality person.
31) Who has been your greatest inspiration?
Ans: My husband.
32) What are some of the biggest mistakes you've made?
Ans: Taking the advice that you can turn others into ambassadors for your brand. That is the BNI model. It does not work as well for B2B and for businesses that are like mine. I am not traditional so people do not have the phrasing or the vocabulary to easily explain what I do. Furthermore, they don't understand the amazing value I bring to business and teams.
33) How can you prevent mistakes or do damage control?
Ans: I control everything.
34) What are your hobbies? What do you do in your non-work time?
Ans:
1. Spend time with my husband
2. Shopping
3. Scrapbooking
4. Travel
35)What makes you happy?
Ans: My husband
36)What sacrifices have you had to make to be a successful entrepreneur?
Ans: I cannot really think of any. I was the primary bread winner for most of my married life and when I decided enough was enough of working for someone else, I told my husband he had to go get a big job. He did and we are final financially. Not rich but comfortable.
37)What are your Brand Values?
Ans – Our Brand Values are Continued:
Connect – human connection. Feeling of belonging, feeling liked and appreciated, feeling like I am part of something, I am part of this department's, this companies, this team's success. We do good things and I do good things because they are a part of what I do and I am a part of them.

Inspiring – Inspire is defined as to fill someone with the urge or ability to do or feel something. I want to be inspiring, I think through kindness, respect, connectedness and laughter employees can feel inspired. I feel inspired is stronger/has more power than being motivated. I
Kindness – more bees with honey my grandma always said. I have been so disrespected and treated so horribly abused and take advantage of by clients over the years that I really like to put a priority on kindness. Do I slip at times. Absolutely. But always, always, always go back to kindness no matter who you are dealing with clients, colleagues, the boss. Start with kindness and the results will be so much greater. Being anything but kind tends to be put people on the defensive and distracts from what is being said and the important information that is being shared. Instead, it focuses on feelings (which are not bad) but sometimes it is not about feelings but instead about needing the helium tank delivered that I ordered 2 weeks ago and my son's party is tomorrow. So can we just take a step back and focus on resolving the issue and talk to each other with kindness. If you share information in a kind tone the information being shared will more likely be conveyed. 

Laughter – Laughter really is the best medicine. It connects humans together and if you share a laugh with someone you then have a shared positive experience that is more easily remembered. I love to laugh. I love to look at the lighter side of things. More laughter is needed in the world and I want to be an experiential delivery method… as opposed to watching a comedy TV show or a comedian telling jokes. I want to find as many people as possible in the world that will laugh with me.
Brand Value Bullet Points:
The whole purpose of living is to connect with human beings

Love one another – 10 commandments

If I feel like I'm connected to you I feel like I'm supported by you

Connect with employees

Conversation = what's happening with you

Connect through being a human being

Imperfections

If you are truly authentic it is easier to connect

Removing the mask

Understand the people you work with and work for

Humans are messy, humans are complex – so you have meaningful conversations that help you connect with somebody.
The legacy that we leave – we can't leave mansions but we can leave the feelings with one another.

Me inspiring them, inspiring them to inspire others.

People being human to one another

Getting back to inspiring one another

Inspiring one another every single day

" People don't care how much you know they care about how much you care."

Humanity

Caring

Having a positive impact of people

I want things to stick with people because they are so deeply meaningful and impactful

If you are playing to your strengths you can be even more inspiring

Not being something you're not – removing the mask
If you don't have kindness you don't have anything
I do not deal with assholes and have the authority to do so
I can seek kindness wherever I go!
First and foremost I am ensuring I am always being kind
Kind FIRST
Kindness is always going to attract people to you
It's important to be kind even on the bad days
When someone is unkind, it's important to be kind and remember they might be having a bad day.
Supporting people on the front line every single day every aspect of my life.
You can jerk a knot with kindness.
Softening the sharp edges.
Pleases and thank you's go a long way.
I love to laugh
Loud and long and clear!
It opens people up
It allows us to break down the barriers over and over again
It helps people be:
Authentic
Real
It creates positive experiences
Share positive experiences
Connected
I'm in the business to help people laugh
Laughter brings clarity
Such strong human connection
Being laughed with – not at
The power of laughter – chemical reaction to our brains
It's a release mechanism
38)Explain your business in brief?
Ans: I want to help people find the confidence to speak up in a brainstorming session. So it could be the littlest of things, or the biggest of things that make a difference in somebody's life, work, career…. I want to empower them to embrace their own individualism. I want people to be inspired to share those strengths with others… to be bold enough to share their strengths.
The workplace is not always a supportive environment. With that in mind, I like to create a supportive environment, one that demonstrates that we are all in this together. In addition, I like to give adults opportunities to learn that they really are not that different from one another, we really do have a lot in common. The workplace typically does not allow or encourage employees to talk about those things. I help teams find meaningful connections at work.
I know how difficult it is to work the front lines and deal with really nasty clients. And as an employee, not being able to fire that client, instead, having to deal with it. Furthermore, I know what it's like to not having supportive people around you at work that say, "You know what, you got this girl" after I take a call from a client ranting and raving about this or that. I know that you sometimes have to be brave enough to have a conversation with a client about how they are treating you. That conversation can be super tricky, because this client is a multi-million-dollar client, your boss is one that only cares about the money coming in and could care less about you or how the clients even feel. With that, you have to step so carefully. I don't want to be the reason we lose a client. I could lose my job.
The reason I do this work:  it is because number one is I want to support those people that take care of customers. We talk about customers, customers, customers all the time. But we don't talk about taking care of the people that take care of those customers. And why are we not shining a light on that more? There is so much value in putting employees first. Richard Branson really knows what he's talking about when he says, "Take care of employees and everything else will fall into place."
39) Why are we treating our clients better than our employees?
Ans:- If I am connected to you I most likely feel supported by you. So why are companies not actively supporting their employees?
By leading with authenticity, people will be drawn to you.
Humans are messy and complex creatures so we must build relationships to grow the business. Connect through being human with one another. Remove the masks and be authentic. Understand the people you work with and the people you work for.
I love doing what I do, because it is both impactful and inspiring. What will your legacy be? Mansions come and go, money comes and goes. But the feelings and experiences that we have with one another live forever. Even if the exact event cannot be remembered, people remember the spirit of the event and the emotions connected to you. Some events impact us so greatly they stick with us throughout our entire lives and affect how we live our lives… the most important legacy is being part of another's lifelong DNA of living. (I know this last sentence does not make sense… trying to put a thought into words still).
I want to inspire others to inspire others. I want it to be a domino effect… a chain reaction. I want employees to be free to inspire managers and VPs and clients to have strong relationships with their reps so those relationships inspire each other.
Play to your strengths. Improv will help uncover them for you and in front of your managers. Instead of saying yes to everything like we did when I worked for an advertising agency, play to your true strengths. That means you are sometimes going to say no because it is not in your lane, it is not what you are focused on, you will not be able to deliver the best end result because it is not your strength. But when you do play to your strengths, wow – watch out – because you will take your department, your company and your life by storm.
Seek kindness wherever you go. Make it part of your personal brand. You might have to soften some of your sharp edges like I had to. You must always, always, always be kind. It will serve to attract people to you over and over again. [But the second it attracts an asshole, kindly dismiss yourself from that relationship – because you deserve better and life is too short.]
Laughter is so important to experiential learning model. I use laughter to help individuals break down barriers, remove the masks, be authentic, and relieve stress. Laughter also creates positive experiences with others. I am in the business the help people laugh but not by using improv as an entertainment tool. The laughter comes from the shared experience… laughing WITH one another, not AT each other. Laughter relaxes the whole body. A good hearty laugh relieves tension and stress, leaving your muscles relaxed for up to 45 minutes after.
Laughter boosts the immune system. It decreases stress hormones and increases immune cells and infection-fighting antibodies.
Laughter protects the heart. Laughter improves the function of blood vessels and increases blood flow.
Laughter burns calories. Laughing for 10-15 minutes a day can burn approx. 40 calories (could result in losing 3-4 lbs. a year)
Laughter lightens anger's heavy load. Nothing diffuses anger and conflict faster than a shared laugh. Looking at the funny side of things can put problems into perspective and enable you to move on from confrontations without holding onto bitterness and resentment.
Laughter may even help you live longer. A Norway study found that people with a  strong sense of humor outlived those who didn't laugh as much. So… STOP being so cranky – its gonna kill you!
Values: 
We always Connect with Kindness.

We use Laughter as power and a shortcut to human connection. (sounds manipulative    🙁 )

We Inspire all audiences.

Human Connection and Laughter is our Inspiration

We treat employees like human beings.

We respect our employees with kindness and connectedness. 

Employees Matter.

Employees Drive Company success.

We allow employees to connect. (to one another)

We inspire internal company communities that drive revenue.

Humanity in the workplace is key.

We encourage Humanity in the workplace.

Humanity in the workplace is our top priority.
Vision Notes, 7/1/19
Be globally known for helping businesses to always make employees their top priority. 
Connecting employees, at all levels, to each other to bring happiness at work every day.
Leave a legacy of inspired (work) teams.
Inspiring human connection, kindness and laughter in the workplace.
To globally inspire human connection at work.
To inspire human connection and openness.
To create business cultures that allow for authenticity and openness in the workplace.
Leading the world
human connection, kindness and laughter is number 1 in the workplace.
Authenticity and openness in business cultures across the globe.
Mission Notes, 7/1/19
Help businesses celebrate and empower each employee's individual strengths and creativity. (to drive innovation and profitability)
Empowering managers (leaders) to lead with authenticity. (to increase productivity, lower absenteeism, increase employee retention, increase customer retention, increase quality)
Share experiential connectedness via laughter and inspiration in the workplace.
To help business build supportive cultures that inspire their employees.
Teaching, creative, bringing, showing
Empowering businesses through connectedness and laughter.
Ideal client:
Where: the world
Age:  40-60. This age because I am targeting people that are C or director level and have experienced some crappy work environments and situations.
Income: $100K +
Title: Director of HR, Chief People Officer, VP Of HR, VP of Customer Service/Client Success https://www.allegis-partners.com/en/knowledge/articles/the-chief-people-officer-as-the-new-business-executive
Goals: attracting quality talent, maintaining high employee retention levels, build an engaging company culture
Psychographics of MY ideal client:
Values – doing the right thing matters, open-mindedness, honesty, dependability, efficiency, rewarding courageous conversations,

Qualities/personality traits – fun, engaging, passionate, approachable, personable, strong, kind

Interests/passions – care for people, care about taking care of customer service reps, deep care for the people that work the front lines, care deeply about their career and the company they work for 

Why do I get along with this type of person. – Our values and passions align

What do they expect of me – expect a very high 'say=do' ratio. They expect a fair price, they expect me to answer their emails and show up and provide the service described. They expect me to make a positive impact, they expect me to be passionate and inclusive

What boundaries do I want them to respect – My time

What do I want them to respect: me as a person – there is no need to yell, scream or put all caps and bunch of ??? or !!! in emails. My price – tell me if I am undercharging (is this POSSIBLE)? My terms and conditions

What do I expect to them: once a deal is signed, I want them to answer my calls and emails, schedule the desired session, help make sure the participants complete the surveys.

Why do they want to work with me?  Because I understand the demands customers place on the front line warriors, I have worked in the corporate world for over 20 years. I understand the office politics, I understand that investments must show a return. I am real. There are no masks with me. They can talk to me.

Who I am willing to be to attract my ideal client? Myself and only myself.  Authenticity is my brand
Impact statement:
I help businesses open up the lines of communication via team building techniques (like improve) to increase innovation, productivity and employee retention. If your company losing market share/client affection/struggles with employee recruitment… then let's set up a time for a complimentary 30-minute consultation.
40) How Everybody Up Helps?
Ans: Everyone can improve their soft skills, but I have a real passion for taking care of customer service people because I know they are often taken for granted and overlooked. Overlooked with the value they bring, overlooked for promotions, overlooked for professional development opportunities. We applaud sales because we can see a direct correlation between their efforts and profits, we applaud engineers and coders because it is such a specialized skill and they often revered as the inventors of the company. Leadership forgets to take care of the people that are talking to their customers every second of the day. I think, they think, that it does not take much skill to deal with customers. Why would anyone put such a low value on the people talking to their customers? These customer service people are the ones that have to take calls or meetings with clients/customers that are not happy with the product or service being delivered. They did not create the service, they did not write the broken code – but they are the ones having to listen and then resolve these issues. They need all departments to start to worship the ground the walk on. Customer service people need to be shown the utmost respect by all departments. Furthermore, these people know what is wrong, what is working, which salespeople are overselling (and now they (customer service) have to under deliver because the company was misrepresented), what departments are not responding quickly enough to remedy a client issue or request, they KNOW! This is powerful information. I want to be the person that has a strong impact on the quality of life (at work) that these customer service people live. I am a customer service expert.
Results:
Ultimate results for my clients:
Increased productivity
Increased employee retention (because of connectivity between team members and supervisors)
Increased customer retention
Improved customer relations that spur organic growth with existing clientele
Personal (employee) growth:
Promotions
Pay increase
MY Brand Differentiators
Most of my competitors performance improve comes first and applied improve comes second. Applied improve is always first for Everybody Up!

I come from a corporate background, my competitors come from a theatrical background. 

My niche is customer service teams in the corporate world. 

I have been yelled and screamed and had to deal with some really horrible bosses. I lived through it  – I can help you live through it and help you break the chain of bad management.