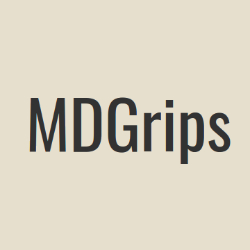 Q 1. Kindly give our readers an introduction to your business. Please include what your business is all about, in which city you are located and if you have offices in multiple locations/ cities.
Ans: MDGrips produces high quality custom handmade pistol grips. We us natural materials such as elk antler, giraffe bone and various sheep horns. We try to find the unusual materials to stand out from the others. We are a small family owned shop in Springfield, Tennessee.
Q 2. Kindly give us a brief description about yourself (it should include your brief educational or entrepreneurial background and list some of your major achievements).
Ans: I grew up in small town rural Tennessee. I watched my Dad work with his hands and make things around the farm. I had a career in law enforcement that involved many activities with guns that makes me familiar with a lot of different types of guns.
Q 3. What inspired you to (start a new business venture) or (to make significant changes in an existing business)? How did the idea for your business come about?
Ans: I was inspired to start making pistol grips because I am left handed. Most of the grips out in the market are designed for right hander's. I produced my first grips out of necessity. One day out on the gun range, I was asked about the grips I made. That led to "Can you make some for me?" A business was launched.
Q 4. What three pieces of advice would you give to budding entrepreneurs?
Ans: – Be honest with your customers.
Hard Work – it requires lots of hours and efforts to succeed.
Always do your very best work. Don't compromise your quality.
Q 5. What would you say are the top three skills needed to be a successful entrepreneur?
Ans: – Be honest with your customers.
Hard Work – it requires lots of hours and efforts to succeed.
Always do your very best work. Don't compromise your quality.
Q 6. How many hours do you work a day on average?
Ans: I work on average about 10 hours a day.
Q 7. To what do you most attribute your success?
Ans: Good honest hard work and providing a good product at a good price.
Q 8. How do you go about marketing your business? What has been your most successful form of marketing?
Ans: We have mainly relied on word of mouth.
Q 9. Where did your organizations funding/capital come from and how did you go about getting it? How did you obtain investors for your venture?
Ans: We haven't relied on investors. We have just reinvested the profits back into the business.
Q 10. What is the best way to achieve long-term success?
Ans: Just keep working at it.
Q 11. Where you see yourself and your business in 5 – 10 years?
Ans: Hopefully, I see myself slowing down. I've already retired from one career and want to have some time to travel.
Q 12. Excluding yours, what company or business do you admire the most?
Ans: www.hellgnome.rocks – Matt walked away from his job to follow his passion of creating. I admire his willingness to put it all out there.
Q 13. How important have good employees been to your success?
Ans: I have worked by myself for many years, Recently, my son has started learning the business. It great to pass on my knowledge, but also listen to his new ideas.
Q 14. How do you generate new ideas?
Ans: I listen to my customers and what they would like to see me make.
Company Detail:
Company : MDGrips
Contact : Mike Dorris
Address : 822 Hillside Drive
City : Springfield
State : TN
Zip : 37172
Phone : 615-613-3552 | 615-384-0424
Email : mike@mdgrips.com