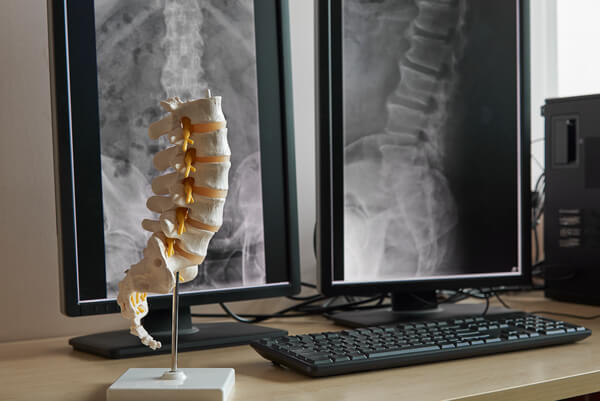 • Kindly give our readers an introduction to your business. Please include what your business is all about, in which city you are located and if you have offices in multiple locations/ cities.
Trinity Chiropractic is located in Glendale, AZ and was born out of the desire to provide the West Valley with gentle, specific, neurologically based chiropractic care without the twisting and popping that most people associate with chiropractic along with state-of-the-art therapy and spinal rehabilitation to optimize healing and correct the underlying cause of pain.
• Kindly give us a brief description about yourself (it should include your brief educational or entrepreneurial background and list some of your major achievements).
Dr. David Iszler graduated Summa Cum Laude from Palmer College of Chiropractic in Davenport, IA in 1994. He is a member of the International Chiropractic Honor Society. During college, Dr. Iszler proudly served in the Army National Guard. Upon graduation, he moved to Casper, WY where he ran a very successful practice with his wife, Sheryl, winning multiple Readers' Choice Awards for their chiropractic and weight loss practices. He served on Board of Directors for the Wyoming Chiropractic Association. He was also very involved in his church, serving as a member of its security team.
Sheryl Iszler graduated from the University of Wyoming with her master's degree in Social Work. She was a school social worker for 8 years with the Natrona County School District. She went into practice with her husband in 2010 and opened an Ideal Protein weight loss center. Within 2 years, their clinic, Ideal You Weight Loss & Wellness, achieved recognition as one of the top 5% of Ideal Protein clinics in the United States. She was a Meals on Wheels Foundation board member for 6 years and was the President for 2 of those years, winning awards for her service to the Foundation.
Dr. Dave and Sheryl have three grown daughters and have fond memories of camping, boating and traveling as a family while the girls were growing up.
In 2018, they sold their chiropractic and weight loss practices to pursue their dream of living in the beautiful state of Arizona.
• What inspired you to (start a new business venture) or (to make significant changes in an existing business)? How did the idea for your business come about?
We had been frequently visiting Arizona, and Glendale in particular, since 2012. We absolutely fell in love with the Valley and the wonderful people in this community. We frequently talked about moving here after retirement. However, we decided that we didn't want to wait that long to call Glendale our home. So, in 2018, we sold our practice in Wyoming and moved to Glendale to open our dream practice.
• What three pieces of advice would you give to budding entrepreneurs?
1. Don't go it alone. Find a mentor. There are so many others out there that have developed systems that you can use so you can work smarter, not harder.
2. Delegate. Don't spend your valuable time and energy on things that steal your focus, and ultimately, your momentum. Spend that time and energy on doing what only you can do. Pay someone else to do the rest.
3. Relax. You cannot go full throttle indefinitely without burning out. Make sure to take some time for yourself, your family and your friends. Otherwise, it's only a matter of time before you crash and burn.
• What would you say are the top three skills needed to be a successful entrepreneur?
1. Organization is vital. You need to be able to focus on the most important thing at the moment and move on to the next.
2. Be proactive. Try to plan for situations that are likely to occur and have a plan for how you might handle unforeseen events.
3. Flexibility. You need to be flexible in many ways to be successful. When you are thrown a curveball, you need to quickly figure out a way to roll with it and find a solution. • How many hours do you work a day on average?
We typically work 12 hours per day, 5-6 days per week. When building a business from the ground up, there isn't much down time. We feel a great sense of commitment to this community to provide a higher level of chiropractic care.
• To what do you most attribute your success?
Our ability to develop and cultivate relationships within our community and with our patients. We are all about relationships!!! People do business with people, not with businesses. When people get to know us and see how passionate we are about helping others regain and maintain their health, and how we truly care about the patients we serve, they are very supportive of us and our mission.
• How do you go about marketing your business? What has been your most successful form of marketing?
We use a combination of networking groups, Google and social media marketing. In-person networking has, by far, been our most successful form of marketing. We are all about developing relationships.
• Where did your organizations funding/capital come from and how did you go about getting it? How did you obtain investors for your venture?
The funding to start Trinity Chiropractic came from the sale of our practice in Wyoming.
• What is the best way to achieve long-term success?
Be persistent and consistent. You need to focus on your goals and your purpose for doing what you do. You have to people first!!
• Where you see yourself and your business in 5 – 10 years?
We love to serve and want to bring our unique approach to more people in the Valley. We see ourselves opening a second location so we can broaden our impact and change more lives. We also see adding an associate doctor to our current location so that we can expand our hours and days we are open.
• How important have good employees been to your success?
Good employees are vital to the continued success of any organization. We are a team and must work together to achieve the mission of Trinity Chiropractic. We are more than a team. We are a family.
• How long do you stick with an idea before giving up?
It totally depends on the situation and how the idea is likely to impact our practice. If progress is slower than anticipated, but moving in the right direction, we keep going forward. We may need to reevaluate the implementation but will keep at it. We are definitely not quitters. However, it is important to be able to recognize when it is time to move forward with a different solution.
• What motivates you?
We are motivated by giving people back their lives and helping them return to the activities that that they love.
• What are your ideals?
The most important things in our lives are faith, family, community and business. We listed them in that order for a reason. None of these can be in balance unless the ones listed before are nurtured.
• How do you generate new ideas?
We talk to others who have been successful in their respective businesses. Why reinvent the wheel? However, we love to take it to the next level. We spend time together as a couple to dream and plan.
• How do you define success?
We define success as helping as many people as possible improve and maintain their health without turning to drugs or surgery as a solution to their problems.
• How do you build a successful customer base?
We develop and cultivate relationships with our patients and always strive to show them how much we value them and appreciate that they have chosen us to share in their healing journey.
• What is your favorite aspect of being an entrepreneur?
The satisfaction that we are creating a business that is bigger than ourselves and leaving a legacy of positively impacting our community.
• What has been your most satisfying moment in business?
There was one day that I overheard a patient telling one of our assistants how much his life has improved under our care. I could hear the emotion in this 6' 4" truck driver's voice as he talked about the years of suffering he had dealt with and had resigned himself to the belief that it was as good as he will ever be. He talked about how he is now able to do things he never thought he would be able to do again. I choked up a little bit at that. I said a quick prayer of thanks to God for granting me the opportunity to serve his people in a way I never could have if I didn't do what I do. Then I got back to doing what I do.
• What do you feel is the major difference between entrepreneurs and those who work for someone else?
Vision. The entrepreneur has the vision to take an idea and make it a reality. The entrepreneur has a vision of making a lasting impression on others and leaving a legacy that is much bigger than them, creating a business that can then allow them to give back to the world more than they ever could by themselves.
• What kind of culture exists in your organization? How did you establish this tone and why did you institute this particular type of culture?
The culture in our practice is absolutely one of family. We develop relationships with our patients and our team. We get to know them on a deeper level than just the clinical. We laugh with them, cry with them, pray with them and let them know that they matter to us. Healing isn't just physical. It's social, emotional and spiritual as well.
• In one word, characterize your life as an entrepreneur.
Fulfilling
For more information visit us at https://www.trinitychiroaz.com/