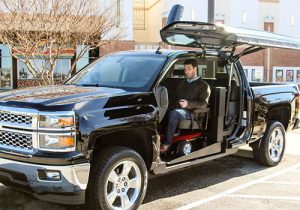 Q : Kindly give our readers an introduction to your business. Please include what your business is all about, in which city you are located and if you have offices in multiple locations/ cities.
A : Can Am Cruisers Inc, established in 1986 morphed into Can Am Mobility when we retooled to modify vehicles for people with disability issues in 1989. Since that time, we have grown to become the oldest most respected and experienced mobility vehicle and equipment provider in Western Canada.
We operate out of our 6000' facility in Kelowna, BC.
The principal and sole owner Rick Mussellam's background stems from the automobile business where he started as a car salesman in 1973 and progressed to Dealer Principal with his own auto dealership in 1976.
After selling his business in 1981 he and his partner formed a wholesale export company selling vehicles to the US.
Semi-retired in 1986 he formed Can Am Cruisers Inc and marketed travel vans throughout Western Canada.
When the leisure van market fell off he explored other avenues to utilize his acquired expertise.
Hence our foray into the mobility industry.
Can Am is a charter member of the National Mobility Equipment Dealers, Canadian Chapter and is active in lobbying Government at the Federal and Provincial levels to implement the NMEDA Quality Assurance Program for all industry providers. Mussellam sits on the NMEDA Government Relations Committee.
Q. What would you say are the top three skills needed to be a successful entrepreneur?
A. Entrepreneurs need to have a vision, enthusiasm and a plan.
Prove your ideas have a market before you begin.
Q. How many hours do you work a day on average?
A. When you're in business for yourself you wear it 24/7!
Q. To what do you most attribute your success?
A. My staff and keeping at the forefront of the industry.
Q. How do you go about marketing your business? What has been your most successful form of marketing?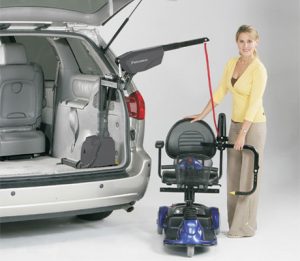 A. We've used television as our primary source of advertising and now are looking to get involved with social media recognition.
Q. What is the best way to achieve long-term success?
A. Continue to plan, budget and implement strategies that have been successful, and look to the latest developments in the future.
Q. Where do you see yourself and your business in 5 – 10 years?
A. Hopefully will continue to grow on the green curve at 5 to 10% yearly.
Q. Excluding yours, what company or business do you admire the most?
A. Kelowna Aerospace has been a company I have admired for years. The two principals started out as Pilots and Aircraft Maintenance Engineers out of a pickup truck. It's now one of the largest employers in Kelowna, servicing aircraft's from around the world, government pilot training programs and a host of other aircraft related ventures.
Q. How important have good employees been to your success?
A. Good employees are the key to any successful business. Treat them with respect and pay them accordingly. Make sure they enjoy the team aspect of our work.
Q. How long do you stick with an idea before giving up?
A. Depends on the idea!
Q. What motivates you?
A. The fact that we do good for the disabled community
Q. What are your ideals?
A. Honesty, integrity and hard work!
Q. How do you generate new ideas?
A. Staying aware of what's happening in your industry. Getting client and staff to share their thoughts and ideas.
Q. How do you define success?
A. Success means personal satisfaction knowing you may have made a positive impact along the way.
Q. How do you build a successful customer base?
A. Service, reputation, and constant contact.
Q. What is your favorite aspect of being an entrepreneur?
A. Nobody to blame or take credit but yourself!
Q. What has been your most satisfying moment in business?
A. The Thank You cards we receive regularly, and the kudos from our clients.
Q. What kind of culture exists in your organization? How did you establish this tone and why did you institute this particular type of culture?
A. We take the team approach with our staff, so they understand their efforts and ideas have a positive effect on their success as well as the business'.
Q. In one word, characterize your life as an entrepreneur.
A. Adventurous!
Q. If you had the chance to start your career over again, what would you do differently?
A. I would have furthered my education.
Q. How has being an entrepreneur affected your family life?
A. It's been trying at times, but with family support it makes it all worthwhile.
Q. How did you decide on the location for your business?
A. If it were only for the money I would be in New York or LA, but living in the Okanagan, it's the greatest place on earth!
It has also allowed me to raise my family in a small-town atmosphere.