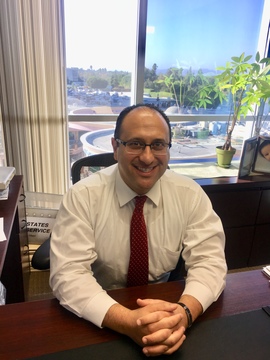 Q. Kindly give our readers an introduction to your business. Please include what your business is all about, in which city you are located and if you have offices in multiple locations/ cities.
A. Girgis Law Firm, APC assists clients who have been injured in an automobile accident, motorcycle accident, metro accident, and pedestrian accident. Girgis Law Firm, APC is located in Encino, CA with satellite offices in Woodland Hills, Glendale, Orange, Los Angeles, and Riverside.
Q. Kindly give us a brief description about yourself (it should include your brief educational or entrepreneurial background and list some of your major achievements).
A. After receiving his bachelor's degree from U.C.L.A., Anthony Girgis went on to obtain his Juris Doctorate degree from Whittier Law School. After passing the California Bar exam, Mr. Girgis concentrated his practice in personal injury and Chapter 7 bankruptcy. In 2007, Mr. Girgis founded the Girgis Law Firm, APC. The Girgis Law Firm, APC prides itself in offering excellent customer service and meeting the goals of its clients. Mr. Girgis' number one priority is to ensure the well-being of his clients. As an personal injury attorney, Mr. Girgis has successfully obtained over $1,000,000.00 in settlements on behalf of his clients to compensate them for their incurred medical expenses, loss of income, and their pain and suffering. I was selected "Rising Star" by Super Lawyers from 2014-2017.
Q. What inspired you to (start a new business venture) or (to make significant changes in an existing business)? How did the idea for your business come about?
A. I always wanted to be my own boss and work for myself.
Q. What three pieces of advice would you give to budding entrepreneurs?
A. You need to take a change on yourself; constantly be in contact with your clients every step of the way so they know exactly what is happening with their case; keep your expenses a minimal as possible.
Q. What would you say are the top three skills needed to be a successful entrepreneur?
A. Communication, budgeting, and motivation.
Q. How many hours do you work a day on average?
A. 7-8 hours
Q. To what do you most attribute your success?
A. Perseverance
Q. How do you go about marketing your business? What has been your most successful form of marketing?
A. Providing excellent customer service and results allows my business to succeed with word of mouth by my clients.
Q. Where did your organizations funding/capital come from and how did you go about getting it? How did you obtain investors for your venture?
A. I saved up the capital.
Q. What is the best way to achieve long-term success?
A. Motivation and perseverance.
Q. Where you see yourself and your business in 5 – 10 years?
A. Assisting more clients and providing them with excellent customer service.
Q. Excluding yours, what company or business do you admire the most?
A. Alder Law
Q. How long do you stick with an idea before giving up?
A. At least 1 year.
Q. What motivates you?
A. My family (wife and two children).
Q. What are your ideals?
A. Treat others/clients the way I would want to be treated.
Q. How do you generate new ideas?
A. Research online.
Q. How do you define success?
A. Work/life balance.
Q. How do you build a successful customer base?
A. Providing excellent customer service.
Q. What is your favorite aspect of being an entrepreneur?
A. Meeting and maintaining lifelong relationships with my clients.
Q. What has been your most satisfying moment in business?
A. Helping clients obtain the compensation they deserve for their severe injuries.
Q. What do you feel is the major difference between entrepreneurs and those who work for someone else?
A. The ability to take time off.
Q. What kind of culture exists in your organization? How did you establish this tone and why did you institute this particular type of culture?
A. Work hard to help those in need. Because clients need to feel like their needs are being met.
Q. In one word, characterize your life as an entrepreneur.
A. Amazing.
Q. If you had the chance to start your career over again, what would you do differently?
A. No.
Q. How has being an entrepreneur affected your family life?
A. It allows me to provide and support my family.
Q. What is your greatest fear, and how do you manage fear?
A. Getting a bad review. By providing excellent customer service.
Q. How did you decide on the location for your business?
A. It's central in the valley close to the 405 and 101 freeway.