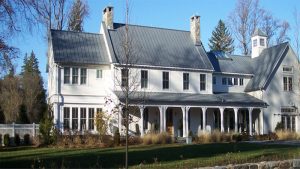 Q. Please give our readers an introduction to your business. Please include what your business is all about, in which city you are located and if you have offices in multiple locations/ cities.
Ans. ACM-Apex Construction Management, as our name indicates, is a consulting and construction management company based in Greenwich, Connecticut. We carry out the majority of our projects in Fairfield County, Connecticut, and Westchester County, New York. However, we have also done work in places as far away as the Upper Hudson Valley in New York and the southern sections of Vermont. By careful planning, coordination and communication between all parties involved in construction process, including homeowners, architects, designers and contractors, we would like to prove that this process doesn't need to be stressful and can be quite rewarding, especially if promoting and following green building practices.
Q. Please give us a brief description about yourself (it should include your brief educational or entrepreneurial background and list some of your major achievements).
Ans. I represent a third generation of builders and architects. After completing my studies in Europe, I continued (and still do) my education by attending relevant classes and training to stay on top of new technologies and practices in today's construction industries. I am a LEED AP by USGBC and CPHC by PHIUS. I went through Osha30 training to recognize and prevent potential danger in the work environment. I'm proud to say that my knowledge of construction also includes over 20 years of real-life, "hands-on" experiences on all levels.
Q. What inspired you to (start a new business venture) or (to make significant changes in an existing business)? How did the idea for your business come about?
Ans. The idea of starting my own business gradually came to fruition after years of working on production sites, being involved in the construction process and having a passion for saving the environment. I realized that by being included in the design and initial stages of a project, I could help everyone better understand the construction process and guide them through it. This is especially true in the fastest growing part of the construction management industry, the "green building" movement.  I'm very interested implementing new technologies to promote high performance and environmentally sustainable construction.
Q. What three pieces of advice would you give to budding entrepreneurs?
Ans. Don't give up when things don't work out way you want, celebrate when they do and use others' experience as much as you can
Q. What would you say are the top three skills needed to be a successful entrepreneur?
Ans. Hard work, persistence and patience
Q. How many hours do you work a day on average?
Ans. More than I like to!  Owning a business is not 9 to 5 job.  I try to set working boundaries, but most of the time they do not work out. However, my passion for my work helps to make the days seem shorter.
Q. To what do you most attribute your success?
Ans. I attributes most of my success to not to being afraid new things and making changes when needed. Some ideas have been contrary to conventional wisdom, but paid off in the end.
Q. How do you go about marketing your business? What has been your most successful form of marketing?
Ans. The most successful marketing we have had has been the results of doing high-quality work, which speaks for itself, and having happy customers that spread the word.
Q. Where did your organizations funding/capital come from and how did you go about getting it? How did you obtain investors for your venture?
Ans. I am a self-starter and self-funded, giving me a total control of my business.  It's probably more stressful and but certainly provides more motivation to succeed.
Q. What is the best way to achieve long-term success?
Ans. Persistence and continually producing a high quality of work.
Q. Where you see yourself and your business in 5 – 10 years?
Ans. We've had great growth over the years and are expecting to expand the business to multiple states and countries.
Q. Excluding yours, what company or business do you admire the most?
Ans. Any self-starting business that is able to sustain quality and profitability over a long period of time.
Q. How important have good employees been to your success?
Ans. Having employees that I can trust and rely on is one of the foundations to our success.
Q. How long do you stick with an idea before giving up?
Ans. I do not give up on an idea.  For me, it's all about timing and following my intuition.  Ideas may not work out the first time, but revisiting them at a later time can lead to totally different outcomes.
Q. What motivates you?
Ans. Creating a secure and better future for my family and having fun doing it
Q. What are your ideals?
Ans. Most important ideals for me are to be true to your word, work hard and respect yourself and others
Q. How do you generate new ideas?
Ans. In the construction business, the unexpected is expected.  I am a problem solver, for me ideas are generated that way, by resolving problems or by trying to improve on something, and there is always room for improvement
Q. How do you define success?
Ans. Everyone's definition of success is different and depends on many factors, but let me give you my two favorite quotes describe what success is:
"Success is liking yourself, liking what you do, and liking how you do it." Poet Maya Angelou
"Success is 1% inspiration, 99% perspiration."  Inventor Thomas Edison
Q. How do you build a successful customer base?
Ans. A successful customer base will be built by providing total transparency and respect to your customers while maintaining the quality of your work.
Q. What is your favorite aspect of being an entrepreneur?
Ans. My favorite aspect is being able to exploit and implement my own ideas.
Q. What has been your most satisfying moment in business?
Ans. The feeling of accomplishment at the end of a project, big or small, is the most satisfying.  I enjoy the feeling you get when you really put yourself into your work. I like being proud of what I've done and being able to tell myself, "I did that."
Q. What do you feel is the major difference between entrepreneurs and those who work for someone else?
Ans. You take on a tremendous amount of risk working on your own.  Due to your personal stake in the projects, you have to put in more hours to make sure everything is done well.
Q. In one word, characterize your life as an entrepreneur.
Ans. Interesting
About Apex Construction Management (ACM):  Apex Construction Management is a Complete Residential and Commercial Construction Management company based in Greenwich, Connecticut. With over 25 years of experience in the construction industry we are dedicated to only the best quality as well as on-time delivery. Our goal is to help our clients navigate through all phases of the construction process. We oversee and coordinate all interactions between the owner, architect, engineer, general contractor, designer and any other parties who are involved. The payment structure is based on a set hourly or weekly fee.
Company Name:  Apex Construction Management
Address: 500 W. Putnam Ave, Suite 400. Greenwich CT 06830
Contact Number: 203.340.2829
Save