Q: Kindly give our readers an introduction to your business. Please include what your business is all about, in which city you are located and if you have offices in multiple locations/cities?
Ans: 770-Tree-Guy is a TRAQ and ISA Licensed Arborist® that services and removes trees as well as handles all tree related needs with the height of professionalism and service. Whether your trees are in need of pruning or overall health assessment, 770-Tree-Guy always utilizes the proper aboricultural practices.
We have convenient locations based in Peachtree City, Fayetteville, and Newnan to serve Fayette and Coweta County easily.
Q: Kindly give us a brief description about yourself (it should include your brief educational or entrepreneurial background and list some of your major achievements)?
Ans: My name is Aaron Capannelli. I am an ISA Certified Arborist® with fourteen years of industry experience. As a proud father of three, I have always been dedicated to investing in my community.
Q: What inspired you to (start a new business venture) or (to make significant changes in an existing business)? How did the idea for your business come about?
Ans: My inspiration came from seeing a need. I wanted quality tree care in the area because I found that it was lacking in the industry, especially using proper arboricultural practices. My goal was to raise the standard for the quality of work being done.
Q: What three pieces of advice would you give to budding entrepreneurs?
Ans: 1) Work with what you have not with what you wish you had.
2) A lot of people won't act because they don't feel like they're equipped, but everyone is equipped, it's just what you do with your talents that matters.
3) Be the best at what you do.
Q: What would you say are the top three skills needed to be a successful entrepreneur?
Ans: 1)The ability to Improvise, adapt, and overcome.
2) The inability to make excuses
3) Perseverance–just grind.
Q: How many hours do you work a day on average?
Ans: I used to work 12-13 hours a day–staying up until 2am fixing equipment we needed to run the next day. Thankfully, now it is closer to 9 hours a day on average.
Q: To what do you most attribute your success?
Ans: Surrendering to the will of God was vital to my success. A lot of smart people in the world work their butts off and never gain any traction. Why do some succeed and others do not? You could call it luck, destiny, or fate, but I call it the will of God and I surrender to it. Too many things are outside of my control in life and business. When everything works out perfectly, while I know I did everything in my power, I believe a power greater than myself is often at work.
Q: How do you go about marketing your business? What has been your most successful form of marketing?
Ans: This is the question of all questions. I see some business owners who become dependent on one lead source or a relationship and then times change. Lead sources are like trends; they come and go. If a lucrative relationship dries up, then what? You're busted. I don't try to ride any wave all the way into shore and when my friends ask me what works, I simply say everything. Diversify your lead generation; it is the best protection against the unknown variables out there. Other than that, I don't give out all my strategies.
Q: Where did your organizations funding/capital come from and how did you go about getting it? How did you obtain investors for your venture?
Ans: I didn't have any capital or investors. I started from the bottom like Drake. I had a few early successes and then sunk it all back into the business. My full investment was in the success of this business.
Q: What is the best way to achieve long-term success?
Ans: Stick with what you're good at. I see too many folks chasing the next big idea and the next big moneymaker. Looking for the idea lottery to hit is not likely to happen–actually become good at something. Don't just have big talk and no substance.
Q: Where do you see yourself and your business in 5 – 10 years?
Ans: Hopefully on vacation. In reality, I see myself running multiple crews, monetizing on connected industries, and venturing into Plant health care. I would like to see us bringing high-end arborist care to the greater Atlanta market. In addition, I envision my other real-estate investments succeeding and hopefully offering more creative outlets. I have some industry related products I would hope to have come to market by then. In 5-10 years, I would like to see my business turning a great profit while creating a great place to work for the guys in the field. I desire for my employees to have the best options for health care, retirement, and financial stability to be able to fund other ventures.
Q: Excluding yours, what company or business do you admire the most?
Ans: I hold great respect for Dave's Tree. It was the starter in Kent, Ohio right by where I grew up. It is a great company to work for. In some ways, I modeled my own business after some of their principles.
Q: How important have good employees been to your success?
Ans: They are everything to your success; the bad ones will destroy your company but the good ones will make it.
Q: How long do you stick with an idea before giving up?
Ans: It could be an afternoon or when I have walked out the numbers far enough to determine profitability or lack thereof. I could choose to let them go because they aren't really in my wheelhouse. An idea is only valuable to hold onto if it is truly beneficial long term. Stick with what you know.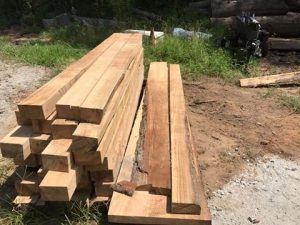 Q: What motivates you?
Ans: My family motivates me daily. In all aspects of my business, I am thinking of how to provide the best for my family. In addition to their care, I always want to conduct business in a way which they would be proud.
Q: What are your ideals?
Ans: Very proverbial. (James, not sure if there is anything to really elaborate on that)
Q: How do you generate new ideas?
Ans: Embracing my boredom–letting yourself get bored is good ground for creativity to flourish.
Q: How do you define success?
Ans: I define success by sustainability and the ability to achieve more than your parents did. We all grow up with "normal", whether that's a trailer in the park, a house in the suburbs or a flat in the city. I think we are all trying to meet that standard of living or surpass it to feel we have "succeeded."
Q: How do you build a successful customer base?
Ans: The customer always comes first. Be willing to lose the battle to win the war. Customer service is about their perspective, not yours. Truly serving a customer means you cannot be in fear. Fear will prevent you from delivering quality service.
Q: What is your favorite aspect of being an entrepreneur?
Ans: You rise or fall on your own. I like the weight of my success being solely on my shoulders. No one to blame but yourself. You can sleep in, if your conscience lets you. Your efforts determine your success.
Q: What has been your most satisfying moment in business?
Ans: Being able to buy a home on some land for my family was a great reward for my work with my business. My business opening up better possibilities for my family is extremely satisfying.
Q: What do you feel is the major difference between entrepreneurs and those who work for someone else?
Ans: They are different–just fundamentally different.
Q: What kind of culture exists in your organization? How did you establish this tone and why did you institute this particular type of culture?
Ans: I don't know if I could describe our culture, but it does exist and it is everything; you create that culture. You cut out bad and put in good. You are a mirror. Create within yourself what you want to see in others and you will get it.
Q: In one word, characterize your life as an entrepreneur.
Ans: Faith
For more information visit us at http://770treeguy.com/
770-Tree-Guy
573 Bernhard Rd
Fayetteville,, GA, 30215
Tel No.: 770-873-3489
Business Email ID:770treeguy@gmail.com
Business Hours: Open 24/7