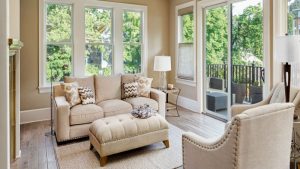 Q. Kindly give our readers an introduction to your business. Please include what your business is all about, in which city you are located and if you have offices in multiple locations/ cities.  
A. Alliance Painting is a full residential painting company that specializes in cabinet refinishing, staining, interior and exterior painting.  We are 100% focused on the residential market – we've tailored our process to fit our clients' needs.
Q. Kindly give us a brief description about yourself (it should include your brief educational or entrepreneurial background and list some of your major achievements).
A. My wife and I are originally from Boise Idaho.  I graduated from Boise State University in 2011 with a Bachelor's Degree in Accounting.  After college, I was a Plant Controller for several manufacturing companies where I was subjected to a crash course in financial analysis, accounting, and managing subordinates.
Q. What inspired you to (start a new business venture) or (to make significant changes in an existing business)? How did the idea for your business come about?  
A. I've always had a desire to be a business owner and build something to pass down to my kids and their kids.  Inherently I've always been an independent person by nature, so building my own business has always been at the forefront.  I've not been afraid to take calculated risks.  I believe that no risk equals no reward.  I have worked very hard to build up what we currently have.  Along the way, I've adopted a culture of continuous improvement and learning.  I try to learn something new every day to apply to the business or my personal life.
Q. What three pieces of advice would you give to budding entrepreneurs?
A. 1.  Don't be afraid to take risks – regrets aren't fun to deal with
2. Focus on your reputation, its more valuable than money
3. Be honest with people
Q. What would you say are the top three skills needed to be a successful entrepreneur?
A. 1. A successful entrepreneur is a great salesman.  Selling yourself and what makes you different is critical
2. Developing people and creating a vision
3. Building consistent and repeatable business processes
Q. How many hours do you work a day on average?
A. 10
Q. To what do you most attribute your success?
A. I feel my ability to adjust and deal with change. In the customer service industry you have to be prepared for anything, at any given time.  You have to think on your feet and be able to effectively solve problems on the fly. Along with that, I feel we are always changing and adjusting how we operated our business for the better every day. One of our main focuses since inception has been integrating software applications to achieve efficiency and collaboration with our clients.
As much as we try to be perfect, we're not. Things go wrong at times but we chalk those up as learning events and push forward with that wisdom.
Q. How do you go about marketing your business? What has been your most successful form of marketing?
A. We are focused on client relationships so our #1 marketing tool is the quality of our work and delivering a great experience every time.  This translates into referrals and repeat customers.  We're happy to say that 2017 has yielded 70% of our business from repeat customers or referral.
Q. Where did your organizations funding/capital come from and how did you go about getting it? How did you obtain investors for your venture?
A. I was able to utilize an SBA loan to fund my start up 3 years ago.
Q. What is the best way to achieve long-term success?
A. This is really easy – deliver on what you say you will do.  If you fail to do that consistently, you won't be around long as word spreads quickly with social media these days.
Q. Where you see yourself and your business in 5 – 10 years?
A. I have a vision to keep our business at a similar size it is now.  We are focused on refining our business and maintaining a "local" small business feel.
Q. How important have good employees been to your success?
A. Great painters have been the key to our success.  They deliver on the quality our clients expect.
Q. How long do you stick with an idea before giving up?
A. If I have confidence it will improve what we do, I won't give up until I have it implemented.
Q. What motivates you?
A. Providing for my family and for our employees
Q. How do you generate new ideas?
A. I'm involved in several online communities with like-minded business owners.  We share and collaborate on ideas.
Q. How do you define success?
A. Balance in life.  Successful business, empowered children, and a healthy marriage
Q. How do you build a successful customer base?
A. It's really easy and difficult at the same time:|
The easy part – deliver on what you say you'll do
The hard part – finding employees that consistently deliver for you
Q. What is your favorite aspect of being an entrepreneur?
A. Being rewarded incrementally for your hard work.
Q. What has been your most satisfying moment in business?
A. I had a client recently that has a 3 year old daughter battling cancer.  She had us out for an estimate to paint several rooms in her home.  I offered to paint the rooms for free to help them out in there time of need.  It was very rewarding to give back to this family in need.
Q. What do you feel is the major difference between entrepreneurs and those who work for someone else?
A. The ability to take risks and have perseverance.
Q. What kind of culture exists in your organization? How did you establish this tone and why did you institute this particular type of culture?
A. Constant change and improvement
Q. In one word, characterize your life as an entrepreneur.
A. Educational
Q. If you had the chance to start your career over again, what would you do differently?  
A. Nothing – although my path has been tough at times, I chalk it up as life experience.  I hope to have a protege some day that I can mold and teach.
Q. How has being an entrepreneur affected your family life?
A. My family has sacrificed a lot in support of my dream to build a successful business.  Through this sacrifice, our appreciation and love has grown immensely.
Q. What is your greatest fear, and how do you manage fear?
A. Failing my family and employees – they depend on me to provide.  I work hard!  I feel like I can do the work of 4 people on a daily basis.
Q. How did you decide on the location for your business?
A. We did a lot of market research and also evaluated if we'd fit in well here on a personal level. DFW checked all the boxes.
Q. If you could talk to one person from history, who would it be and why?
A. Michael Jordan – I would want to understand what drove his extreme competitive level.
Q. How can you prevent mistakes or do damage control?
A. By being proactive – you need to have the ability to identify a problem before it becomes a problem.  Or at the very least, identify the problem before it becomes a huge problem.
Q. What are your hobbies? What do you do in your non-work time?
A. Travel, golf, basketball
About Alliance Painting: Alliance Painting is a fully insured and bonded professional painting company, serving the greater DFW market. Delivering Great Experiences a Brush Stroke at a Time! We are Fort Worth's Painting Company. If you're looking for a quality paint job AND a great experience, Alliance Painting is your choice!
Company Name: Alliance Painting
Address: 4843 Colleyville Blvd, Ste 251-310. Colleyville TX 76034
Contact No: 682-233-2208