Q: Kindly give our readers an introduction to your business. Please include what your business is all about, in which city you are located and if you have offices in multiple locations/cities?
Ans: Cabinet Transformations has been in business since 2010. At Cabinet Transformations, we have a passion for helping you create the kitchen and bathrooms of your dreams, with a combination of quality products and quality installation at an affordable price for you. Cabinet Transformations provides an affordable and eco-friendly alternative to replacing cabinets, using cabinet refacing to give our customers beautiful cabinets at a fraction of the cost and time involvement of completely replacing their cabinets. We also have the option of installing new cabinets. We also offer natural stone showers, and quartz or granite counter tops.
We are located in Fayetteville, GA and service counties on the south side of greater Atlanta. Ultimately, our goal is to grow regionally and then nationally.
Q: Kindly give us a brief description about yourself (it should include your brief educational or entrepreneurial background and list some of your major achievements)?
Ans: From the time Martin was 8 years old, he learned to work hard. Often, during summer break, he would travel around the cities in Mexico with his family and work concessions in local carnivals. A common sight at the carnivals was popcorn carts, offering delicious, fragrant popcorn.
While visiting relatives in Chicago, Martin learned about microwave popcorn, which was not common in Mexico, and an idea was born. He saved enough money by the age of 14 to buy 1 microwave oven and borrowed more from his cousin to buy a second. He went to a carpenter and helped to design his vision of a very functional microwave stand, and paid the carpenter to build it. His family all supported his business idea and encouraged him to follow his passion.
Martin negotiated his own floor fees with carnival owners to be able to have his microwave popcorn stand working at the carnivals. His family still looked to him for helping in their businesses, but Martin hired attractive 16-year-old young women to staff his popcorn stand and sell his popcorn. He paid his workers and made a profit. The novice appeal of the microwave-popped popcorn, sold by attractive girls, was a hit, and his popcorn business was a great success. He developed a passion for business, and from a young age he dreamed of having his own business with a fleet of company vehicles to support it.
Q: What inspired you to (start a new business venture) or (to make significant changes in an existing business)? How did the idea for your business come about?
Ans: I have always had the desire to own my own business. I had previously worked with another cabinet company who also did refacing. After learning the processes, and seeing the increase in demand for this means of helping customers create the kitchen and bathrooms of their dreams, with a combination of quality products and quality installation at an affordable price, I found what I have a passion for.
My vision for Cabinet Transformations includes growing to become a national company. I am pleased with the growth that we have experienced in the first seven years of business and the future for our company looks great!
Q: What three pieces of advice would you give to budding entrepreneurs?
Ans: Be a risk-taker. Don't be afraid to go for it. Learn from leaders who have a powerful vision of what is possible. Work tirelessly to achieve your dream.
Q: What would you say are the top three skills needed to be a successful entrepreneur?
Ans: Determination to keep going, even when obstacles come. Strong work ethic. Focus!
Q: How many hours do you work a day on average?
Ans: 10 – 12 hours.
Q: To what do you most attribute your success?
Ans: Choose one of the following:
My dogged pursuit of what I know is possible, and surrounding myself with capable employees.
OR – Modeling myself after strong mentors, like Robert Kyosaki (Rich Dad, Poor Dad) and Donald Trump (The Art of the Deal).
OR – Determination to achieve what I know is possible for my business and not letting anything sidetrack me.
Q: How do you go about marketing your business? What has been your most successful form of marketing?
Ans: Our marketing tactics evolve. Initially, we focused primarily on local print ads in local magazines. Now we are shifting to a stronger focus online. Last year we launched a completely new website and we are now putting an emphasis on SEO. We encourage our happy customers to talk about us and share referrals on sites like Google and Kudzu. One of our key tools in seeing where our marketing has been most effective is using Call Tracking Metrics to be able to track where our leads come from, and make adjustments as needed.
Q: What is the best way to achieve long-term success?
Ans: Have a vision of where you see yourself going, and keep working hard to achieve that. Sometimes this requires course adjustments. Be flexible enough to listen to those around you, but don't give up on your dream.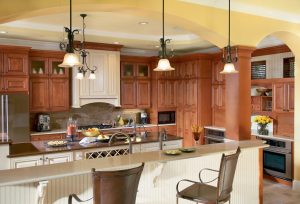 Q: Where do you see yourself and your business in 5 – 10 years?
Ans: I see myself at the head of a business that has grown regionally and then nationally. I plan to develop my business into a franchise system, and I am working diligently to develop the systems which are duplicatable to assist franchisees to run their franchises successfully.
Q: How important have good employees been to your success?
Ans: I have had ups and downs with employees, as most employers have. Because we do a service business that requires installers who have hands on with our product and are in our customer's homes, it is crucial to have employees who are skilled at their craft, committed to excellence in their work, and who have the ability to get along well with the customers. They are the face of our business while they are in our customers' homes and customer service is very important. There is no way I can grow Cabinet Transformations by myself. It takes a team.
Q: How long do you stick with an idea before giving up?
Ans: If I am convinced that I am right in that idea, I can be very tenacious about holding on to it.
Q: What motivates you?
Ans: Profitability and the possibility of building this company as I dream it to be. I also love making great deals! I want our customers to be happy and feel that they have been fairly treated.
Q: What is your favorite aspect of being an entrepreneur?
Ans: A sense of responsibility and possibility for creating my own destiny.
Q: What has been your most satisfying moment in business?
Ans: So far, opening my first showroom to welcome new customers and help them envision what we can do for them.
Q: In one word, characterize your life as an entrepreneur.
Ans: Hectic!
For more information visit us at http://www.cabinettransformations.net/
Cabinet Transformations
735 West Lanier Ave
Fayetteville, GA, 30214
Tel No.: 770-366-9883
Business Email ID: info@cabinettransformations.net
Business Hours: Monday-Friday: 9am-5:30PM
Saturday: 10am-3pm
Sunday: Closed
Save
Save