Five years after co-founding micro-blogging giant Twitter, Christopher Isaac 'Biz' Stone is quitting the company. Stone has announced his move just a few months after co-founder Jack Dorsey returned and former CEO Evan Williams left the company handing over the reins to current CEO Dick Costolo.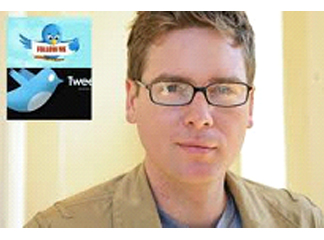 Stone believes that Twitter has now matured and he can spend his time elsewhere. 'Elsewhere', being Obvious Corp, the web media incubator from which Twitter originated. Obvious began a long time back when, Williams created it as a company to buy back a failed startup from his investors. Stone will be joining Evan Williams and Jason Goldman in reviving Obvious Corp to initiate new projects.
A nymag post reports, "Stone stressed that he's not leaving Twitter (which just claimed the Pope as a user) altogether: "My work on Twitter has spanned more than half a decade and I will continue to work with the company for many years to come."
Stone will continue to be with Twitter in an advisory role, as and when needed. Evan Williams continues to remain on Twitter's board despite having stepped aside from an operating role in March.
Stone has also indicated that he intends to spend time helping schools, non-profit organisations and company advisory boards.
Twitter issued a statement saying, "We're excited for Ev, Jason and Biz and look forward to seeing what they create as they return to their entrepreneurial roots with Obvious. Twitter is lucky to have all three of our founders still deeply connected to the company."
Stone posted a blog praising the work of Twitter's leadership and said, "I've decided that the most effective use of my time is to get out of the way until I'm called upon to be of some specific use." He added that Costolo "has been very supportive in thinking this through with me so I can focus on new endeavors while remaining a strategic asset to Twitter."
An itvoir post says, "The swings have come as Twitter tries to develop its advertising business. It is betting big on its popularity by selling more ads to make more money. The privately held company doesn't unveil its finances, but it is estimated that Twitter will bring in advertising revenue of about $150 million this year."
The nymag post says Stone is excited about his future plans and quoted him as saying in his blogpost " the company (Obvious Corp) will create systems that help people work together to improve the world and develop products that matter. In more than a decade of developing large scale systems on the Internet, we've never been more excited than right now. The possibility to reach and connect expansive numbers of people fundamentally changes the nature of what's possible when it comes to building businesses on the Internet. Also, there's room for innovation in how businesses measure success and more meaningful definitions of ambition."
Christopher Isaac 'Biz' Stone was born on March 10, 1974. Not only did he co-found Twitter but was its Creative Director and helped to create and launch Xanga, Blogger, Odeo and Obvious. He has published two books about blogging, Blogging: Genius Strategies for Instant Web Content (New Riders, 2002) and Who Let The Blogs Out?
On the addition of the word 'Biz' to his name, Stone once said that when he was a small boy he could not pronounce his name 'Christopher' and instead would say 'Bizaber' and this stuck in an abbreviated form.