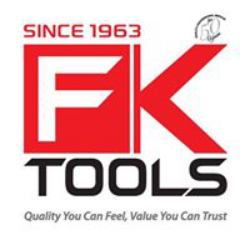 Q 1. Kindly give our readers an introduction to your business. Please include what your business is all about, in which city you are located and if you have offices in multiple locations/ cities.
Ans: FK is a trading company dealing in Hand, Cutting , and Power Tools. We deal in only quality Tools primarily from Europe and the USA. We are distributors for brands who are market leaders in their fields. Branches in Dubai, AbuDhabi, Sharjah and Qatar.
Q 2. Kindly give us a brief description about yourself (it should include your brief educational or entrepreneurial background and list some of your major achievements).
Ans: Founded by my Mr Fakhruddin father 53 years ago with a 400sq feet showroom in the Deira Souq. Done my MBA in Mumbai and joined my father's business when I was 25years old. Since then we have a 2500sq feet showroom in Al Quoz Dubai, and several smaller retail outlets in 6000sq feet in Qatar and several other smaller retail showrooms in Dubai and Abudhabi and a showroom of 600sq feet in Qatar. We also export to some regions of the Middle East, Africa, East Europe and the Indian Subcontinent. We carry a range of more than 25000 product ex stock in our fully integrated custom built ware house complexes in Al Quoz and barsha in addition to a 5000sq feet ware house in Qatar.
Q 3. What three pieces of advice would you give to budding entrepreneurs?
Ans: Envision your business in the next 5 years, be committed and be focused
Q 4. What would you say are the top three skills needed to be a successful entrepreneur?
Ans: Commitment, hard work, leadership
Q 5. How many hours do you work a day on average?
Ans: 6 to 7 hours
Q 6. To what do you most attribute your success?
Ans: No compromise on quality
Q 7. What is the best way to achieve long-term success?
Ans: Focus
Q 8. Where you see yourself and your business in 5 – 10 years?
Ans: Opening branches across GCC & Turnover of 100million
Q 9. Excluding yours, what company or business do you admire the most?
Ans: Apple
Company Detail:
Company : Fktools™
Contact : Mr. Abbas Fakhruddin
Address : 3rd interchange, Next to Emirates Gas
City : Dubai
State : UAE
Zip : 1043
Phone : + 97143385547
Email : sales2@fktools.ae